Coronavirus: Flexible furloughing – what are the details? Plus a few extra employment updates
Blog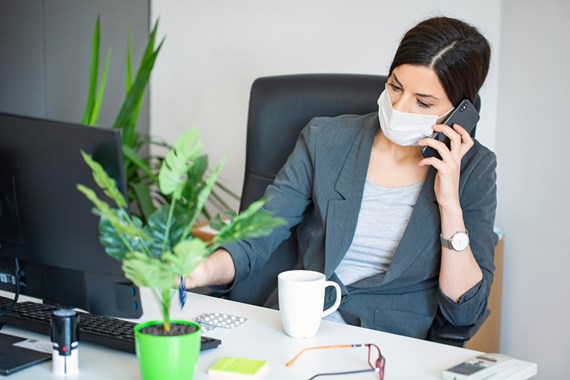 On 12 May, the Chancellor Rishi Sunak announced that the Coronavirus Job Retention Scheme (JRS) would be extended for a further four months until the end of October, albeit in a modified form for some of that period – see our update here. On Friday 29 May (it is always a Friday!), we received further details about what the extended furlough scheme would look like.
At the same time, the Chancellor also announced an extension to the Self-Employment Income Support Scheme (SEISS).
In this blog, we look at the Chancellor's two announcements in further detail, as well as highlight a few other issues which might be helpful for employers – workplace track and trace guidance, and our views on temperature testing.
Flexible furloughing – the extension of the Coronavirus Job Retention Scheme


On 29 May, the government provided further information about the extension of the JRS, including greater flexibility to bring furloughed employees back part-time, and the requirement for employers to start contributing to salaries. Here we provide details about what is changing:
1. What new guidance is available?


The government has published a factsheet on the amendments being made to the JRS – here from page 2. This sets out high-level details about flexible furloughing and the amounts employers will need to contribute. All existing guidance remains unchanged, save that an information box has been added to the start of all the webpages to say that the furlough scheme is changing.
More detailed guidance about flexible furloughing and how employers should calculate claims will be published on 12 June.
2. What changes are being introduced to the furlough scheme and when?


From July 2020, furloughed employees will be allowed to return to work part-time. From August 2020, the level of the grant will be slowly tapered to reflect that people will be returning to work.
Here is a summary of what will be introduced and when:
The JRS will finish on 31 October 2020, after which point employers will be responsible for 100% of wages.
3. When will the JRS close to new entrants?


The JRS will close to new entrants on 30 June 2020.
However, employees must have completed a full three-week furlough period prior to 30 June in order to be eligible to be furloughed after that date. This means that the latest date by which any new employee can start furlough is 10 June (to ensure sufficient time to complete the minimum furlough period before 30 June).
From 1 July, overlapping claim periods will no longer be permitted (although presumably rotating employees on furlough will still be allowed subject to that). Employers will have until 31 July to make claims for the period up to 30 June.
4. What flexibility will be allowed?


One of the main features of the furlough scheme to date has been the absolute prohibition on furloughed employees to do any work for their employer. The government originally announced that greater flexibility would be introduced from August 2020. This has now been brought forward, so that from 1 July, employers will be able to bring furloughed employees back part-time – so called "flexible furloughing".
Employers will have discretion to bring furloughed employees back to work for any amount of time and any shift pattern. The government has deliberately decided not to define what amounts to "part-time" and will leave it to organisations to determine based on their needs.
New working arrangements must be agreed with furloughed employees and that agreement must be confirmed in writing. Given the confusion over whether or not employees must provide written consent to be furloughed, it would be advisable for employers to ask employees to sign to agree to any new flexible furloughing arrangement.
5. How will employees on flexible furloughing arrangements be paid?


Employers will need to pay employees in full for any hours they work, including any tax and NICs due on those amounts.
Employers will be able to claim a grant under the JRS for any normal working hours that employees do not work.
In order to claim a JRS grant for any furloughed hours, employers will need to report the hours worked by an employee and the hours they would usually be expected to work in a claim period. The minimum claim period will now be one week, though it can be longer than that.
Further details about flexible furloughing and calculating claims will be published on 12 June.
6. What practical steps should employers be taking now?


Given the closure to the JRS to new entrants, employers should consider whether there are any additional employees they might wish to furlough over the next few months (especially in light of the ability for furloughed employees to work part-time from July). If there are any such employees, they will need to be furloughed by 10 June at the latest in order to be eligible going forward.
Employers will need to give consideration as to whether to introduce flexible furloughing and, if so, how to do so in a way which best suits their organisation. Given that any flexible furloughing arrangements must be agreed with employees, employers are advised to consult with affected employees to determine what arrangements to put in place and to help deal with any potential contractual issues.
In deciding who to bring back to work part-time, employers should take into account employees who fall within vulnerable groups or may have additional caring responsibilities as a result of the coronavirus outbreak, particularly given that it is looking increasingly unlikely that schools will open full time until September at the earliest. For further commentary on returning to work, including whether employers can insist on employees coming into work, see our blog here.
If employers adopt flexible furloughing, they will need to report to the government what hours employees work compared to their usual working hours. Although we do not yet have the full details about exactly what information the government will require (this should follow on 12 June), employers might want to start thinking now about how to collate and record this information.
We appreciate that, unfortunately, the impact of coronavirus has been significant for some organisations. Although the financial contribution being requested by the government isn't as high as some commentators were predicting, some employers (particularly those still subject to restrictions on their operations) may need to calculate whether it is a cost they can afford. We consider ways in which employers might be able to mitigate the economic effect of the crisis by reducing their staffing levels and other cost cutting measures in our article on contractual variation.
Extension to the Self-Employment Income Support Scheme

The Self-Employment Income Support Scheme (SEISS) provides support for self-employed individuals or members of a partnership, in a similar way to which the furlough scheme supports employees.

Applications for the SEISS opened on 13 May and entitled eligible applicants to a taxable grant of 80% of their average monthly trading profit, capped at £7,500 in total. The grant was paid in a single payment to cover three months' worth of profit. Applications for this first grant will end on 13 July.

On 29 May, the Chancellor announced that the SEISS will be extended and that eligible individuals will be entitled to claim a second and final grant (which will be lower than the first to reflect the reduction in furlough payments). The second grant will be worth 70% of average monthly trading profits, covering three months' worth of profit in a single payment, and will be capped at £6,570 in total. Applications for this second grant will open in August 2020. Individuals do not have to have claimed the first grant in order to claim the second grant.

The eligibility criteria will be the same for both grants – for a reminder of this and the main elements of the scheme, see our blog here.

Details of the extension to the SEISS can be found on page 1 of this factsheet published by the government.

Workplace guidance on the NHS track and trace service

On 27 May, the government introduced the "NHS track and trace service" to help trace close recent contacts of anyone who tests positive for coronavirus and, if necessary, notify them that they must self-isolate at home to help stop the spread of the virus. For more information on the service see the government's guidance on how it works.

To support the service, the government has published workplace guidance on the track and trace service for employers. Here are the key messages:

The basic premise of the guidance is that employers should encourage workers to comply with notifications to self-isolate and provide them with support when in isolation.

The guidance confirms that if employees cannot work from home whilst self-isolating, they are entitled to Statutory Sick Pay (and the SSP Regulations have been amended to reflect this), and employers should ensure that such individuals are paid sick pay. Alternatively, the guidance suggests affected employees should be given the option to take the time as paid holiday.

If an employee develops coronavirus symptoms, they will be encouraged to alert their employer so that their colleagues can be alerted. However, these individuals will not need to self-isolate unless they receive a notification from the NHS track and trace service.

The guidance urges employers to continue to comply with guidance on working safely during the coronavirus pandemic to reduce the risk of the infection spreading in the workplace. We have provided commentary on this here.

If multiple cases of coronavirus appear in a workplace, an outbreak control team from either the local authority or Public Health England will, if necessary, be assigned to help the employer manage the outbreak. Employers should seek advice from their local authority in the first instance.

Employers who have returned staff to the workplace should bear in mind the potential impact that the track and trace service (and the NHS COVID-19 app as and when it is rolled out) could have on employees working together in the workplace. Depending on how the service is implemented, there is a possibility that if one employee tests positive for coronavirus, it may mean that any colleagues that have been in close contact with that individual will be also be required to self-isolate. This could obviously have quite a significant impact on staffing levels. Employers may therefore want to consider ways in which to mitigate this risk, for example, having teams on rotation, so that if one group is required to self-isolate, a second group can provide cover

Temperature checks and returning to work

As we have already noted in this blog, with a phased return to business premises taking place in the UK, attention has turned to the measures that organisations should take to prevent the spread of Covid-19. One issue that has cropped up is whether employers should be checking on the health of their workers through measures such as taking employees' temperatures as they enter the work premises.

We have considered the main questions around this and written an article on Testing the temperature for a return to work to help clear up some common misconceptions around introducing such measures.

If you require further information about anything covered in this blog, please contact Maria Strauss, Amy Wren, or your usual contact at the firm on +44 (0)20 3375 7000.

This publication is a general summary of the law. It should not replace legal advice tailored to your specific circumstances.

© Farrer & Co LLP, June 2020
Back to

top