Coronavirus Job Retention Scheme: fourth update (15 April)
Blog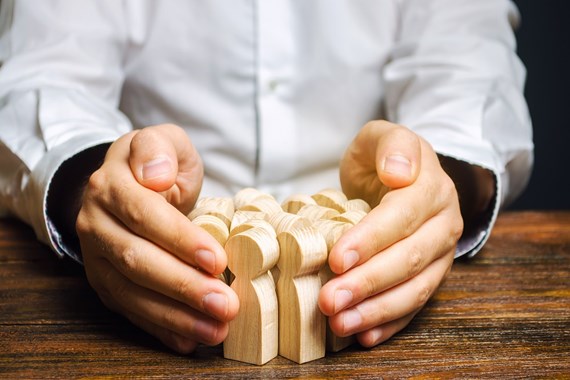 The government's guidance on the Coronavirus Job Retention Scheme has been updated on a number of different occasions. For our commentary on the different versions, see the following links:
It is incredible to think that not even a month ago the word "furlough" barely featured in most of our vocabulary. Now, if you have a sense of déjà vu reading another briefing on the Coronavirus Job Retention Scheme (JRS), that's because on 15 April the government updated its guidance on the JRS for the fourth time (updated employee guidance is here). At the same time, a Treasury Direction was also published setting out the legal framework for the JRS. Although this in large part mirrors and implements what can be found in the guidance, it also adds a few details of its own.
This blog considers the changes brought about by these latest updates. It also covers guidance issued by the Pensions Regulator on automatic enrolment and pension contributions.
Other than as set out below, the details of the JRS remain unchanged. To read how the scheme has evolved, please see our commentary on the previous versions of the guidance: see here for a summary of the government's third update from 9 April, here for its second update from 4 April and here for the details of the scheme.
1. Key date changed to 19 March
The most significant change brought about by this latest update is that employees who were on their employer's PAYE payroll on or before 19 March (ie the day before the JRS was announced) will now be eligible to be furloughed. This is a change from the previous date of 28 February.


There has been significant pressure on the government to change this date to support people otherwise falling through the gaps (for example, under the twitter handle #newstarterfurlough) and in its news story announcing the change, the government estimates that over 200,000 employees will benefit.


Significantly, however, in order to qualify employers must have made a Real Time Information (RTI) submission notifying HMRC of a payment in respect of the employee on or before 19 March. By way of background, RTI is a system whereby employers need to submit information about tax and other deductions to HMRC every time they pay employees.


So crucially, eligibility will come down to when an employer submitted payment information to HMRC, particularly as it does not have to be done on day one of employment. Realistically therefore, this change is most likely to benefit people who are paid weekly, and so who may have had an RTI submission made for them between 28 February and 19 March. Unfortunately, many people who are paid monthly may still miss out, since they are often not paid until the end of the month, making it unlikely that an RTI will have been sent to HMRC about them until after 19 March. Individuals who have had the start dates of new jobs pushed back until after 19 March will also not be helped by this change.


The change made to the relevant date from 28 February to 19 March 2020 is also carried through into the guidance dealing with employees affected by TUPE or the consolidation of payroll within group companies. The new position being that where TUPE applies, employees who transferred to a new employer after 19 March 2020 (and not 28 February) canbe furloughed. Unfortunately, this seems to create uncertainty for transfers that took place between 28 February and 19 March, which in the last iteration of the guidance appeared to have been covered. Where a group of companies consolidate their payroll after 19 March 2020, they remain able to furlough those employees under the JRS.
2. Must there be a redundancy situation to qualify?
One of the main outstanding questions about the JRS was whether, in order to access the scheme, the alternative had to be a redundancy situation. Although the wording in the guidance hasn't changed, the Treasury Direction states that the scheme will apply to anyone who is furloughed "by reason of circumstances arising as a result of coronavirus or coronavirus disease" (para 6.1(c)). This is a broad definition and is likely to be a low hurdle to clear. Helpfully, it makes it clear that the JRS is not limited to situations where redundancy would be the alternative.
3. Written agreement is needed
The guidance has been clear for a while that any decision to furlough must be made with the agreement of employees and must be confirmed by employers in writing. This wording has not changed in the latest version.


However, what has changed is that the Treasury Direction now states that an employee can only be furloughed if "the employer and employee have agreed in writing (which may be in an electronic form such as an email) that the employee will cease all work in relation to their employment" (para 6.7) (my emphasis). This makes it clear that, in addition to written confirmation by an employer, the employee's agreement to be furloughed must also be recorded in writing; it will not be sufficient to rely on implied consent.


It is likely that a lot of employers will already have insisted that employees confirm their agreement in writing and so will have complied with this provision. However, for those that have not done so, written agreement should be sought as soon as possible in order to qualify for the JRS grant. There does not appear to be any requirement for the written agreement to have taken place before an employee is furloughed, so arguably obtaining it after the event is still likely to be sufficient.
4. Re-employing employees who have left employment
It remains possible for an employer to re-employ and furlough employees who were made redundant or stopped working for an employer provided that the employee was on that employer's payroll on 28 February (ie an RTI submission notifying payment in respect of that employee to HMRC must have been made on or before 28 February 2020). This will apply even if the employee is not re-employed until after 19 March (and so isn't shown as being on payroll on that date).


The updated guidance sheds no light, however, on the position of employees who were on payroll on 19 March, but not 28 February, and it remains uncertain whether those employees would qualify for re-employment if they left employment after 19 March.


The decision whether or not to re-employ rests with an employer; there is no obligation on an employer to agree.


The guidance also clarifies, not surprisingly, that where an employee has had several employers over the past year, but has only worked for them one at a time, if they have been furloughed by their current employer, they cannot be re-employed and furloughed by a former employer as well.
5. Work by directors
Although furloughed employees cannot do any work for their employer or any associated company, the previously published guidance set out that company directors were permitted to do what is reasonably necessary to fulfil "the statutory obligations they owe to their company".


The Treasury Direction now provides further clarity that the activities permitted to be undertaken by directors will be narrow in scope and apply only to work carried out "to fulfil a duty or other obligation arising by or under an Act of Parliament relating to the filing of company accounts or provision of other information relating to the administration of the director's company" (para 6.6). Directors' statutory duties will therefore not count as work for the purpose of the JRS so as to break their period of furlough.
6. Unpaid leave
Previous versions of the guidance stated that you could only claim for people who were placed on unpaid leave after 28 February. This update confirms that they will formally need to be put on furlough in order to claim.


In a new addition, the guidance also indicates that employees who went on unpaid leave on or before 28 February can also be furloughed, but not until "the date on which it was agreed they would return from unpaid leave". If a date was not agreed, and instead the duration of the leave was to be determined by reference to a particular event or circumstance, the Treasury Direction states that furlough cannot begin until the occurrence or completion of that event.
7. Furlough and sick pay
It had appeared from the guidance that the position on sick pay and furlough had been resolved, and that is was open to employers to furlough employees who were already on sick leave.


Unfortunately, the Treasury Direction seems to have introduced uncertainty once more and suggests that where SSP is payable furlough cannot now begin until the original SSP period has ended. Since the Treasury Direction will take precedence over the government guidance, this is likely to mean that employers will need to take a more cautious approach to furloughing employees who are on sick leave.
8. Calculating pay
The reference date for calculating salary for employees on fixed pay has been changed to their last pay period prior to 19 March (rather than 28 February as was previously the case). If an employer has previously calculated its claim based on an employee's salary as at 28 February, and this differs from the salary calculated using the new date, it can choose to use the 28 February calculation for its first claim.


The Treasury Direction reiterates that when calculating an employee's reference salary, no account should be taken of anything which is "not regular salary or wages" (para 7.3). As detailed in the guidance, this means ignoring things like benefits in kind, discretionary performance-related bonuses and other discretionary or conditional payments.
9. What you'll need to make a claim
The Government confirmed this week in briefings that the HMRC portal remains due to go live on 20 April 2020.


There have been a few minor tweaks to this section of the guidance, most notably that employers with fewer than 100 furloughed employees will need to enter details of each employee into the system; employers with more than 100 employees will need to upload a file.


It is now optional whether to include a payroll / employee number for furloughed employees.
10. When will the JRS end?
The Treasury Direction reiterates the guidance in saying that the JRS will end on 31 May 2020 and will only cover amounts of earnings paid or payable by employers up to that date. However, the guidance remains clear that the scheme may be extended if necessary.
11. What about holidays and holiday pay?
Unfortunately, both the latest guidance and the Treasury Direction remain silent on the issue of holidays and holiday pay and so we have no further clarity on the issue in relation to furloughed employees. For our latest commentary on annual leave, see here. Since the online portal for making claims is due to go live in a few days' time, it seems unlikely that we will get any further direction on this point before the JRS goes live, leaving employers in the unsatisfactory position of having to do what they can when it comes to annual leave and pay.
Updated guidance from the Pensions Regulator
On 9 April, the Pensions Regulator published guidance for employers on Automatic enrolment and pension contributions, which includes details about pension contributions and furloughed employees. The guidance details the following:
An employer's automatic enrolment (AE) duties continue to apply as normal for furloughed employees.
Under the JRS, employers can claim the statutory minimum pension contribution (3 per cent) on the furloughed wages received by employees.


An employer may have to pay more than the statutory minimum AE contribution included in the JRS grant for a number of reasons, such as where an employer is topping salary under the JRS, or where pension scheme rules provide for a contribution rate of more than 3 per cent. Any excess above the statutory minimum contribution will not be covered by the JRS and employers should continue to make the correct contributions due under the scheme, meaning it may have to pay a proportion of the pension contribution itself.


The guidance acknowledges that employers may want to decrease AE contributions to the statutory minimum and sets out a number of factors to consider when deciding on this.


For employers with over 50 employees, there is an obligation to consult for a minimum of 60 days on certain changes, including decreasing employer contributions. However, the guidance sets out a number of factors in relation to the pension contributions for furloughed employees, which, if they all apply, means that the Pensions Regulator will not take regulatory action in respect of a failure to consult for the full 60 days.


The Regulator has indicated it will be adding to this guidance sometime this week.
With the online portal for the JRS due to open on Monday 20 April, and most outstanding issues now clarified (with the notable exception of holiday), it seems likely that we are nearing the end of these updates to the government's JRS guidance. Certainly we are not expecting anything further at this stage (though we stand ready to be corrected and, given the government's penchant for publishing new information just before a weekend, will keep an eye out on Friday evening!). Although the important detail of the JRS has taken some time to be worked out (unsurprisingly given the speed with which the scheme was necessarily put in place), the evolving guidance has demonstrated the clear intention behind the scheme to offer employers the opportunity to keep as many people in employment as possible. Given the likely number of applications, we certainly hope that HMRC's confidence that the system will cope with the high volumes expected on Monday will prove to be well founded.
We appreciate that this is a stressful and worrying time for our readers (and for so many), and we do hope that you find the guidance contained in this blog useful. If you are interested in formally engaging the firm and require further tailored advice in relation to what is covered, please contact Anna Birtwistle, Amy Wren, or your usual contact at the firm on +44 (0)20 3375 7000.

Please note that our Employment team is currently experiencing a very high volume of queries in light of the COVID-19 outbreak, which unfortunately means that we are unlikely to be able to respond to informal queries of a more general nature, given the need to prioritise urgent queries from existing or new clients. We hope this blog is, however, helpful in addressing some of those more general queries.


This publication is a general summary of the law. It should not replace legal advice tailored to your specific circumstances.
© Farrer & Co LLP, April 2020