Coronavirus Job Support Scheme: the details and what it might mean for employers
Blog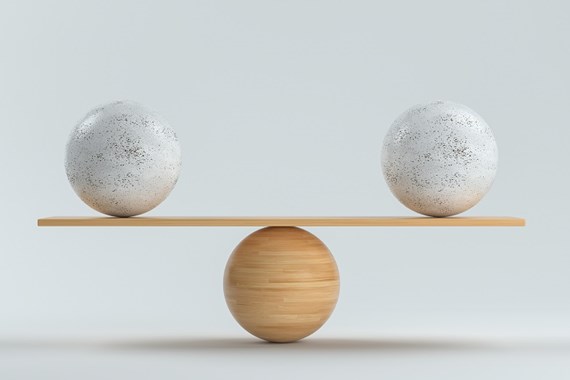 On 24 September, the Chancellor unveiled a new Job Support Scheme (JSS) to try to avoid a wave of redundancies and job losses when the Coronavirus Job Retention Scheme (or furlough scheme) ends on 31 October 2020.
In this blog we summarise the main details of the JSS and consider what impact it might have.
For more information on the latest government announcement about returning to work from home, see our blog here.

To read our latest update, "Coronavirus: the latest on the Job Support Scheme – the government increases its financial support", as at 23 October click here.
Details of the Job Support Scheme


Further details of the JSS can be found here:
Here is what we know about it so far:
1. The JSS will be introduced from 1 November 2020 and will continue for six months until 30 April 2021.
2. All small and medium enterprises (SME) will be eligible to access the JSS automatically, without the need for a financial assessment test. The factsheet doesn't say how it will define an SME, but in the UK, it is usually defined as a company which meet two out of three of the following – turnover of less than £25m, fewer than 250 employees, and gross assets of less than £12.5m.
3. The hurdle for large businesses will be much higher, with only those who are able to show that their turnover has been adversely affected by coronavirus being eligible. This will be assessed by a financial test. Even if a large employer meets this test, the expectation is that they will not use the JSS if they make any capital distributions (eg dividend payments) while accessing the grant.
4. For an employee to qualify for the JSS, they must be on an employer's PAYE payroll on or before 23 September.
5. Neither the employer nor employee needs to have previously used the furlough scheme in order to apply for the JSS.
6. Employees will need to work at least 33 per cent of their usual hours in order to access the JSS. The government will consider whether to increase this minimum requirement from February 2021.
7. Payments under the JSS will be paid monthly in arrears and will be as follows:
For hours worked: employers will be responsible for paying the normal contracted wage for any time which employees work (a minimum of 33 per cent).
For hours not worked: the employee will be paid two-thirds of their usual hourly wage for any hours not worked, made up as follows:


The government will pay one-third of hours not worked, up to a cap of £697.92 per month. Since the maximum hours an employee won't work is 67 per cent, this means that the maximum government contribution will be 22 per cent. This will reduce on a sliding scale the more hours an employee actually works.
Employers will also pay one-third of hours not worked.

Employers remain responsible for paying employer National Insurance Contributions and pension contributions.
A basic illustration of how payments under the JSS compares to the furlough scheme is included below.
8. Employees being paid under the JSS will receive at least 77 per cent of their normal wages, subject to the cap on government contributions.
9. Each short-time working arrangement must cover a minimum pay period of 7 days. However, employees will be able to work different patterns in different pay periods, and can "cycle on and off" the JSS.
10. Employers must agree the new short-time working arrangements with employees and confirm them in writing.
11. Significantly, and in contrast to the furlough scheme, employees cannot be made redundant or put on notice of redundancy during the period for which the employer is claiming a grant for that employee. What is not clear is whether that refers to the whole six months of the JSS or a particular pay period, or what will happen to previous payments if someone is made redundant – something which will hopefully be covered by the promised further guidance.
12. Employers using the JSS will also be able to claim the Job Retention Bonus if they qualify for it (for further information on the Job Retention Bonus, see our blog here).
13. Further guidance will be published in "shortly". If it's anything like the furlough scheme, I look forward to waiting up one Friday evening for its publication.
Comparison between the Job Support Scheme and the furlough scheme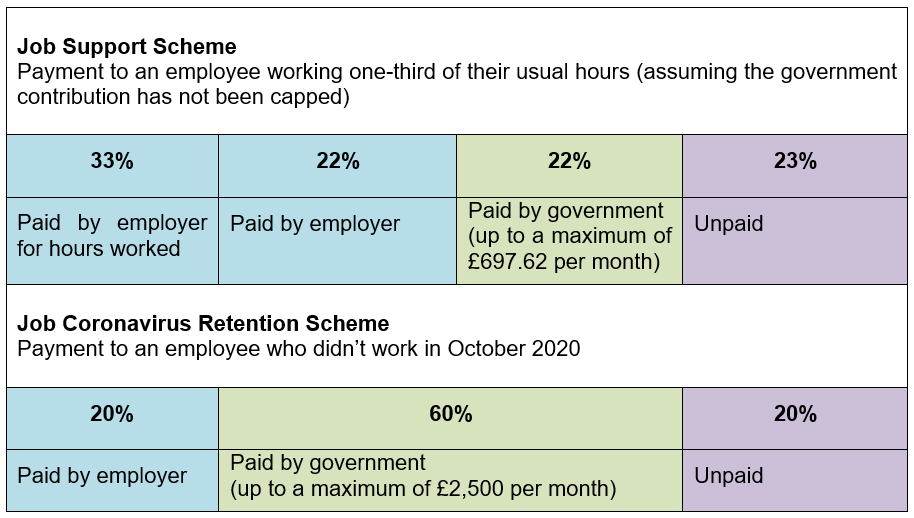 Self-Employment Income Support Scheme


The Chancellor also announced an extension to the Self-Employment Income Support Scheme (SEISS). The extension will take the form of two grants over a six-month period (from November 2020 to April 2021) for self employed individuals who are actively trading but are impacted by reduced demand due to coronavirus. Broadly the same level of support is being provided for the self-employed as for employees through the JSS.
The grant will be structured as follows:
A taxable grant covering 20% of average monthly trading profits for the period 1 November until 31 January, capped at £1,875 in total.
A second grant covering the period from 1 February until the end of April. The level of this grant will be set in due course.
Further information can be found in the SEISS Grant Extension Factsheet.
Commentary


As the government's JSS Factsheet makes clear in its opening sentence, the JSS is designed to protect "viable" jobs, in organisations whose operations are likely to be affected by coronavirus over the winter but which can still "support their employees doing some work". Implicit in this is the acknowledgement that this scheme is unfortunately not going to be of help to those jobs which are not currently viable even on short-time hours, perhaps because they are in industries such as tourism, leisure or hospitality which are feeling the biggest effect of coronavirus restrictions.
The JSS is also significantly less generous for employers than the furlough scheme, with employers needing to contribute at least 55 per cent of normal wages, compared to 10 per cent currently (in September), rising to 20 per cent in October. Given that they will potentially only be getting 33 per cent of work in return for this payment, this may not feel an attractive option to some. Commentators with better maths brains than mine are already suggesting that it is likely to be cheaper for employers to make redundancies than bring high numbers of employees back from furlough, or that it may be more cost effective to bring a few employees back full time, rather than many part-time under the JSS. What is clear is that businesses, particularly those whose finances are tight, will need to do some serious number crunching to work out what is likely to be best for their particular circumstances.
Interestingly, it is possible that the Job Retention Bonus (originally criticised for not being enough to support those who really needed it), may now start to come into its own, since, when combined with the JSS, it may provide an incentive for employers to retain staff. But that will only be the case for employers who can afford to wait until February 2021 when the bonus is paid. And the question then becomes what might happen to jobs once the Job Retention Bonus period has passed?
Sadly, despite the government's effort to support the retention of jobs, it seems likely that we will see a sharp increase in redundancies and job losses by employers unable to afford the minimum contribution of 55 per cent. This is particularly likely in those industries where coronavirus has left them with little or no work. Whether that happens in November, when the furlough scheme ends, or whether the JSS manages to postpone the cliff edge until some later date, is yet to be seen. However, by guaranteeing the JSS for six months, it is possible that this will enable some organisations to ride the worst of the coronavirus storm until the Spring, when we must hope that the outlook will feel be more positive than it does today.
For employers facing the difficult prospect of needing to cut costs, we recently published a series of blogs on redundancy reminders, as well as a blog on alternatives to making redundancies.
If you require further information about anything covered in this blog, please contact Amy Wren or Kathleen Heycock, or your usual contact at the firm on +44 (0)20 3375 7000.

This publication is a general summary of the law. It should not replace legal advice tailored to your specific circumstances.

© Farrer & Co LLP, September 2020