Coronavirus: the government has published new guidance on making workplaces safe for employees told they "should go to work" - 10 key takeaways
Blog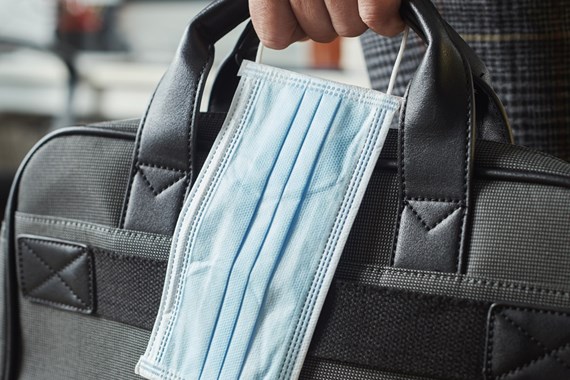 We reported yesterday that the government has shifted its emphasis and is now "actively encouraging" employees who cannot work from home to return to work.
On 11 May, the government published a number of guidance documents on its proposed roadmap, several of which touch on the issue of work. These include:
That is an awful lot of guidance to digest! While not everything is covered (notably what to do about transport to and from work, what to do about employees on furlough, and exactly how employers and employees should factor in childcare responsibilities if they are able to go back to work before schools and nurseries open), there is a surprising amount of detail and much more than we thought there would be when the Prime Minister made his bold "back to work" announcement on Sunday evening. What this additional detail means is that the earliest allowed "back to work" date of Wednesday 13 May is unlikely to be implemented by most employers as they grapple with the details and practicalities – and for many it may be weeks or months before they can properly adapt their working practices and premises to ensure their workers' safety. This may well be part of the Government's "baby steps" plan so that the nation's workplaces open up gradually, allowing for learning and adjustments as we go.
Although employers would be advised to review the COVID-secure guidelines which are most relevant to their particular sector, there are some overarching themes which are common to all of them. To help employers and employees understand the main messages, and make sense of how things might work in practice, we have set out a number of key questions and answers below.
1. Who should go back to work?

The government's core message remains that staff should work from home if at all possible "for the foreseeable future".


In its FAQ document, the government is clear that employers should make "every effort" to support working from home. Similarly, the Staying Safe Outside your Home guidance states that employers should "find reasonable adjustments" to support employees to work from home. This sort of language appears to place a potentially high burden on employers to facilitate home working wherever possible.


However, for those who genuinely cannot work from home and whose workplace is open (ie it has not been ordered to close, as is the case with restaurants, pubs and non-essential shops), the government's "message is clear: you should go to work".


As with so many things COVID-related, however, the reality is rarely as simple as that. So, before employers can insist that employees return to work, they should:

- Consider who is essential to return to work and should plan for the minimum number of people needed to be on site.

- Ensure the workplace is as safe as possible, by carrying out a risk assessment and taking steps to mitigate the risks identified, discussed below.

- Consider how this change might affect particular groups of employees, for more on which below.


It remains the case that anyone with symptoms of coronavirus, or who is living with someone with symptoms, should not attend work and should follow the guidance on self-isolating.

2. When does this instruction to go back to work come into effect?

Technically from Wednesday 13 May.


However, in the vast majority of cases, it is unlikely that employers will be able to open workplaces that quickly. There are a number of steps which employers will need to take before they can require employees to return to work (which we cover below), which are likely to take longer than Wednesday to implement.


The government's Recovery Strategy says that employers should follow the COVID-secure sector specific guidance "as soon as reasonably practicable". However, there is no clarity on what that actually means. Ultimately, employers should remember they remain subject to their existing legal duties, including the duty to protect the health and safety of employees (as outlined in our previous blog, here), and the government's guidance does not change that. They should not therefore resume operations or bring employees back to work until they consider it is safe to do so.

3. How should employers determine if their workplace is safe for employees to return?

All employers are required to carry out a COVID-19 risk assessment to assess and manage the risks of coronavirus.


The risk assessment should be carried out in consultation with workers or trade unions. This will involve talking to employees to seek views on the work they do and the risks posed by coronavirus, and considering how best to mitigate those risks. Employers should note that the requirement to consult goes further than just this guidance, and that there is a legal obligation to consult with employees on matters relating to their health and safety at work (which varies slightly depending on if a workplace is unionised or not). It is therefore important that employers do not miss out this step.


The government expects all businesses with over 50 employees to publish the results of their risk assessments on their website; smaller business should do so if possible.


So far there is no requirement or expectation (as in some other countries) that employers should take steps to monitor employee health, such as requiring temperature checks before employees or visitors are allowed into the office. Without this, it will be very difficult to justify implementing such measures. If the Government's position changes on this, then the ICO has already issued guidance on what to consider from a data protection perspective. The guidance is also helpful in other circumstances, for example where employees volunteer information about their health to their employer.

4. What steps should employers take to reform workplaces in order to mitigate the risks of coronavirus?

The COVID-secure guidelines set out an extensive list of steps which employers should take to minimise the risk of coronavirus spreading in the workplace. These fall under several main areas:

- Taking steps to maintain two metres social distancing where possible.

- Managing the transmission risk where people cannot be two metres apart.

- Ensuring that sufficient cleaning processes are in place and carried out.


Employers are strongly advised to review the COVID-secure guidelines most relevant to their sector in order to identify and implement those steps which are necessary to reduce the risks in their workplace and as identified in their COVID-19 risk assessment.


We also cover possible steps which employers may want to take to protect the health and safety of employees in the workplace in our blog on FAQs for employers on returning to work.

5. Are there any groups of employees to which employers will need to give particular consideration?

Clinically extremely vulnerable individuals

These are individuals who have been notified they are clinically extremely vulnerable and advised to shield until the end of June at the earliest (see here for more details).


The guidance states that these individuals "should be helped to work from home, either in their current role or in an alternative role". This therefore places a positive obligation on employers to ensure these employees can remain at home, which may involve changing their roles or re-allocating duties in order to make this possible. Since these individuals may also be disabled under the Equality Act 2010, this is likely to be consistent with the duty to make reasonable adjustments for people with disabilities.


Clearly this raises the question what can employers do if, having made every effort to facilitate home working, they are genuinely unable to provide work to these individuals to do at home. Perhaps it is easier to answer this question by saying what employers cannot do, and that is insist on these individuals returning to the workplace. That would be going directly against government guidance and could give rise to a number of potential claims by employees, including constructive unfair dismissal, discrimination and whistleblowing.


At present, people who are shielding are eligible to be furloughed, and that is likely to be the best course of action for employers while the scheme remains open. Otherwise, the government has amended the Statutory Sick Pay Regulations so that people who are shielding are entitled to Statutory Sick Pay if they are not otherwise able to work.


The guidance also states that "particular attention" should be paid to people who live with clinically extremely vulnerable individuals. This is likely to mean making every effort to allow these employees to work from home or, if not, ensuring suitable provision is made at work to ensure that social distancing can be maintained.

Clinically vulnerable individuals

This category includes those aged 70 or over, those with some underlying health conditions and pregnant women (see here for further information).


If people in this group cannot work from home, the guidance is that they should be offered the option of the safest available on-site roles, enabling them to stay two metres away from others. If they have to spend time within two metres of others, employers should "carefully assess whether this involves an acceptable level of risk", the implication being that it may not be possible to insist on clinically vulnerable employees returning to the workplace if an employer cannot facilitate adequate social distancing.


When considering clinically vulnerable employees, employers are reminded of their duties towards individuals with protected characteristics. For example, as well as the duty to make reasonable adjustments for people with disabilities, employers are under an obligation to suspend pregnant employees on full pay if a suitable and safe role cannot be found for them.

Employees with childcare responsibilities

A large number of employees are currently having to manage a childcare void, caused by the continuing closure of schools and nurseries, or being unable to use family members for care. Since the government's COVID-19 Recovery Strategy makes it clear that schools will not open until 1 June at the earliest, and only then primary schools on a phased basis, how to juggle childcare and work is going to be an issue facing both employees and employers for quite some time.


Boris Johnson in his question and answer session on 11 May acknowledged that, if people in England do not have access to childcare, "then I think it's only fair to regard that as an obvious barrier to go back to work and I'm sure employers would agree with that". Quite what that means, or what the legal basis for it is, is unclear. Certainly, the guidance makes no reference to managing employees with childcare issues.


What is clear is that employers will need to continue to give consideration to how to support employees in this situation. We discuss a number of options in our blog about school closures.

6. What if an employee can only use public transport to get to work?

The risks involved in travelling to the workplace is a link in the chain over which employers and employees alike may have very limited control.


In his speech on 10 May, the Prime Minister advised against using public transport "if at all possible", and recommended that people walk, cycle or drive to work instead. Where does this leave employees who cannot use these methods, and so whose only option is to travel to work using public transport? This is more likely to be an issue in cities where public transport use is higher.


Unfortunately, the guidance is not terribly helpful in casting light on what employers can expect employees to do when it comes to travel. The government has not ruled out using public transport altogether. Instead, in its staying safe outside your home guidance, it states that if employees have to use public transport they should try to avoid peak times. The guidance also requires employers to consider staggering working hours, expanding bicycle storage facilities, providing changing facilities and providing car parking to assist with travel to work. Since capacity on public transport may be limited, as operators follow rules on social distancing, flexibility over start and finish times will also be needed to accommodate any difficulties employees might face as a result of this.


So, can an employer insist that an employee travels to work even if the employee feels the journey would be unsafe? Since travelling to work is not normally part of the employment relationship, an employer's duty to take reasonable care of employees is unlikely to extend to that employee's commute. However, what lengths is it reasonable to expect an employee to go to get to work? Unfortunately, at this stage we do not have any easy answers to this question. It is likely to be something which employers need to consider on a case by case basis, taking into account the risks posed by individual journeys and the steps that public transport operators put in place to follow COVID-secure standards.

7. How does this affect employees who are furloughed?

Furloughed employees are not permitted to carry out any work for their employer under the rules of the scheme. Therefore, employers cannot require anyone who is furloughed to come into work until such a time as their period of furlough ends.


The furlough scheme guidance is silent on calling employees back early from furlough. However, if this is something that was covered in a furlough agreement, employers might be able to rely on that to bring people back early and start work, provided that the three-week minimum requirement for any furlough period has been complied with.


On 12 May the Chancellor Rishi Sunak announced that the Coronavirus Job Retention Scheme is being extended for a further four months until the end of October (bringing it to eight months in total). Until July the furlough scheme will continue in its current form; from August to October it will continue with greater flexibility and with employers starting to share the cost of paying people's salaries. For more detail, see our blog here.

8. What about employees in other parts of the UK?

It should be noted that this latest guidance applies to England only. Employers in Wales, Scotland and Northern Ireland should ensure they follow the relevant guidance for their jurisdiction.


Differences in the approach being adopted by different countries in the United Kingdom could potentially throw up issues for employees who live in one country but work in another, and so find themselves facing contradictory guidance. Employers will need to take into account differing guidance when working out how to manage such employees.

9. Can employers insist that employees come into work?

Some of the government's rhetoric around the fact that employees "should" now attend work if they cannot work from home, certainly suggests that employers can or indeed should insist on them doing so. However, the legal position is more complicated than this.


In normal times, employers can insist that an employee comes into work and, if they refuse to do so, treat it as a disciplinary matter for failing to follow a reasonable management instruction to attend work. However, as we know, these are not normal times.


Hidden in its COVID-secure guidance is an acknowledgement by the government that "no one is obliged to work in an unsafe work environment". For example, the Employment Rights Act 1996 gives employees the right, in theory, to refuse to attend work in unsafe environments, as well as provides them with protection from being dismissed or treated to their detriment as a result. In the absence of adequate steps by an employer to comply with its obligations to protect the health and safety of employees (which we have set out previously), there will come a point when telling people to attend to work is not a lawful and reasonable instruction.


As a first step, as detailed above, Employers must therefore ensure that they carry out a risk assessment, in consultation with staff and trade unions, and implement the steps needed to mitigate any risks in their workplace. In its FAQ document the government is also urging employers to "take socially responsible decisions and listen to the concerns of their staff". Certainly, trying to agree pragmatic working arrangements with staff and representatives, rather than imposing decisions on staff, is more likely to assist with returning staff to the workplace.


If an employer can genuinely demonstrate that they have done everything necessary to ensure a COVID-secure workplace, there may come a point in the future when they can insist that employees attend work and take disciplinary action if they fail to do so. However, we are unlikely to be at that point just yet. It is worth employers being aware the first employer to penalise employees for not returning may well face public scrutiny if employees take to social media to complain and so should be prepared to justify its decision.


We consider this issue in more detail in our FAQs for employers on returning to work.

10. Enforcement of the guidance

The government has put the Health and Safety Executive (HSE) in charge of ensuring that workplaces are safe places to which employees can return. The government is providing the HSE with an extra £14 million to support it in this role.


The government's COVID-secure guidelines encourage employers and employees to work together to implement the guidance and resolve any issues. If employees are not satisfied with an employer's actions, they can raise it with their employee or union representative, or report their concerns to the HSE either by phone or using an online form.


The HSE can take a range of actions against employers, from providing specific advice through to requiring employers to take particular steps, including issuing enforcement notices to help secure improvements.


Employees may also have legal claims if employers act in a way which is contrary to the government's guidance. As we detailed previously, this could be in relation to breaches of health and safety legislation. In certain circumstances, health and safety concerns may also give employees claims for unlawful detriment or automatically unfair dismissal. Since compensation for these claims is uncapped, and there is no service requirement for benefiting from this protection, this is a potentially powerful weapon in an employee's armoury, albeit the Employment Tribunals are also affected by the crisis and so any claims (unless large scale union backed injunctions) may take some time to be heard.


Employers should also bear in mind the potential reputational issues they might face if they do not comply with the government's guidance. Of course, for many reasons (moral, social, health, legal and reputation) no employer wants to be known as the source of an outbreak.

We appreciate that this is a stressful and worrying time for our readers (and for so many), and we do hope that you find the guidance contained in this blog useful. If you are interested in formally engaging the firm and require further tailored advice in relation to what is covered, please contact Kathleen Heycock, Amy Wren, or your usual contact at the firm on +44 (0)20 3375 7000.

Please note that our Employment team is currently experiencing a very high volume of queries in light of the COVID-19 outbreak, which unfortunately means that we are unlikely to be able to respond to informal queries of a more general nature, given the need to prioritise urgent queries from existing or new clients. We hope this blog is, however, helpful in addressing some of those more general queries.



This publication is a general summary of the law. It should not replace legal advice tailored to your specific circumstances.

© Farrer & Co LLP, May 2020

Back to

top