Coronavirus: what the new lockdown regulations mean for where we can work and other lockdown updates
Blog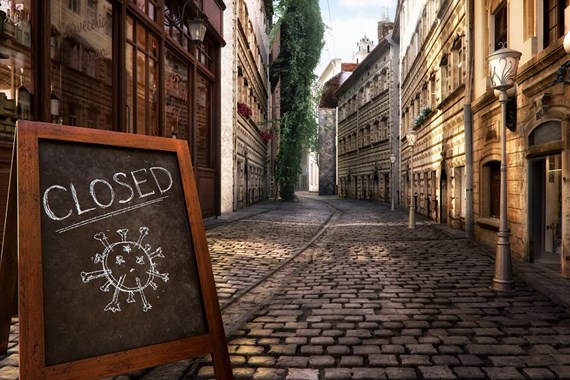 Earlier this week, we reported on the national lockdown restrictions due to come into force on Thursday. As part of that, we speculated on what this might mean for employees returning to the office, especially as the guidance continues to talk about people working at home if they can do so "effectively". Now the government has published the lockdown regulations which provide the legal basis for the restrictions coming into force. Although this still needs to be voted on by Parliament, it suggests the government plans to take a more restrictive approach to when people can attend their workplace.
We look at this and some other lockdown updates below.
The lockdown regulations


The basic premise of the Health Protection (Coronavirus Restrictions) (England) (No.4) Regulations 2020 is that "no person may leave or be outside the place they are living without reasonable excuse". There then follows a long list of exceptions which constitute a "reasonable excuse". One of these exceptions relates to work, and permits someone to leave their home for the purposes of work if it is "not reasonably possible for [them] to work from home".
It is significant to note that this wording is very similar to that contained in the regulations in place for the original lockdown in March, and thus removes some the flexibility of the last few months. Certainly, it sets the bar higher than simply whether someone can "work effectively" from home.
So the starting point for employers considering how this provision applies to their workplace is realistically to look at returning to the position they took during the first lockdown. If offices were closed then and employees were able to work from home – even if perhaps not as effectively as they or their employers may have wished – that is likely to be the safest and most appropriate approach to take now. Certainly it will be ill-advised (and potentially a criminal offence) for any employer to try to force or require employees to attend the workplace for the period of the restrictions if they are able to work from home. But even leaving it up to employees' discretion as to where they work most "effectively" is now likely to be problematic.
It may be that exceptions can be made for certain employees or specific tasks. For example, if there is work which can only be undertaken from the workplace, perhaps because it involves a large number of hard copy documents, then that ought to fall within the work exception. Gatherings which are reasonably necessary for work purposes are also permitted, which might include client meetings which can only be carried out face-to-face. There is also an exception whereby someone can leave their home "to avoid injury or illness". Although not expressly stated, this could potentially give employers scope to permit employees whose mental health is genuinely suffering while working at home, to continue to attend their workplace if it will help avoid further health issues – though this is by no means clear cut. However, these are the exceptions rather than the norm, and employers should ensure they can be justified before relying on them.
It may be that further guidance is issued over the coming days which gives employers scope for greater latitude. At this stage, however, and bearing in mind that a breach of this legislation could bring criminal sanctions, the safest and most responsible approach to Thursday's lockdown for many employers is likely to be to reverse any return to the office, which they have been pursuing in recent months.
Update on the extended furlough scheme


On Monday we provided details about the extended furlough scheme. The government has published an update on this and other financial support or jobs which can be found here. This confirms that the scheme is being extended until 2 December (when the lockdown restrictions are due to end) and that claims can be made from next week.
This update also casts more light on the eligibility criteria for employees. In particular, it is confirmed that employees who were employed as of 23 September (ie the qualifying date for the original Job Support Scheme) and notified to HMRC by Real Time Information on or before that date, but who have subsequently been made redundant, can be rehired and furloughed under the extended scheme. However, as before, there is no obligation on employers to rehire any employees in this situation.
The government has also confirmed that it is increasing the support being given to the self-employed for November.
Guidance on shielding


The government today has also updated its guidance on shielding, which will apply to anyone who has been identified as clinically extremely vulnerable in the past.
From a work point of view, this strongly advises anyone in this group to work from home. Even if someone cannot work from home, they are told not to attend work for the period of the restrictions. As we mentioned previously, the best option for affected employees who cannot work from home is that they are likely to be furloughed under the extended furlough scheme if they are eligible.
The guidance only applies to individuals who are clinically extremely vulnerable. It confirms that those who live with someone in this category are not advised to follow this guidance and should continue to attend work if they cannot work from home.
If you require further information about anything covered in this blog, please contact Rachel Lewis, Amy Wren, or your usual contact at the firm on +44 (0)20 3375 7000.

This publication is a general summary of the law. It should not replace legal advice tailored to your specific circumstances.

© Farrer & Co LLP, November 2020