Employment law developments: what to look out for in 2021
Blog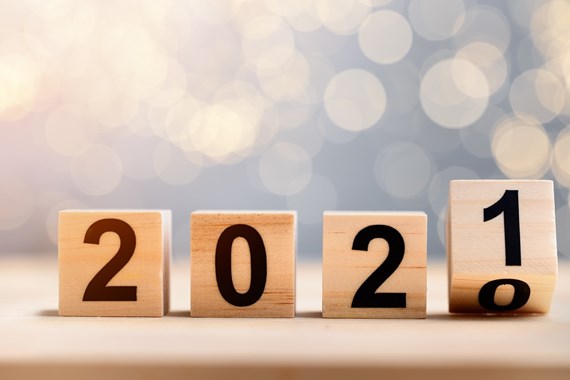 Whilst Coronavirus undoubtedly dominated the employment landscape for much of last year, and is likely to do so for at least the start of 2021, that is not to say there aren't other employment law developments expected in the year ahead.
In our first blog of the year, we set out seven snippets to keep in mind in 2021.
1. A new year, a new lockdown


On 4 January, the Prime Minister announced a new national lockdown. Much of what this involves is no longer new to us, and most employers will already have policies and procedures in place. However, here is a quick reminder of some key employment aspects:
The guidance for the current lockdown is here. This confirms that people can only leave their home for work if they "cannot reasonably work from home". Employers are urged to "take every possible step to facilitate their employees working from home".


Employees who cannot work from home are permitted to travel to their workplace, but employers should ensure that appropriate COVID-Secure measures are in place.


Shielding has resumed for people who are clinically extremely vulnerable, meaning affected individuals should not attend work. Anyone shielding who is unable to work from home can be furloughed.


School closures are likely to create difficulties for many working parents. Our blog Schools are closed: what does this mean from an employment perspective? provides guidance for employers on supporting employees in this situation. Parents who are unable to work due to childcare reasons can be furloughed even if they have not been furloughed previously.
2. The furlough scheme


The furlough scheme is currently set to run until the end of April 2021 (having been extended by one month on 17 December 2020, as we reported here). It continues to allow employers to furlough eligible employees for any amount of time and on any work pattern and enables employers to claim 80 per cent of the employee's pay for hours not worked (up to a maximum of £2,500 per month). Employers remain responsible for National Insurance and pension contributions for hours not worked.
Employers are likely to need to prepare for the end of the furlough scheme in good time before 30 April, particularly bearing in mind the statutory time periods for collective consultation in the event of large-scale redundancies (see here for details). The Chancellor intends to announce the next phase of his plan to protect jobs in the Budget on 3 March 2021.
For more information, see our updates on the furlough scheme technical guidance and preparing for an HMRC furlough audit.
3. Changes to IR35 or off-payroll rules for the private sector


Changes to the off-payroll rules are coming into force on 6 April 2021 (delayed from 6 April 2020 because of Coronavirus). From that date, all medium and large clients in the private sector will have to:
determine the employment status (for tax purposes) of individuals who they engage through intermediaries, and


where deemed employment status applies, deduct employment taxes from any payments made to the intermediary.
There are also obligations on client businesses regarding notification of status determinations and dealing with objections from individuals providing the services.
The new rules will not apply to "small" businesses who meet specific criteria relating to turnover, balance sheet total and number of employees.
For more information on what the changes involve and steps employers can take to prepare, see our blogs on IR35 and what the changes mean for private employers and Can your business continue to hire contractors? Get ready for the new IR35 rules.
4. Employment Bill


The Queen's Speech delivered at the opening of Parliament on 19 December 2019 laid a marker for the introduction of an Employment Bill to implement some of the proposals of the Good Work Plan. The Employment Bill did not materialise in 2020 (understandably) so it remains something to look out for in 2021.
As a recap, the Employment Bill is expected to include:
The introduction of a single labour market enforcement agency to ensure that vulnerable workers are informed of their rights and support business compliance.


Long awaited legislation preventing employers from deducting money from tips intended for workers. This would include a requirement that any distribution of tips be undertaken on a fair and transparent basis, to be guided by a statutory Code of Practice.


The right to request a more predictable contract after 26 weeks' service for zero-hour contracts, with a requirement for employers to respond within three months.


Extending the period of redundancy maternity protection to cover the point a pregnant employee notifies their employer until six months after the end of her maternity leave.


Leave and pay for neonatal care, giving parents an additional week of leave for every week their baby is in neonatal care, up to a maximum of 12 weeks, paid at statutory rates (provided the employee has passed the qualifying 26 weeks' service).


A weeks' unpaid leave for employees with caring responsibilities.


Making flexible working a default position.
When changes are introduced, employers will want to be on their toes to update policies and practices to ensure compliance.
5. Gender pay gap reporting


In March 2020, the Government Equalities Office announced that gender pay gap reporting by employers with more than 250 employees would not be obligatory for 2019/20 as a result of Coronavirus. There has been no indication that gender pay gap reporting will be suspended again this year, so the safest approach is for employers to prepare their figures for 2020/21 in the usual way.
The impact of Covid and the furlough scheme on the gender pay gap reporting for 2020/21 could be interesting. Employees who are paid at reduced rates of pay during the relevant pay period (for example, employees on statutory sick pay or family leave), should be omitted from an employer's pay-gap calculations. If furlough leave is treated in the same way (which seems likely), it could result in some pay gaps looking very different to previous years. Employers whose pay gaps are impacted in this way should consider including a narrative alongside their figures to explain.
6. The Equal Pay (Information and Claims) Bill


The Equal Pay (Information and Claims) Bill is due to have its second reading in the House of Commons on 15 January 2021. The Bill aims to:
Introduce a right for employees to obtain information relating to the pay of a comparator.


Reform remedies and time limits relating to equal pay.


Reduce the bar for reporting the gender pay gap from 250 employees to 100 employees.


Introduce a requirement to report on ethnicity pay gaps.
The Bill has cross-party support, as well as strong public backing for greater transparency over equal pay, so it will be interesting to see how it progresses. Employers should consider how the new proposals and greater scrutiny on equal pay would impact them practically and reputationally.
7. Key cases to keep an eye on


Asda v Brierly – equal pay between different establishments: we await the Supreme Court's decision in Asda's ongoing equal pay dispute which centres around whether a group of predominantly female retail store employees can compare themselves to a group of mainly male distribution depot employees. If the Supreme Court agrees with the Court of Appeal that what matters is whether common terms exist between the two establishments, rather than between the claimant and comparator, employers should be alert to the fact that equal pay rules will apply across different establishments, even if there are slight differences in terms.


Uber BV and others v Aslam and others - employment status: the high-profile case continues, and we await the Supreme Court's decision. If the Supreme Court agrees with the Court of Appeal that Uber drivers fall within the statutory definition of a "worker" and they are not self-employed, employers will receive a firm warning against attempting to contract out of employment obligations. A win for Uber would support contractual freedom and be an invitation for Parliament to legislate in this area.


Harpur Trust v Brazel - holiday pay for part-year workers: the Supreme Court is due to hear the appeal against the Court of Appeal's decision on the correct method of calculating holiday pay for part-year employees. If the Supreme Court agrees that "part-year" workers (ie workers engaged on a permanent basis who do not work the entirety of the year) are entitled to 5.6 weeks' paid annual leave (which should not be prorated to reflect the fact that they work on a part-year basis), this would have a significant impact on employers who engage workers on permanent contracts, but who do not work the entirety of the year, such as term-time only workers, seasonal workers or those on parent-friendly flexible working arrangements.
Finally, of course, there is also Brexit. Following the announcement on 24 December 2020 that the EU and UK reached a post-Brexit Trade Deal, an analysis of how that is likely to impact on employment law warrants a blog in its own right, and so we will be writing about that shortly.
If you require further information about anything covered in this blog, please contact Louisa Steele, Hugh Young, or your usual contact at the firm on +44 (0)20 3375 7000.

This publication is a general summary of the law. It should not replace legal advice tailored to your specific circumstances.

© Farrer & Co LLP, January 2021