The COVID-19 vaccine – mandatory vaccination by employers and planning for the future
Blog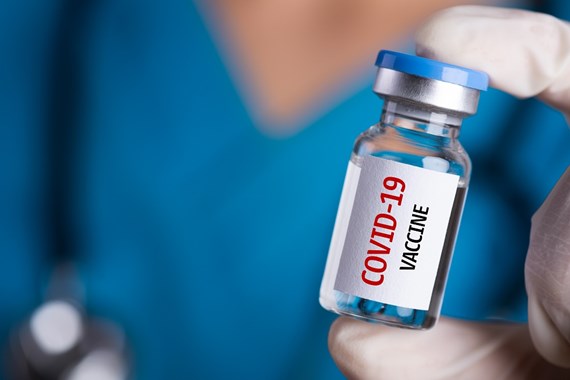 As a dark and gloomy (snowy for some!) January draws to a close, the ray of hope on the horizon for 2021 is the roll out of the COVID-19 vaccination programme. Whilst for the time being the Government is focusing on critical workers and the most vulnerable, at some point in the (hopefully) not too distant future, the wider population is going to be faced with the decision of whether to take the vaccine. As a result, there is already a debate happening about whether employers can, or should, insist on employees being vaccinated.
Can employers insist on vaccination?


Understandably, employers will see the vaccine as a means of protecting the health and safety of staff as it could help make the workplace more secure and give employees (and customers/clients) greater confidence about returning to work. However, it is important to understand the legal obligations before embarking on any such approach.
Although the Government has published guidance for employers on testing (and may well publish further guidance on vaccination), the decision on whether or not to test employees or require vaccination is left to employers. ACAS has taken the view that "Employers should support staff in getting the coronavirus (COVID-19) vaccine, but they cannot force staff to be vaccinated". Moreover, whilst the Government has a range of powers under the Public Health (Control of Disease) Act 1984 to prevent and control the spread of infectious diseases, the Act specifically excludes the power to require a person to undergo medical treatment, including vaccination. The fact that the Government has not made vaccination mandatory is likely to make it difficult for employers to insist on it.
We anticipate that employers will want to encourage take up of the vaccine, not least because of their duty of care to protect the health and safety of their employees as a whole and collective vaccination will be key to ensuring the workplace is a safe place. But employers should be mindful of the following risks when considering their position on vaccination.
Discrimination


The principal risk is that any policy mandating vaccination or associated disciplinary action would be open to challenge on discrimination grounds. There are several reasons why an employee might refuse the vaccine which could be linked to a protected characteristic under the Equality Act.
Religion or belief: some religions reject medicines on theological grounds.


Disability: an individual may be unable to take the vaccine due to a medical condition or allergy that could constitute a disability.


Pregnancy or sex: pregnant women have been advised not to take the vaccine until more testing has been carried out.


Age: younger employees without underlying health conditions may not be eligible for the vaccine for some time. Unfavourable treatment of these employees could be linked to age in a discrimination claim.
Given the risks, employers should be wary of treating individuals who have not taken the vaccine unfavourably in terms of pay, promotion, disciplinary action etc. Equally, when adopting Covid policies, employers should consider whether a policy might disproportionately impact a particular category of employees who have not taken the vaccine.
Breach of trust and confidence


Even in the absence of potential discrimination, employers should be mindful of their implied duty of trust and confidence. Applying undue pressure on employees to take the vaccine without reasonable justification could risk breaching this and result in potential constructive unfair dismissal claims.
Data protection


There are important data protection considerations about processing information about the fact someone has been vaccinated. While it is a misconception to think that the GDPR hinders the use of health-related data in employment situations, what it does require is a data privacy impact assessment on the impact on employee privacy and for employers to ensure that appropriate policies are in place.
Information about employees' health will be special category data under the GDPR, however, the ICO in its guidance on workplace testing confirms that employers can rely on their health and safety duties for processing medical data. But that is not a blanket green light. The critical issue will be whether the processing is "necessary and proportionate". Employers will need to consider their reason for insisting on/collecting data on vaccinations and be clear about what they intend to do with the data. Consider: are there less intrusive ways of achieving the same result?
Bearing in mind the risks described above, the safest approach to vaccination is likely to be:
Communicating with staff about the importance of being vaccinated (both on an individual and collective level).


Expressing a strong preference that staff are vaccinated, and encourage them to do so, for example, by allowing them paid time off for the appointments.


Seeking to understand reasons for refusal to see if any concerns can be alleviated.
In general employers would be advised to stop short of making vaccination mandatory and disciplining those who refuse. There may be limited circumstances where unreasonable refusal to take the vaccine could possibly justify disciplinary action, for example if an employee's role involves regular international travel and vaccinations become necessary for boarding planes or crossing borders. Yet even in these circumstances, employers would be expected to be flexible and could be expected to consider reallocating the employee to another role where vaccination is not vital, before pursuing disciplinary action.
Communicating with employees


Ongoing consultation with employees will be key to implementing any policies on Covid vaccination, and indeed on Coronavirus-related employment matters more generally. Here are a few things to bear in mind as part of this:
1. Countering misinformation
Some employees may be refusing to take the vaccine due to fears created by so called "fake-news". Employers can direct employees to the NHS' information on the vaccine, which may reassure those individuals. Employers can also refer employees to their GPs / Occupational Health who might be better placed to handle specific or sensitive queries.
2. Notice of disability
As part of the consultation with employees about vaccination, it is possible that employers will learn about an employee's disability that they were not previously aware of. They will then be on notice of the employee's disability and should consider whether reasonable adjustments should be made.
3. Future business planning
Consulting with employees should always be seen as a valuable opportunity. A discussion about appetite for the vaccine is naturally linked to questions about returning to normality and future work patterns. What do employees like about "the new normal" that they want to keep? Consider whether you want to return to the workplace as before, or whether this is a time to reimagine office life and adjust working practices and use of space as a result?
4. Approach to flexible working requests
In the past, many employers were loath to introduce flexible working for fear that it would lead to reduced productivity. Many employers will hopefully now have more trust in their employees and see that working from home or working flexible hours is viable. It is possible that employers will receive a high number of flexible working requests when things return to "normal" so it would be sensible to consider how they might deal with these. Bear in mind that, given many employees have worked from home for the best part of a year, employers probably won't be able to rely on blanket arguments that "home working doesn't work" to turn down a request.
Conclusion


At present, it's clear that we are some way off the vaccine being widely available, so employers should avoid finalising any Covid policies at this stage. But it is certainly sensible to start thinking about what approach you might take, remembering that consultation and staff buy in will be key.
With special thanks to Bob Wheldon, a current trainee in the Employment team, for co-authoring this blog.
If you require further information about anything covered in this blog, please contact Lauren Bennett, or your usual contact at the firm on +44 (0)20 3375 7000.

This publication is a general summary of the law. It should not replace legal advice tailored to your specific circumstances.

© Farrer & Co LLP, January 2021