We understand that the COVID-19 global pandemic is a worrying and stressful time for our clients. As the lockdown of large parts of the British economy, school closures, social isolation and distancing measures make their combined effects felt, we know that employers in all of our key sectors are asking themselves whether and how they can mitigate the economic effect of the crisis by reducing their staffing levels.

Last Friday the Chancellor Rishi Sunak announced the Government's 'Coronavirus Job Retention Scheme' to reimburse UK employers of all sizes and in any sector who 'furlough' staff (don't require them to work but keep them on the payroll instead of dismissing them as redundant or putting them on unpaid lay off) 80% of their wage costs up to a cap of £2,500 per worker per month. While this HMRC-operated 'grant' scheme may provide some reassurance to employers, the fine details of the scheme's application and operation are still awaited and the government support may not go far enough for many employers.

In this note we examine the law on contractual variation; we consider the various ways an employer might seek to vary the contracts of its staff and the relevance of the 'employment status' of those individuals to any proposed changes. We also consider how the job retention scheme might apply to different categories of staff.

Broadly speaking, employers have four options:

1. 'Short time': Reducing the number of hours worked by staff and paid by employer.
2. 'Unpaid Lay-off': Enforcing periods of mandatory unpaid leave for staff but not dismissing them.
3. 'Furloughing': Not requiring staff to work but keeping them on the payroll and paying them – at least some – of their wage.
4. 'Redundancy': Dismissing staff due to a reduction in the level of work.

How these four options are each achieved, and the legal risks associated with each method is likely to vary depending on the basis on which any given member of staff is engaged by the employer.

There are a myriad of different terms to describe staff, but broadly speaking the categories are: (1) employee, (2) worker, (3) free-lancer/self-employed contractor, and (4) zero-hours employee or worker.

Of course, much will turn on the specific contractual wording governing the individual's engagement by the employer, but this briefing note seeks to set out some general principles as to the different approaches that employers may choose to take with its different types of staff.
Summary

The table below seeks to summarise the position in respect of each class of worker mentioned below, and the approach to be taken towards their working arrangements. Further details relating to the issues that might be associated with each class of worker are set out in more detail below.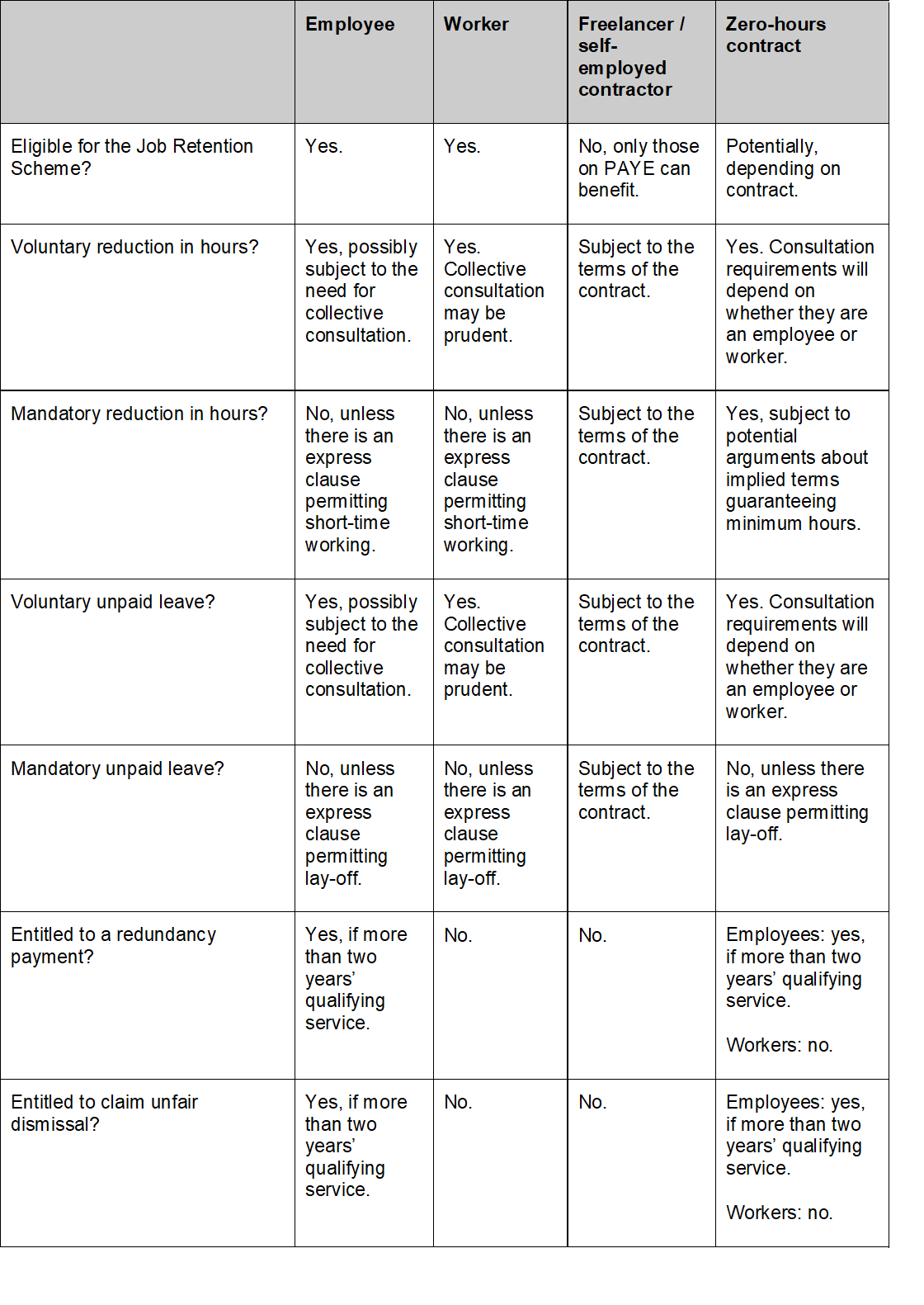 Staff members who are classed as employees (ie those who work under a contract of employment) enjoy the greatest level of protection under employment law. They are entitled to the full suite of employment law rights, including protection from unfair dismissal (provided they have been employed continuously for two years), from discrimination, and from detriment for whistleblowing.

The starting point here is that any variation in contractual terms must be agreed between employer and employee. Unilateral changes to the terms of the contract of employment will typically be a breach of contract and may give rise to industrial relations issues as well as legal ones. While some contracts may contain "flexibility clauses", which purport to allow the employer to vary the terms of the employment contract unilaterally, these are construed narrowly given inequity in bargaining power between employer and employee and the potential for unfairness in their use. Therefore the use of a flexibility clause to reduce hours, unless it specifically provides for hours being reduced, is likely to be subject to challenge.

An employee may assert that a unilateral change in terms, particularly in relation to working hours and pay, is a breach of contract, for which they might sue. An employee may even assert that this amounts to a fundamental breach of contract which gives them the right to resign and claim constructive dismissal. Employees might also claim for the wages that they have lost as a result of the unilateral change. For these reasons, imposition of unilateral change is likely to be problematic.

Employers' options are, broadly speaking, threefold:

1. If there is an express contractual right to reduce the number of hours an employee is to work and their pay accordingly (often known as short time-working), an employer can rely on that and will not be in breach of contract.

2. If there is no express right to reduce hours, seek to obtain employee consent to a temporary reduction in hours. In very small workplaces, this might be a relatively simple and informal process. But for larger employers, where more than 20 staff are affected it is likely, certainly where redundancies are being proposed as a potential alternative or where dismissals and reengagement is otherwise being proposed (more on which below), to necessitate a collective consultation for the purposes of s.188 Trade Union and Labour Relations (Consolidation) Act 1992, which will involve consulting with employee representatives or trade unions. Such consultations are required to last at least 30 days, and in some cases 45 days, so time may be of the essence in commencing a consultation if there are real worries over the continued financial viability of the institution. While these exercises are often contentious, we expect that employees may be more willing to agree to reduced hours if the alternative is that their jobs will be lost entirely by virtue of the institution having to close permanently.

If consent is not forthcoming, an employer might consider dismissal and re-engagement (fire and re-hire) on terms that would afford the employer an express contractual right to place the employee on short-time. As with the approach outlined in relation to consent, this would require a statutory collective consultation. There are always risks associated with this method of effecting contractual changes, and because the process involves a dismissal as a matter of law, there is a risk of a claim for unfair dismissal being brought by employees.

The overview published by the government says that "changing the status of employees remains subject to existing employment law and, depending on the employment contract, may be subject to negotiation".

If the employer proposes to reduce pay for furloughed employees to the maximum HMRC grant (£2,500 per worker per month) then it will need the consent of staff. This is because reducing a worker's pay, even if they are not required to work, is likely to amount to an unlawful deduction from wages (unless the employment contract already says that the worker's pay can be reduced or stopped when there is no work to be done).

If the employer proposes to maintain full normal pay for furloughed workers (claiming the 80% grant from HMRC and topping up the remaining 20% themselves) then employers will not necessarily need worker consent to designate them as furloughed. However, a small minority of employees have an implied contractual right to be provided with work so that their skills don't atrophy like pilots, for example; employers may not be able to impose full pay furlough on those employees, though it is unclear how a right to keep working is exercised where there is no work to do.

For those employers who make use of the Job Retention Scheme, whether topping up, or only paying 80% of wages, it is also not yet clear whether HMRC will impose conditions, for example a commitment by employers who access the grant not to make redundancies for a period of time as a result of COVID-19.

In circumstances where the above measures are unlikely to be sufficient to ease the economic pressure, employers may need to consider exploring redundancy as an option. That is likely to be the case particularly where the shutdown of the workplace is anticipated to be long-term, or where it becomes clear that even after the workplace reopens there will be a reduced requirement for employees to carry out work of a particular kind at the particular place of work.

It is important, when considering and making redundancies, that an employer follows a fair procedure and observes all consultation requirements (for example under s.188 Trade Union and Labour Relations (Consolidation) Act 1992). Otherwise, the redundancy may be challenged as an unfair dismissal, and the employer may face claims for failure properly to consult (which can give rise to hefty liabilities in damages to former employees). An employer facing potential redundancies may be wise first to identify whether there are candidates for voluntary redundancy, which can be achieved more easily and with considerably less legal risk.

There are fewer difficulties likely to be associated with making redundant employees with less than two years' qualifying service. This is because they do not have the right to claim unfair dismissal and are not entitled to a redundancy payment. For those employees with more than two years' qualifying service, however, there is a requirement to make a statutory redundancy payment and there is a risk of claims for unfair dismissal being pursued in the Employment Tribunal.

As discussed above, it is possible that it will be a condition of the Job Retention Scheme grant that employers do not make redundancies for a period of time. Thereafter, our provisional view is that while the fact that the employer has made use of the scheme to pay 80% of the wages of furloughed staff, we do not consider on current information that the scheme changes the underlying legal principles on redundancy and will not inhibit an employer from making later dismissals if a genuine redundancy situation is established and there is no suitable alternative employment for staff. It may perhaps make the 'moral' case and narrative for redundancy harder to establish, but that is ultimately a commercial matter for employers to grapple with.

Workers are those who are employed under a contract (though not necessarily a contract of employment) personally to perform work, in circumstances where the services being provided under the contract are not being provided to the other party as a client or customer of the worker. All employees are workers, but not all workers are employees.

Case law on questions of employment status is fast-developing, and the number of people falling into this category of employment is broadening; many of those working in the gig economy are now regarded as workers as a matter of law. This area is not without contention in the current legal climate, and whether someone is an employee, a worker, or self-employed will depend heavily on their working arrangements in practice (rather than simply what their contract says).

The position in respect of workers is broadly similar to that of employees. The Government's Job Retention Scheme appears to apply in the same way to employees and workers. Thus far, the terms employee and worker have been used interchangeably in the press release and guidance. The key difference is that workers are not entitled to bring a claim for unfair dismissal in the Employment Tribunal (either following dismissal and re-engagement or following a redundancy) and they are not entitled to a redundancy payment. There is therefore likely to be less legal risk associated with dismissing workers. That does not, however, prevent a dismissed worker from bringing a claim in the Employment Tribunal asserting unfair dismissal on the basis that they are in fact an employee; the employing institution would likely still be forced to defend such a claim, at least for the purposes of deciding the question of employment status. Workers may also bring claims for unlawful deductions from wages in relation to any shortfall in their wages, for example where they have been laid-off despite no contractual right to lay=off.

There is also no need, at least under domestic legislation, to include workers in any collective consultation under s.188 Trade Union and Labour Relations (Consolidation) Act 1992. But the position is potentially complicated given: (i) there would necessarily be a need to identify with precision who are workers and who are employees, which is not easy and may be subject to challenge, and (ii) the EU Collective Redundancies Directive does apply the consultation requirement to workers. The logistical difficulties created by the distinction might, therefore, make it prudent to consult in respect of all workers and employees; but if there is a pressing need to take action quickly, excluding workers from such consultation might be a course of action that institutions may wish to adopt.

Some contracts expressly provide that the employer is not under an obligation to provide a minimum number of hours. In some cases, the staff member will not be obliged to accept any hours that are offered (in which case it is likely they will be a worker); but in other cases they will be so obliged (in which case there is a good chance they will be an employee). The key difference between these two classes of staff member, as explained above, is whether they have the right to claim unfair dismissal and their entitlement to a redundancy payment. The same analysis will apply to those working under zero-hours contracts.

The key distinguishing factor between staff on zero-hours contracts and other workers or employees is likely to relate to the ability to reduce working hours. Given that there is no guarantee of any minimum number of hours under a zero-hours contract, employers are entitled – on the face of it – to reducing working hours to zero for these members of staff. This approach is not without legal risk, however:

1. A zero-hours employee or worker might argue that, in practice, they have always been offered a certain number of hours per week, and that as such the written contract does not reflect the reality of their working arrangements. That argument will be particularly strong if the individual has worked for the employer for a long period of time and has consistently been offered a set number of hours. An Employment Tribunal is entitled to look behind the wording of the contract and to conclude that, in fact, a certain number of minimum hours is indeed guaranteed.

2. The entitlement to reduce hours to zero may be regarded as a contractual discretion which the employer has. That discretion has to be exercised in good faith, not arbitrarily, and not irrationally. If the employer is reducing hours to zero out of a genuine economic need to do so by reason of an enforced closure, the exercise of the discretion is likely to be rational; but if it is being done for some ulterior motive, the decision may be susceptible to challenge and a claim may be brought for the shortfall in wages that the staff member experiences.

The position is likely to be similar for those working under "guaranteed minimum hours" contracts. Subject to the caveats set out above, an employer is likely to be able to reduce an individual's hours to their guaranteed minimum without being liable for breach of contract.

As for the applicability of the job retention scheme for these types of staff, at the press conference in which the scheme was announced, the Chancellor indicated that the scheme will cover workers on the PAYE system, and that it may include some workers on zero-hours contracts, depending on their arrangements. It is yet to be seen how zero-hours workers' wages will be calculated for the purposes of payment while furloughed, but we envisage that the calculation of an average wage over a reference period in the past (perhaps 12 weeks, as in the case of holiday pay calculation) may be a sensible approach.

As with zero-hours contracts, there is a need to be wary of whether the terms of the contract truly reflect the nature of the working relationship between the parties. Where the individual is required personally to perform the services set out in the contract, and where the institution engaging them is not the client or customer of the individual, there is a real chance that they are in fact a worker (regardless of what the contractual documentation says). If that is the case, they will benefit from the enjoyment of those rights enjoyed by workers, set out above.

As far at the truly self-employed are concerned (ie those who are neither employees nor workers), the position is likely to be governed purely by the contractual arrangements in place between the parties. The termination provisions of the contract should be consulted in order to ascertain the options that may be open to institutions. In most cases it will be possible to terminate the contract by giving a certain period of notice, without any need for particular procedural steps to be followed.

Those who are not PAYE like self-employed independent contractors will be unable to benefit from the Job Retention Scheme. The government has issued a separate package of support for self-employed people involving the relaxation of rules around Universal Credit and the minimum income floor.

Employers should be mindful of any potentially discriminatory impact of the steps that they take. In particular, measures which might be argued to have a disproportionate impact on particular groups of people (for example those with child-caring responsibilities, those of particular nationalities, or those with disabilities) should be avoided as they have the potential to give rise to claims for indirect discrimination. Protection under Equality Act 2010 is enjoyed by all of the categories of staff set out above.
We appreciate that this is a stressful and worrying time for our readers (and for so many), and we do hope that you find the guidance contained in this blog useful. If you are interested in formally engaging the firm and require further tailored advice in relation to what is covered, please contact Katie Fudakowski, Kieran Wilson, or your usual contact at the firm on +44 (0)20 3375 7000.

Please note that our Employment team is currently experiencing a very high volume of queries in light of the COVID-19 outbreak, which unfortunately means that we are unlikely to be able to respond to informal queries of a more general nature, given the need to prioritise urgent queries from existing or new clients. We hope this blog is, however, helpful in addressing some of those more general queries.
This publication is a general summary of the law. It should not replace legal advice tailored to your specific circumstances.
© Farrer & Co LLP, March 2020