Coronavirus: maintaining mental health and wellbeing during the crisis
Insight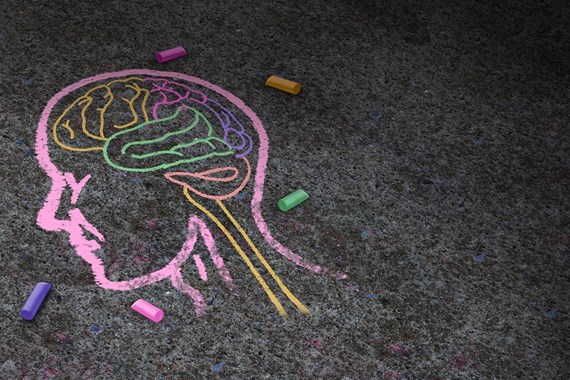 In these strange and unsettling times, those who live or work with children will be acutely aware of the impact of the global pandemic (and the UK's lockdown) on the mental health and wellbeing of the youngest members of our society. Their school and home routines have been suddenly and dramatically disrupted. We know from health professionals that referrals and self -referrals have risen sharply during this period, and that calls to helplines including the NSPCC and Childline have also increased.
Professor Tanya Byron wrote an excellent piece in the Times just as the lockdown started, reminding us of the 1:4 statistic and the fact that if one in four of us were suffering from a mental health issue before COVID-19, it seems highly likely that the ratio has increased, particularly among young people. Previously, 10 per cent of school children were considered to suffer from some sort of mental health issue (and of those, 75 per cent had no access to treatment) so for those with pre-existing issues, it seems obvious that this current stressful situation will exacerbate the problems and potentially trigger relapses. In addition, young people who previously had no symptoms of poor mental health may see them start. In a survey by the mental health charity YoungMinds, which included 2111 participants up to age 25 years with a mental illness history in the UK, 83 per cent said the pandemic had made their conditions worse and 26 per cent said they were unable to access mental health support.
In this briefing note we first summarise the recent guidance to Schools from the Department of Education and from Public Health England before offering our own reflections to our clients on some factors which may adversely affect mental health and wellbeing during the crisis and consider how best to mitigate against the risk of decline. Veryan Exelby does so from her background as a partner in the family law team at Farrer & Co and Katie Fudakowski brings to bear her experience of discrimination litigation where a mental health condition has reached the threshold of a disability under the Equality Act 2010. We refer to "schools" throughout the briefing, but much of our advice applies to other organisations involved in the provision of educational, pastoral and other care to children.
Recent Government Guidance
The Department for Education has been quick to publish guidance to schools regarding Safeguarding and Covid-19 which also refers to their previous guidance issued in 2018 on Mental Health and Behaviour in Schools. As part of their recent guidance, they suggest that communication with parents is key. Independent schools will be keen to ensure they communicate with their parents so that the school community remains close and that fees are paid (whether discounted or not) but from the perspective of maintaining good mental health and wellbeing, communication is vital. Schools need to include references to their online safety policy and any changes that have been implemented and be clear as to what the pupils are expected to do in relation to use of online materials once lessons resume. Online safety is more important than ever for schools to bring to the top of their agenda and teachers, pupils and parents should be kept fully up to date as to how the school is monitoring the online environment. Do signpost websites for parents and pupils to look at – Childnet, UK Safer Internet Council for Online Safety and Digital Awareness UK are all excellent resources for your community to learn more and to stay safe online.
Public Health England has also provided guidance for those with caring responsibilities to look after the mental health and wellbeing of children or young people and flags the issues of bullying and instances of discrimination and harassment on the grounds of ethnicity or nationality. Schools would be well advised to consider the makeup of their school community in this regard and any related online bullying or inappropriate commentary.
Family Relationships
Being separated from peers, friends and a school routine can be disastrous for those who suffer from poor mental health, and especially hard for those who suffer from neurodevelopmental differences, for example autism. Our colleagues in the Family team at Farrer & Co frequently deal with the sad consequences of divorce and separation upon children. Those children may now be more at risk as they witness conflict between their parents from which they are usually shielded. Likewise social distancing measures can result in social isolation in an abusive home. Schools should be re-assessing the safeguarding risks to children whose family life is far from straightforward. The devastating economic impact of COVID-19 for millions of people cannot be underestimated and it follows that there will be a significant knock on effect on the mental health of parents and carers, as well as on young people. The family courts seem to have taken a clear step in the right direction; a practice direction was issued on 31 March by the Central Family Court in London, designed to encourage alternative dispute resolution (whether by mediation, arbitration or otherwise) during the period of closure of the courts, in order to avoid further court hearings.
During our webinar (click here to watch) with Dr Mike McPhillips we discussed, as one of our topics, the impact the current situation has on young people with eating disorders. Where young people are now spending more time with their parents, the psychiatric problems can be difficult to manage, especially where intervention and help may be harder to access.
Addiction
A frequent problem encountered by parents in "normal" times is excessive use of devices, in particular apps such as Snapchat, Instagram and TikTok, and overuse of gaming consoles such as Playstation and Xbox. The enforced lockdown has resulted in a huge increase of gaming and general screentime and in some cases, this will result in addiction escalating to dangerous levels. However, for both boys and girls, these games and sites provide an opportunity to connect socially with friends, albeit in different forums and are therefore a part of the new daily routine. Houseparty is a favourite, but also making a comeback is Chatroulette, an online chat website that pairs random users for webcam based conversations. While those of us involved in safeguarding would have immediate concern at the prospect of young people engaging in these activities with strangers, the risk of addiction to these sites is also of huge concern: the evidence of damage it can cause to mental health and wellbeing is clear and stark and warning signs are often hard to detect when young people spend more time than usual alone in their bedrooms or on screens. When schools resume after the Easter holidays, teachers should be aware that the temptation for a 15 year old pupil to browse other websites while purportedly taking part in a lesson will be huge (and there won't be a teacher looking out for that, as there would be in a classroom setting).
Schools and institutions working closely with young people can have a significant impact on reducing the levels of harm in screen addiction and ensuring better mental health and wellbeing. To take action now is to ensure fewer problems in the future. So our advice is that when schools communicate with their community, they should ensure that advice is given in relation to addiction and screentime. With remote learning comes a greater emphasis on PHSCE curriculum. Lessons should include educating pupils to make good decisions with regards to their use of screens, learning which websites are trusted and impartial sources of information and the importance of sleep and exercise. The Charlie Waller Memorial Trust has produced some excellent resources for families dealing with mental health issues and they stress the need for teenagers to have a structure each day and to adhere to some sort of daily routine while they are in lockdown. This will of course include social interaction with their friends but it should be kept in proportion. It seems that some teenagers find it tiring speaking to their friends by phone for many hours throughout the day; they also run out of things to talk about perhaps. And while it sounds trite, pupils should be encouraged to do as much as they can outside of school hours participating in activities that don't involve screens or chatting. Exercise, music, art, reading – hobbies which have shown to aid good mental health to all ages – should all be encouraged. So too should charitable work – or activities designed to support and focus on others.
Perhaps families can be encouraged to hold their own COBRA meetings, to discuss (without criticism) the time spent on screens and to acknowledge the anxiety, boredom and issues that are real, and to come up with healthier solutions for spare time. We know that loneliness and depression can all lead to a lack of sleep and cognitive decline and schools need to be aware of (and highlight) these issues when term resumes to ensure cooperation from parents and carers. Sleep (whether too much or a lack of) continues to be a generational misunderstanding and needs to be considered in these extraordinary times.
Pastoral care, concerning behaviour and seeking help
Schools find themselves in unchartered waters during the COVID-19 crisis. It is no longer the case that form teachers or tutors can easily spot a change in behaviour, or that they can discuss minor concerns with colleagues in the staff room over a coffee or pick up on tension and stress from a pupil over something that may have happened at home. Remote learning not only takes away the academic teaching from the school buildings, it removes the intuitiveness of pastoral care and puts a stronger emphasis on systems and reporting.
While vulnerable children and those whose parents are key workers will still have the opportunity to come into school, the majority of pupils will be attending school remotely. School counselling sessions will continue, but by skype, facetime or zoom. Just as access usually continues during school holidays, so access will continue through lockdown and while sessions will not be recorded in the way that lessons may be, counselling sessions should be logged to ensure accountability and full transparency while maintaining medical confidentiality. Sadly, it is inevitable that your school community will suffer loss arising from COVID-19 and bereavement will be another cause of poor mental health requiring counsellors trained to help.
CPOMS or whatever system a school uses to log safeguarding incidents or concerns will continue to be used and patterns must be monitored to ensure that a hands on approach continues despite the lack of physical presence at school. Pupils (and their parents) should perhaps be reminded of the facilities available to pupils if they find they are struggling with their mental health and wellbeing. While there is a general concern at the ever increasing numbers seeking help for depression and anxiety (which are often just a normal reaction and part of being a teenager), this period of enforced isolation will inevitably result in deteriorating mental health. It seems that many young people do struggle with perceiving and managing risks, and reacting to them appropriately, so the more schools can do to recognise this now, the better. Early intervention is vital. And while it is undeniably difficult for the pastoral care of pupils to be monitored to the same extent as usual, all efforts must be made by staff to ensure that welfare, mental health and wellbeing remain a top priority and that no child falls through the cracks. But at the same time, teaching pupils to be resilient and equipping them with coping mechanisms should feature frequently in the timetable for the term ahead.
For all pupils, it is advised that form teachers/tutors have regular meetings with all pupils at least once a week with cross references to regular safeguards. This should be done by video and not simply a telephone call or email so that staff can see facial expressions and satisfy themselves that the pupil is safe and well. No child wants to be ignored so even where there is no cause for concern, pupils must be assured that the culture of their school is one of kindness and concern and that communication channels are open, even if the school premises are not. Some form of survey should take place on a daily or weekly basis – perhaps something as simple as asking the pupil to list three positive examples that have taken place that day/week and three less positive examples. Pupils should be assured that no judgement will be made and that the findings will not be shared – but that their welfare, mental health and wellbeing is paramount and this is a means of ensuring that.
We discuss the importance of looking after your staff below, but do not underestimate the importance of designing a wellbeing programme for both staff and pupils during these difficult times. And the more activities that can be carried out without a screen, the better. Live baking, yoga and mindful colouring have been suggested as beneficial to everyone. Where possible, activities which foster collaboration and teamwork should be introduced, in an attempt to replicate class activities normally taken for granted.
Looking after staff
It is not just the mental health and wellbeing of pupils that schools must protect. The dramatically altered working environment also poses a huge challenge to educators and school staff and the importance of taking measures to prevent burn-out should not be underestimated.
Schools must be alive to the impact that altered contractual terms or new methods of working will have upon their staff and give particular attention to whether any new practices for remote working could have a discriminatory impact, for example those disabled by virtue of a mental health condition, or older staff who may not be so IT savvy or women who are combining home working with looking after their own children. In last week's briefing the importance of having compassionate leaders who were realistic about what could be achieved and sensitive to individual circumstances was identified as critical and we endorse that recommendation.
Our advice is that Schools should take a proactive approach to monitoring the wellbeing of their communities, whether through online surveys (for example the likes of "office vibe") or focus groups or individual check-ins so that at risk individuals can be identified and supported at an early stage. Schools should be alive to the fact that mental health conditions are increasingly the basis for claims of disability discrimination in the employment tribunal, or from pupils in the First Tier Tribunal and should take proactive steps to consider whether an individual's mental health condition might amount to a disability and implement reasonable adjustments.
Shorter lessons and reduced days while remote learning is in place should be considered. While older children can almost certainly cope with independent learning done via screens, it is considerably more difficult for younger children (years 7/8 and below) to concentrate for long periods without teacher interaction. Suffice to say, it is therefore more difficult for those teaching that age group to sustain a 45 minute lesson in the usual manner and for the results to be anywhere near compatible. Both staff and pupils may benefit from shorter working hours in an attempt to alleviate problems going forward. Again, this should be communicated to the entire school community together with an explanation as to why the day may be shorter or structured differently with more time for task and for breaks and exercise.
Resources and best practice
There is a huge amount of advice available online for maintaining good mental health and wellbeing. We have selected a few resources below which we feel are particularly useful to Schools:
Department for Education Guidance: Coronavirus (COVID-19): safeguarding in schools, colleges and other providers.

Public Health England- Guidance for parents and carers on supporting children and young people's mental health and wellbeing during the coronavirus (COVID-19) outbreak

Young Minds- 10 wellbeing tips for school staff

Council of International Schools- Safeguarding and Wellbeing

Charlie Walker Memorial Trust- Working from Home- Your wellbeing action plan
If you require further information about anything covered in this briefing, please contact Veryan Exelby, Katie Fudakowski, or your usual contact at the firm on +44 (0)20 3375 7000.
This publication is a general summary of the law. It should not replace legal advice tailored to your specific circumstances.
© Farrer & Co LLP, April 2020