Coronavirus: Wealth Managers embrace the use of electronic signatures for taking on new clients
Insight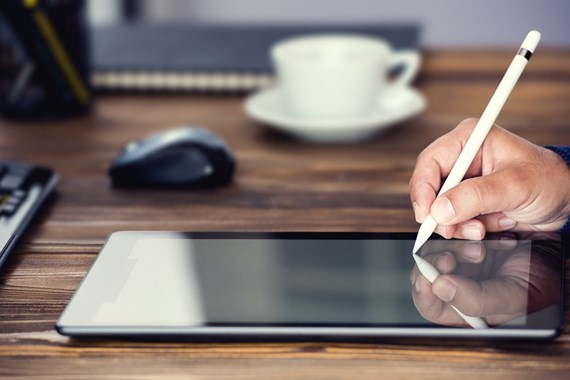 Personal, individualised service is central to the offering of wealth managers and for many firms this would usually mean face to face meetings with prospective clients. New clients would then typically physically sign the client agreement documents, either at a meeting or at home sending these back via post.
Following the lockdown measures imposed as a result of COVID-19, wealth managers have had to review and adapt their approach to taking on new clients including reducing the use of paper and increasingly accepting electronic signatures.
As we begin to look ahead to a time when the current restrictions are eased, we suspect that the increased use of electronic signatures in the wealth management industry is one change which is here to stay.
In this briefing we consider the use of electronic signatures under English law in the context of the wealth management industry.
What are electronic signatures?
The Electronic Communications Act 2000 contains a broad definition of an electronic signature, being "…anything in electronic form as – (a) is incorporated into or otherwise logically associated with any electronic communication or electronic data; and (b) purports to be used by the individual creating it to sign".
It is important to emphasise that an electronic signature does not have to take the form of a secure "e-signature". Examples of electronic signatures include:
a name typed at the end of an email
a scanned manuscript signature
a signature made using a dedicated e-signature platform
a signature written onto a screen using a stylus.
Are electronic signatures valid under English Law?
In summary the answer is yes - an electronic signature is capable in law of being used to execute a document. The Law Commission produced a detailed report on the electronic execution of documents in September 2019 (see here) which confirmed the position, and this was subsequently affirmed by the Government on 3 March 2020 (see here).
What requirements need to be met when relying on electronic signatures?
The key requirements are that:
the signatory intended to authenticate the document (a concept which is used in the relevant case law), but which in essence means the signatory intended to sign and be bound by the document); and
any relevant formalities, including any specified under a statute, regulation or a particular contract, are satisfied (for example the signature being witnessed, if this is required).
As to whether the method of signature adopted demonstrates an "intention to authenticate" the courts adopt an objective approach and will consider all the surrounding circumstances. For example, in the case of a typed name at the bottom of an email, the text of the email itself, other interaction such as telephone calls and the actions of the parties will all be helpful in demonstrating whether there has been an "intention to authenticate".
Are electronic signatures admissible in evidence in legal proceedings?
Yes, and this is confirmed by section 7 of the Electronic Communications Act 2000.
Are there any exceptions to be aware of?
Yes, this briefing is relevant to simple contracts only – it does not cover the practical means of execution of deeds nor does it cover property or security contracts where specific considerations apply.
What other practical issues are relevant?
There are a number of important practical issues which firms should consider when considering accepting electronic signatures such as:
reliability and security - even physical (or "wet ink") signatures raise such issues but steps such as seeing a person sign and then having a specimen signature help to mitigate this. Some more sophisticated technological solutions may provide greater comfort as to security and reliability but even these have risks of being compromised. Other types of electronic signatures such as attaching a scanned signature or typing a name at the bottom of an email or into a form are considerably less secure. Firms accepting these methods may wish to adopt additional anti-fraud measures such as a telephone call to the client confirming the client's identity and what they are signing, and making a record of such a call;


evidential weight - if there is ever a dispute about the signing of the document, for example who it was signed by, whether the document was the final version of eg a contract or completed form, and whether the signatory intended to be bound, then the evidential weight which may be given to that signature will need to be considered and ultimately determined by the courts. Again, it is worth noting that these issues can arise in the context of both physical signatures and electronic signatures. Relevant factors to be considered would be the circumstances of the application of the electronic signature including, for example, meetings (including via remote means) and telephone calls which connect the client to the document and their intention to be bound by it. Clearly, keeping evidence of such circumstances is important. Different types of electronic signatures may have more or less potential to be substantiated by technical expert evidence, for example that the document was accessed through the use of a password, PIN, encryption key and/or other authentication process.
Firms should consider these issues and associated procedures in deciding which electronic signatures they are prepared to accept.
Does the regulatory position under MiFID change the general law on electronic signatures?
In summary, no - electronic signatures are valid for client agreements and the considerations set out above will apply. That said, wealth management firms must comply with the MiFID requirement to have a written agreement with their clients in paper or in another durable medium. At a time of remote working and less use of hard copy documents, firms must continue to ensure they meet this requirement.
A durable medium has a particular meaning under MiFID being any instrument which: "(a) enables a client to store information addressed personally to that client in a way accessible for future reference and for a period of time adequate for the purposes of the information; and (b) allows the unchanged reproduction of the information stored". This requirement could be satisfied by sending clients a copy of the terms of business by email (eg as a PDF) or alternatively sending clients by email a link to the terms of business on the firm's website (subject to meeting the MiFID website conditions).
However, under MiFID a firm can only use a durable medium other than paper if:
(a) using that medium is appropriate to the context in which the business between the firm and the client is, or is to be, carried on – which it will be where there is evidence that the client has regular access to the internet, for example the client has an email address which they have provided to the firm; and
(b) when offered the choice between information on paper or in that other durable medium, the client specifically chooses the provision of the information in that other medium.
Clients will typically be asked for an email address as part of the client information gathering exercise. Firms should also ensure that where they wish to use non hard copy format eg electronic format for the client agreement that the client is offered a choice between that format and paper and selects the electronic format. This can be done by exchange of email.
Has the FCA issued any guidance in this area as a result of Covid-19?
Yes a short section was included on the FCA Covid-19 guidance pages on 20th April 2020 in relation to the need for "wet-ink signatures" - view here. In this guidance the FCA confirms that its rules are not prescriptive in this area ie they do not explicitly require wet-ink signatures in agreements, nor do they preclude the use of electronic signatures. The FCA recommends that firms take advice as to the legal position.

The FCA guidance also reminds firms to consider any related requirements in the Principles for Businesses and general rules, such as:
Principles 2, 3 and 6 and that firms should review the risks and harms of using electronic signatures, and take appropriate steps to minimise those risks;


the client's best interests rule (COBS 2.1.1R) and the fair, clear and not misleading rule (COBS 4.2.1R) to ensure that, when a client signs a document electronically, this does not make it more difficult for the client to understand what they are agreeing to.
What about ISAs?
Helpfully, the ISA Regulations include specific reference to when an application is considered to be "in writing" (there are also provisions for applications not in writing) and confirm that an application by an individual is regarded as "in writing" if it is furnished by electronic communication containing an electronic signature of the individual. An "electronic signature" in this context uses the definition from the Electronic Communications Act 2000.
If you require further information about anything covered in this briefing, please contact Grania Baird or your usual contact at the firm on +44 (0)20 3375 7000.
This publication is a general summary of the law. It should not replace legal advice tailored to your specific circumstances.
© Farrer & Co LLP, April 2020