Financial Services Seminar: Private Banks
Insight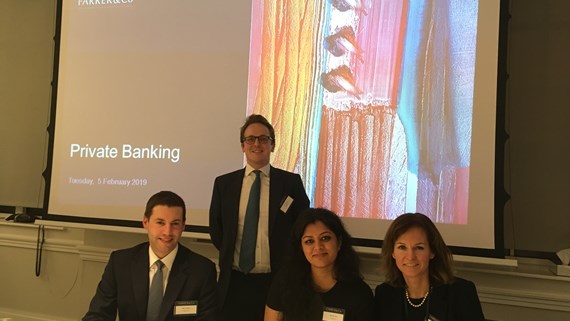 The Financial Services team at Farrer & Co welcomed over 80 senior executives on 5 February 2019 to their first seminar of the year. The seminar addressed many topical issues relating to the private banking sector.
Marc Glancy who regularly advises clients on complex, high value banking and finance transactions involving international jurisdictions, provided an update on the status of the proposals for the replacement of LIBOR which is to be phased out by the end of 2021. Marc's presentation focussed on the adoption of SONIA as the replacement benchmark rate for sterling LIBOR and what private banks should be doing now to prepare for the transition to this new rate.
Nandini Sur who advises many institutions on financial services compliance and regulation, with a particular focus on the payments industry gave a fascinating insight on aspects of the Payment Services Directive 2 (PSD 2) due to come into force in 2019. In particular, Nandini covered the new requirements in relation to strong customer authentication and Open Banking and the practical implications for banks associated with these changes.
Grania Baird who leads the financial services practice discussed the implications of a no deal Brexit on the financial services market focussing on the lending and deposit taking activity of private banks. Grania considered the government's preparations for a no deal scenario including the UK's onshoring legislation, the temporary permissions regime, the financial services contracts regime and the transitional powers being made available to UK regulators in the event of a hard Brexit. Grania noted that although there is no EU planned temporary permissions regime, a number of member states have announced that they plan to have in place transitional measures in the event of a hard Brexit. Grania concluded by considering the implications of a hard Brexit on both incoming firms (who can benefit from the UK's contingency measures) and UK firms looking to continue to access EU markets for whom existing passports will cease on a hard Brexit.

Alan Baker advises on all aspects of commercial and particularly data protection law. He provided a fascinating insight on data protection issues post Brexit, explaining the Information Commissioner's recent guidance on this topic and highlighting the stark difference between a no deal Brexit and a Brexit with a withdrawal agreement. Alan's talk focused on the GDPR's data export / data transfer rules and the ICO's keenness for organisations to rely on 'model clauses' / 'standard contractual clauses' in the event of a no deal Brexit
If you would be interested in joining our future programme of seminars in the Spring, please contact Christina Cronin at [email protected].