Coronavirus Job Retention Scheme: further guidance published (9 April)
Blog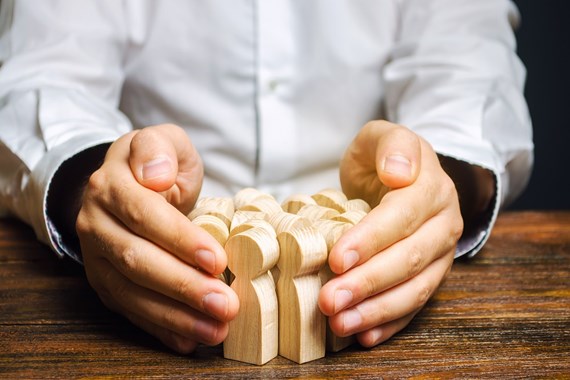 The government's guidance on the Coronavirus Job Retention Scheme has been updated on a number of different occasions. For our commentary on the different versions, see the following links:
The government seems to be making a habit of publishing new guidance on the Coronavirus Job Retention Scheme (JRS), or furlough scheme, just as people finish work for the weekend, and this bank holiday weekend was no different.
On 9 April, just as people finished for Easter, the government updated its guidance on the JRS. As well as providing useful clarification about some of the details of the scheme, this third version of the guidance helpfully answers two questions which were outstanding: how does the JRS work with employees who are or who become ill; and what happens if a TUPE transfer takes place after 28 February.
We have previously written about the JRS: see here for details of the scheme and here for a summary of the government's update on 4 April. This blog considers the changes made by the government in this latest update to its JRS guidance.
How does the JRS work with employees who are or become ill?
This is one of the biggest changes brought about by this latest government update. The question can be divided into two:
Employees who are currently off sick
Previously, the guidance stated that employees on sick leave or self-isolating would get statutory sick pay (SSP) and could only be furloughed once they were no longer receiving SSP.


Now, although the guidance is clear that the JRS is not intended to cover short-term absences, it confirms that it is possible to furlough employees who are currently off sick (including those on long term absence). This is a business decision for employers. If an employer decides to furlough an employee who is already on sick leave, they should stop paying that individual SSP and should instead treat them in the same way as other furloughed employees.


Employers who qualify for the SSP rebate scheme might be able to claim under both that scheme and the JRS for the same employee, but not for the same period of time.


Employers who offer enhanced sick pay may well find it hard to gain consent for furloughing from employees currently in receipt of full sick pay, since to do so may result in them receiving a reduction in salary (ie to 80 per cent / £2,500). Depending on the circumstances, employers may be able to agree a top up for those employees while they remain ill, but this is potentially complicated so should be handled with care and we would suggest seeking advice where necessary.
Employees who fall ill on furlough
If a furloughed employee becomes unwell whilst on furlough, it is up to employers to decide whether to keep them on furlough or move them onto SSP. If an employee is kept on furlough, they are entitled to their furloughed rate of pay. However, employers should ensure that this is at least equivalent to the rate of SSP, since furloughed employees retain their statutory right to be paid that amount when sick.


If employees are entitled to enhanced contractual sick pay, employers will be responsible for any top up above the 80 per cent / £2,500 cap to bring employees up to this level. Employers may therefore want to keep employees on furlough in this situation and/or consider expressly excluding any entitlement to contractual sick pay for furloughed employees to try to avoid any issues on this point.
What happens if a TUPE transfer takes place after 28 February?
The previous JRS guidance was silent about TUPE and did not address what would happen to employees who transferred to a new employer after the key date of 28 February. This led to some concern that such employees would not be eligible to be furloughed by their new transferee employer, since technically they were not on that employer's payroll on 28 February.


However, the government has now confirmed in this update that, if TUPE applies, employees who transferred to a new employer after 28 February can be furloughed.


Similarly, where a group of companies consolidate their payroll after 28 February, they remain able to furlough those employees under the JRS.
Further clarification provided by the updated guidance
In addition to these questions, the latest government JRS guidance helped to clarify a number of additional points:
The guidance confirms that employees on all categories of visa can be furloughed; access to the JRS is not limited to UK nationals.


It has been clear from the start that furloughed employees cannot carry out any work for their employer. The government has clarified that this includes any linked or associated organisations.


The government's previous update made it clear that people who are shielding (or need to stay at home with someone who is shielding) can be furloughed. However, that guidance went on to say that employers can only claim for these employees if "you would otherwise have to make them redundant". This wording seemed illogical (and potentially concerning) and thankfully has now been removed in the new update, so that the wording on shielding now echoes that for employees with caring responsibility. It seems this was just inconsistent drafting rather than anything more sinister, and it is good news this wording has been taken out.


There is a new section covering public sector contractors in the scope of IR35, or off payroll rules. As a reminder, proposed changes to IR35 in the private sector have been delayed by a year (see here for details).


The section on "How much can you claim?" has been expanded to make it clear that employers can claim for:

- Employer National Insurance Contributions that are paid on the subsidised furlough pay (and not employee's usual wages).
- Employer pension contributions paid on the subsidised furlough pay (again not usual wag]es), but only up to the level of the minimum automatic enrolment employer contribution and provided this sum is paid in full into a pension scheme for the relevant employee as an employer contribution.


There is further clarification in the section on "Salary Sacrifice Schemes" that all the grant received must be paid to employees in the form of money, and must not be used to pay for the provision of benefits via a salary sacrifice scheme. Employers will therefore need to consider how to manage the provision of such benefits, for example, by paying for them direct or allowing for salary sacrifice arrangements to be changed given that the coronavirus has been confirmed as counting as a "life event" for salary sacrifice purposes.


There is a new section on "Returning from statutory leave" (eg maternity, paternity, shared parental, sick leave etc). This confirms that if these employees are placed on furlough, their ordinary salary should be used to calculate their furlough pay, and not the amount they received whilst on statutory leave.


There are more details about what information employers will need in order to make a claim. Evidence given by HMRC to the Treasury Coronavirus Select Committee on 8 April suggested that the online system for employers to upload claims will be live from 20 April (for more details see here) and so employers are advised to ensure they have all this information by that date. Employers who authorise agents to act on their behalf for PAYE purposes can use those agents to make a claim on their behalf.


Employers are reminded that employees must receive no less than 80 per cent of their reference pay (subject to the monthly cap of £2,500). Employers cannot deduct any fees, charge or costs from this amount.


The guidance confirms that a grant received by a non-business employer (eg individuals who employ nannies or other domestic staff) will not be taxable, though the employee will continue to be taxed as normal.
What questions remain outstanding?
Although this latest update has answered a number of questions, uncertainty still remains on the following:
1. What is the position with holiday entitlement and the JRS?
The JRS guidance continues to be silent on holiday, leaving employers in the dark about how holiday during furlough might work. Currently, Acas in its guidance states:
Furloughed employees can request and take their holiday (including bank holidays) in the usual way, if their employer agrees.


Employees on furlough must get "their usual pay in full" for any holiday they take while on furlough. This suggests that, in Acas' view at least, employers will need to top up pay for any time a furloughed employee spends on holiday to that employee's pre-furlough rate.


Previous Acas guidance said that employers can still require employees to use a day's paid holiday for bank holidays "including when they're furloughed". The reference to furlough in this statement has however now been removed. Similarly, the section on "requiring staff to take holiday" is silent as to furloughed employees. Frustratingly, this leaves it unclear as to whether employers can require employees to take paid holiday while on furlough.
It should be noted, however, that Acas guidance does keep changing and moreover is not binding on HMRC, which is not helpful for employers seeking to rely on it. HMRC has indicated that it will be providing clarity on the issue of holidays and furlough sometime this week. We can but hope and will certainly update you as and when we hear anything further.
2. In order to access the scheme, must the alternative be a redundancy situation?
The wording in the guidance about when the JRS will apply has not changed, and so the issues raised on this question at end of our earlier blog remain unanswered.
It remains bewildering – yet in many ways, unsurprising, given the context – that there is still no legislation in relation to the JRS. It may well be that there never is and that HMRC may just operate it under the broad aegis of the Coronavirus Act 2020. This means employment law geeks, us included, hang all kinds of interpretations and subtexts on the tweets of HMRC advisors – and given the occasionally divergent tenets of employment and tax law, could lead to interesting questions for the future. However, the scheme reflects the times and is developing as it goes along: we await the next update with interest. On current performance, look out for more news sometime on Friday evening!
We appreciate that this is a stressful and worrying time for our readers (and for so many), and we do hope that you find the guidance contained in this blog useful. If you are interested in formally engaging the firm and require further tailored advice in relation to what is covered, please contact Rachel Lewis, Amy Wren, or your usual contact at the firm on +44 (0)20 3375 7000.

Please note that our Employment team is currently experiencing a very high volume of queries in light of the COVID-19 outbreak, which unfortunately means that we are unlikely to be able to respond to informal queries of a more general nature, given the need to prioritise urgent queries from existing or new clients. We hope this blog is, however, helpful in addressing some of those more general queries.


This publication is a general summary of the law. It should not replace legal advice tailored to your specific circumstances.
© Farrer & Co LLP, April 2020