AI-generated music: timeless legacy or copyright breach?
Insight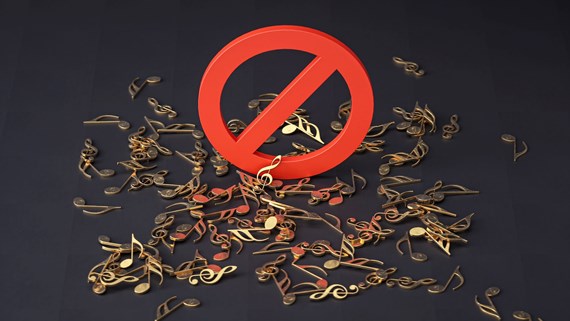 Summary
Of all the ways in which generative AI has hit the headlines in recent weeks, the growth of AI-generated music has created some of the greatest public astonishment. Inside the music industry, that astonishment is coupled with existential concerns for the future of the industry. Although a growing number of artists are already using the fast-developing technology to support and speed up the creative process, the unlicensed use of recorded-music catalogs to "train" AI systems to generate new songs has thrown up some very serious copyright issues. Oliver Lock, Owen O'Rorke, and Ethan Ezra Howard at the law firm Farrer & Co have kindly provided Omdia with their thoughts on the legal considerations that are set to unfold in the next few years.
Legislators and courts playing catch-up in AI-generated music
As with other forms of generative AI, some of the most significant areas of legal and ethical controversy (at least for creatives) relate to the unauthorized use of existing works, and the dangers to reputation and moral rights associated with all-too-credible impersonation. In April, the AI-generated track Heart On My Sleeve uploaded by TikTok user ghostwritter977 accumulated millions of views with its compelling mimicry of Drake and the Weeknd's voices. That is before UMG (Drake and The Weeknd's label) flexed their muscles to remove it from a compliant Spotify. Perhaps the case of most recent interest to the British press is AIsis, a pastiche Oasis album in which two fans, frustrated at the improbability of a Gallagher reconciliation, used AI software to layer in Liam Gallagher's voice apparently to "perform" lyrics they had written. This was accompanied by instrumentation that a real-life band (named Breezer) had played in imitation of Oasis's characteristic style.
In that sense, the AI element was only the (impressive) cherry on top of an old-fashioned tribute act. But the harvest of legacy material and personalities to churn out newly generated output sits within a legalistic uncanny valley. From an IP perspective, industry traditionalists have drawn their battle lines: Universal's CEO, Sir Lucian Grainge, noted that "the recent explosive development in generative AI will, if left unchecked, both increase the flood of unwanted content hosted on platforms and create rights issues." The IP rights in question range from copyright (the obvious one) to trademarks (think twice before shoehorning a DJ Khaled or Pitbull catchphrase into your next track), to more nebulous "get up" rights (Rick Astley has commenced proceedings in California following an unlicensed imitation).
Beyond the flurry of litigation, the legislators—much like the courts—are playing catch-up. For example, a 2022 UK government consultation on AI and IP concluded that "unleashing the power of AI is a top priority." However, Sir Patrick Vallance's report to the government in March on emerging technology undercut this ambition, observing that "the relationship between intellectual property law and generative AI is unclear" and recommended greater regulation: something the UK government's recent white paper suggested is not currently under consideration. Although, in that regard, the UK seems to be an outlier, and such is the speed of change that much in the white paper already seems out of step with the technology.
Issues and considerations under the spotlight
Ultimately, AI-generated music stress tests every conceptual link in the IP chain. In our view, the following considerations will unfold over the coming years:
Infringement: this needs to be considered at various stages of the training and use of generative AI models.
Obtaining data and training the AI: If training data is obtained from unlicensed sources—e.g., by scraping the internet without the permission of rights holders— then the use of this data to train the AI can be an infringement of copyright and database right. While there is currently an exception to data mining in the UK for non-commercial research purposes, the government's proposal to widen this exception to permit text and data mining for all purposes was shelved after an outcry from industry voices.
Storing learned information: If the AI creates and stores copies of the infringing material (rather than merely learning the relational principles present in the training data), this could also amount to copyright and database infringement.
Generation of AI output: If AI-generated music reproduced a substantial part of a copyrighted work, then the position is clear—this new output is infringing. However, where the AI-generated music is "inspired by" earlier works, and merely applies the relational principles it learned from studying earlier copyrighted material for the purpose of creating something "new," the position is much less clear-cut. Despite UMG's bullish position, it may be hard to argue that simply replicating an artist's style constitutes copyright infringement: the takedown of Heart On My Sleeve divided opinion.

Subsistence of copyright in AI-generated content: Different countries have been adopting different approaches to this evolving area. The UK currently provides copyright protection for computer-generated work (CGW), meaning work that is generated by a computer without any human author— a matter for debate in generative AI. The UK intellectual property office's (IPO) recent consultation on AI and copyright suggested no change or clarification to this provision, saying there is "at present no evidence that protection for CGWs is harmful." In contrast, the US Copyright Office's own guidance affirmed that on many available AI platforms, "users do not exercise ultimate creative control over how such systems interpret prompts," thereby disclaiming copyright protection.
Ownership of AI-generated content: Assuming that copyright does subsist in the output, then who owns the work generated is another key question. The UK's Copyright, Designs and Patents Act 1988 states that "in the case of a literary, dramatic, musical or artistic work which is computer-generated, the author shall be taken to be the person by whom the arrangements necessary for the creation of the work are undertaken." While this sounds straightforward in theory, determining who that person is is harder in practice: is it the person who created the software, the person who trained the software, or the users who prompted the software to generate the material in question? All could stake a claim and the answer could vary depending on the material in question.
Passing-off / false attribution: The ability of generative AI to produce material that can convincingly be attributed to a well-known (human) creative raises issues around passing-off and false attribution. Unlike some countries, the UK does not have a separate category of image rights that protects a person's reputation as distinct from that person's creative output. Hence, should an AI model be used to create content leveraging a person's preexisting style or reputation, the artist may need to rely on concepts like passing-off (by false endorsement) and consumer protection from unfair business practices.
Licensing: The ownership and ongoing use of AI-generated music are likely to end up regulated under contract and official licensing. Artist Grimes has launched software that mimics her voice and ultimately provides her with the user-generated song credits and a royalty stake. This seems a canny move to enable profit from an otherwise gray area of IP, namely voice imitation. Other artists / platforms may follow suit. Similarly, the UK IPO is currently preparing a code of practice on accessing copyrighted materials, and those who subscribe to it "can expect to be able to have a reasonable license offered by a rights holder in return."
The gray area of goodwill and reputation
Artists are increasingly having to consider the reputational impact of AI-generated music on both the industry as a whole and their own profiles. It is possible that the technology has the potential to democratize the industry, allowing for a more diverse and creative landscape.
Artists themselves may want to exploit AI technology and legitimately build its uses into their own music. However, there is legitimate concern that it is seen as a threat to the livelihood of musicians and artists.
There is also the real possibility that AI-generated music purporting to be of a particular artist may be critically and publicly derided—which may raise concern that a band's goodwill and reputation could take a hit. This is particularly so in circumstances where listeners may not be aware that the artist had nothing to do with the creation. While AIsis received prominent media attention (and therefore wide knowledge that Oasis had nothing to do with it), it is not inconceivable that, as the technology develops, "new" material may be confused with an artist's own music.
It is important for all parties to be transparent about the use of AI, and for artists to build strong relationships with fans and educate them about the changing nature of the industry.
Some commentators have likened the advent of AI-generated music to Napster, the equally disruptive music platform of the 2000s, which suffered an equally dramatic downfall. The fate of AI-generated music will greatly depend on how the courts, governments, and industry giants determine the questions posed above. Millions of AI streams and views, however, suggest the paradigm shift is happening already.
Please note this content was originally published in Music and Copyright on Omdia.
This publication is a general summary of the law. It should not replace legal advice tailored to your specific circumstances.
© Farrer & Co LLP, June 2023