Farrer & Co secures top rankings in Chambers UK 2023
News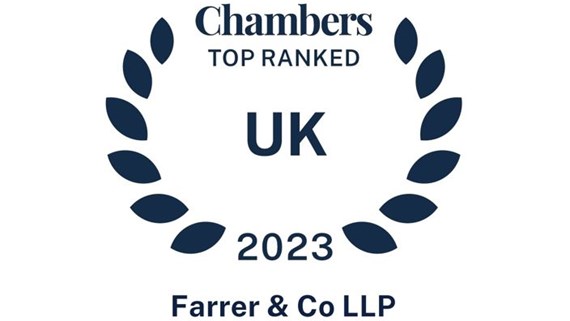 The 2023 edition of the Chambers UK guide has been published. Farrer & Co is ranked in a total of 21 practice areas, and 60 individual rankings across the firm. 12 of these individuals have been ranked in Band 1, click here to view.
We are pleased to be ranked in the top tiers for:
Agriculture & Rural Affairs: "They are at the top end of the game. They are very well known and regarded nationally for their work in agriculture and landed estates."
Art & Cultural Property Law: "They're a pre-eminent firm that delivers impeccable client service. They're delightful to work with, imaginative and creative. They are the best."
Charities: "The service they offer with accuracy and the ability to meet tight deadlines mean they are second to none in their field. They are exemplary."
Education: Institutions (Schools): "They have been absolutely outstanding, I regard them as best in class. I trust them entirely to immediately gauge the complexity of every matter and to offer helpful, pragmatic advice."
Education: Institutions (Higher & Further Education): "Farrer offers quality, thoughtful and consistent responses to complex questions. They have an outstanding ability to digest highly complex matters and synthesise actionable, top-quality advice."
Employment: Senior Executive: "In terms of attentiveness, no stone was left unturned – every detail of the client's instructions were addressed in communications, evidencing high levels of thoroughness from the team throughout."
Family/Matrimonial: Ultra High Net Worth: "They are always accessible, very supportive and on top of everything. They are there for you at the drop of a hat."
Media & Entertainment: Publishing: "They provide the best legal advice that you can procure."
© Farrer & Co LLP, October 2022