Farrers secures top tier rankings in Chambers High Net Worth 2021 Guide
News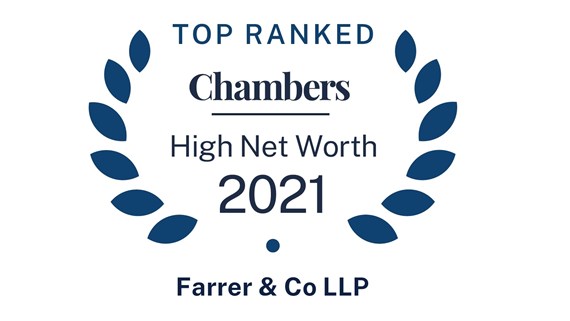 The 2021 edition of the Chambers High Net Worth guide has been published.
We're pleased to be ranked in the top two tiers for:
Art & Cultural Property – "Farrers is one of those firms where you will never ever get bad service."
Family/ Matrimonial – "The firm has a very strong family law team with exceptional knowledge and brilliant client service." This source continues: "They are undoubtedly one of the best firms you can go to."
Private Wealth Law – "Farrers has a first-class team for private client issues - they're phenomenal."
Private Wealth Disputes – "Definitely one of the top firms in London. They're the firm I go to for a messy contentious private client matter. They're my favourite lawyers."
High Value Residential Property – "I find their attention to detail and diligent approach to property transactions to be their key strength."
Immigration: High net worth individuals – "They are truly collegiate in their approach."
Defamation/ Reputation Management – They are responsive, commercial, and always seem to stay two or three steps ahead," says an interviewee, adding: "They are the go-to firm when it comes to difficult reputation risk issues."
Chambers High Net Worth is one of a series of guides to the legal profession across the globe. The rankings are based on client feedback and in-depth analysis of the best law firms and lawyers in the UK and London.