Inspiration Series: an interview with Lucy Lettice, Co-Founder of &SISTERS
Insight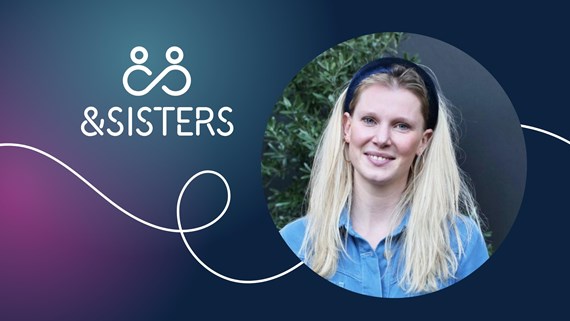 Where did the idea for &SISTERS come from?


&SISTERS was founded by myself and my mother Claire. We realised despite having three decades between us, not much had changed when it came to period and menstrual care. Drawing on Claire's entrepreneurial flair and my background as a buyer, we believed we could create a model for a new kind of conscious period care - one that put toxic, unsustainable period products in the rear view mirror, genuinely helped the fight against period poverty and helped support women across their entire menstruating life.
How environmentally damaging are mainstream period care products, and how are &SISTERS' products different?


Mainstream period products contain up to 90 per cent plastic; research carried out in 2018 by the European Commission on marine litter highlighted that period products were in the top five single-use plastics found on our beaches and in our oceans! Our organic cotton range of compostable pads, tampons and liners breaks down within eight months rather than the 500-800 years of mainstream alternatives.

Our nüdie reusable range is even better for the planet! Our organic cotton nüdie Reusable Period Pants last up to eight years and prevent up to 400 disposables going to landfill and our super soft nüdie Period Cup lasts a full decade and prevents up to 2500 disposables from being wasted. We also recently launched the remüvie Intimate Stain Remover which seeks to tackle the stains other people don't like to talk about. Our recent survey found that 84 per cent of women have had a menstrual leak in the last month and remüvie seeks to keep your clothes & bedding clean for longer despite Mother Nature's little surprises.
You donate some of your profits to support women and educate girls, can you tell us more about this?


We are extremely passionate about our business being better for the Sisterhood across the Globe. We prefer to focus our efforts on period care access and eco-feminism. One of our favourite charities we are donating to at the moment is eXXpedition. eXXpedition sends multidisciplinary female teams on sailing voyages to learn and analyse our oceans in the face of growing plastic and toxic pollution. Whenever you buy one of our "let's get nüdie" Limited Edition T-shirts £5 is donated to the eXXpedition team.
What are some of the other brands creating a positive social impact that inspire you?


We are so inspired by Elvie. They were really the pioneers who made space for women and people who bleed to be counted, and seen as a group that deserved products really designed for how they need it. We also love the team over at Ocean Bottle, they have really upped the ante for sustainable businesses. Their level of donation and focus on plastic and carbon reduction is unparalleled.
If you had to pick one proudest moment in your &SISTERS journey so far, what would it be?

Honestly, I couldn't say one thing, we have achieved so much in such a short period of time, from successfully closing two rounds of funding, to being accepted into the FemTech Lab & Natwest accelerators, to achieving B Corp status, the list goes on! One thing I have learnt on the &SISTERS journey which is so important is to celebrate the small wins - they make a greater whole and provide weekly motivation to all the team!
What can we expect from &SISTERS in 2022?

Big things! We are now raising funds to roll out phase 2 of our growth plan, fuelling the launch of SISTERLYTM our new menstrual health platform, development of new product lines, category & channel expansion. We have just launched our public crowdfunding campaign which is steaming ahead. Plus we just got B-Corp certification & we are the best in the period care business!
Why was it important to &SISTERS to obtain B Corp Certification, and what would your advice be to other entrepreneurs seeking B Corp status?

From the very beginning, we have aspired to be a BCorp certified business. The values of B Corp and &SISTERS are very strongly aligned - putting environmental and social impact at the heart of every decision we make.

The B Corp certification provides the framework for businesses to prove they are meeting the highest standards of social and environmental performance, public transparency and legal accountability and to be a force for good, ensuring they are balancing business with purpose.

Applying to become a BCorp requires a lot of work. We spoke to a number of other companies who have been through the process and it is rare to find one that took less than a year. It requires knowledge and collaboration across every department/function of your organisation as well as engagement from some of your external counterparties e.g. suppliers, shareholders.

You certainly need to be prepared to put some time aside dedicated to the preparation phase. However, with that being said the BCorp community is incredibly supportive and is willing to help.
If you require further information about anything covered in this interview, please contact Beth Balkham or your usual contact at the firm on +44 (0)20 3375 7000.
This publication is a general summary of the law. It should not replace legal advice tailored to your specific circumstances.
© Farrer & Co LLP, April 2022