Inspiration Series: an interview with Sadia Ahmed, founder of Oliver's Cupboard
Insight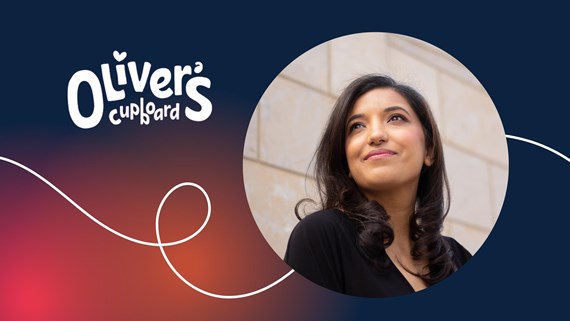 Diversity and inclusivity should be on every business owner's radar, but for Sadia Ahmed, founder of Oliver's Cupboard, such considerations are the cornerstone of her baby weaning business. We caught up with her to find out more about how she identified a problem, created a solution and is now cooking up a storm in breaking cultural barriers with food for all babies.
Tell us about what led you to found Oliver's Cupboard?


I started Oliver's Cupboard purely because of my son. When he was ready to wean, I visited my local major supermarket and having looked around the baby food aisle, I had a moment of realisation – there was nothing on the shelves that represented my family and our dietary requirements. I am a British born Muslim with Bangladeshi heritage, but the food on offer was not a multicultural representation of society. Where were the halal options? Where were the herbs and spices!? My son was already being marked as different because his baby food wasn't anywhere to be seen, and it was at this moment that I realised something had to be done. All babies should be able to be fed from supermarkets.

But as well as that, we should be teaching our children from the start about all sorts of different ethnicities, and as food is so important in bringing people together, this education starts in the baby food aisle.
How have you incorporated diversity and inclusivity into your business?


In terms of our products, the food we produce includes snacks and on-the-go meal pouches for all babies, as the recipes include multicultural flavours from countries such as Malaysia, Thailand, India, Brazil and Egypt.

We will also soon be launching a World Breakfast range with dishes from other regions including China, Japan, Ethiopia, Morocco and Peru.

Yet it's equally important that D&I considerations are embedded not only into our products, but also our work culture. Such considerations are central to my recruitment strategy, as the more diverse the team, the wider variety of perspectives. I have two employees who are working mothers and they had to both give up their previous jobs as the working hours did not provide the flexibility to suit their families. They can work at Oliver's Cupboard because tasks can be completed during the hours that suit each employee. This provides the flexibility necessary to open the doors to lots of different individuals.
It was a conscious decision for me to create a team that represents men, women and non-binary individuals from different religions and ethnicities and spanning all ages.
Who has been the biggest inspiration for you in your journey with Oliver's Cupboard so far?


I listened to Alison Cooper talk about her food business for the airline industry, En Route, during a panel talk as part of Farrer & Co's Entrepreneurs Week 2019. As a Mum herself who has stuck to the integrity of her business, Alison is an entrepreneur who has inspired me in my journey. Her resilience and vision in growing her company and going through all the challenges to create an immensely successful company is very inspiring.

I recently also attended a Harper Bazaar networking event during which I heard Jane Wurwand speak. She is the founder of the skincare brand, Dermalogica, and she shared her experiences of operating in very male-dominated circles in which she was repeatedly told that her business idea would never be successful as women "didn't need to wash their faces". I admire Jane's resilience as she stuck to her intuition and proved everyone wrong in launching an incredibly successful skincare brand that suits everybody.
What is the biggest challenge you have faced to date as an entrepreneur, and how did you overcome it?


Not having enough knowledge from the beginning. I had no idea how to understand data, how a business worked, or how to set up a team. But after spending several hours in the British Library Business Department looking up the data and understanding the baby food market, I went and learnt what I needed to.
What advice would you give to someone who is trying to set up their own business?


Don't let your lack of experience hold you back. There's knowledge to be found, so you can always learn. Networking events are a good starting point and inspirational people are out there with stories that will resonate with you. They will help you believe you can do it too.

It's also so important to invest in good accountants and a legal team, as if you sacrifice investing in these areas, it will bite you in the long-term. There are so many different accountants and solicitors out there, but it's important to find those who fit you and your business.

And finally, if your motive is just money you're going to fail. You need to have a purpose that's bigger than money to keep going.
What are your plans for Oliver's Cupboard in 2022?


We want to continue to create more ranges and expand to international markets. We will also be running a social media campaign #forallparents later this year.

For more information, visit the Oliver's Cupboard website here.

If you require further information about anything covered in this interview, please contact Beth Balkham or your usual contact at the firm on +44 (0)20 3375 7000.
This publication is a general summary of the law. It should not replace legal advice tailored to your specific circumstances.
© Farrer & Co LLP, March 2022