Meet our new Senior Partner: Jeremy Gordon
News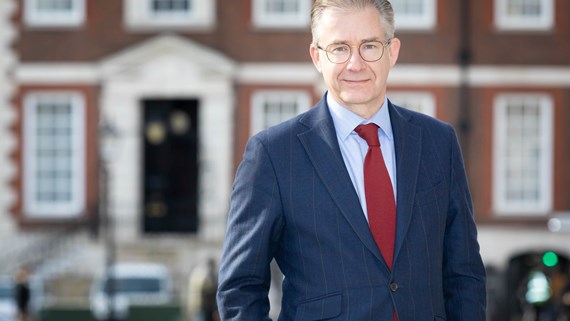 Many congratulations to Jeremy Gordon who was elected our new Senior Partner as of 1 May. In this article, Jeremy outlines his unconventional route into law, what has kept him at the firm for over 33 years and his priorities as Senior Partner.
Was it always going to be law for you?
No. My arrival at Farrers as a fresh-faced articled clerk in 1989 followed a rather erratic post graduate path. After graduating from Durham with a degree in medieval history, I endured a very short and undistinguished career in accountancy and then had a brief but rather more enjoyable flirtation with the wine trade before heading off to law school.
Why Farrers?
There were so many things that set Farrers apart from other firms. Yes, it was well known for its association with royalty and acting for landed families but it was what was going on elsewhere in the firm that was just as eye-catching. It was engaged in some of the highest profile litigation in the employment and libel world of the time and on the corporate side the firm was involved in one of the biggest mergers of the period. There was also exciting work going on in other areas. The firm's private client practice was being developed for offshore clients. Farrers was at the forefront of the development of sports law as an area of practice and was starting to make a name for itself as a leading charities practice. The list went on!
So, it was this compelling mix of old and new which attracted me. A firm with an unrivalled, long illustrious history which was also forward thinking, nimble and innovative in its outlook. It is this unique blend that still continues to distinguish the firm from others.
What has kept you here?
Quite simply, the people, at all levels.
Farrer & Co has been my professional home for over 33 years and it is a firm I care about very much. It is unique. While the firm has changed hugely over this period this has essentially been change for the good without leaving its essence behind.
It is one of the oldest firms in London, yet it is impressively innovative and now thoroughly modern in its outlook. It handles a range of work of which no other firm can boast and within this breadth it also has depth, with market-leading practices in all corners of the firm. But most important of all are the people within the firm, at all levels. Colleagues who are stimulating, increasingly diverse, and whose individuality is celebrated.
How has the firm changed?
It has certainly grown substantially in size over the years, reflecting not just the growth of the firm's traditional practice areas but also the development of a number of new practices within the firm and in some cases, such as safeguarding, new areas of practice in the profession. This has meant, together with lockdown and the different way of working this has given way to, that I no longer recognise everyone I pass in the building as used to be the case. However, I enjoy meeting people and this is something I very much look forward to putting right!
What is your main priority as Senior Partner?
Not only does the firm have a unique offering in terms of its breadth of practice, which for many clients means we can usually provide all the legal services sought under one roof, it has a distinctive way of providing this advice with emphasis placed on particular qualities. Excellence, it goes without saying, and with this a highly personalised and responsive service. Trust. We recognise that our relationships with our clients are built on integrity and discretion, values we hold dear. I would also like to think that all our clients receive this service in a friendly, good-humoured way.
I see an important part of my job as being to do what I can to promote and preserve this distinctive offering.
What do you do outside of the office?
Away from the office, I spend much of my time on Exmoor where I am able to enjoy gardening (a particular passion these days), fishing, golf, long walks with our two spaniels and cooking.