Inspiration Series: an interview with Jake Kasumov and Marco Mendes, Co-Founders of MJMK
Insight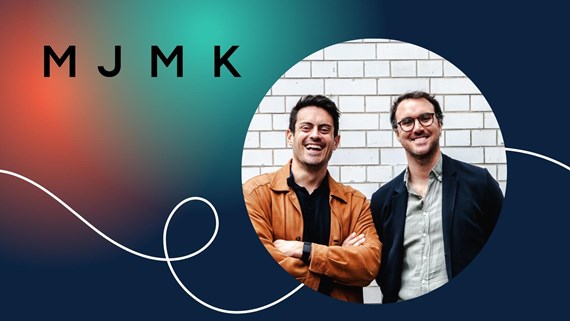 As we all know, the hospitality sector was hit extremely hard by the Covid pandemic, with venues such as restaurants and bars being shut for months, and, even when open, often faced with waves of cancellations and indoor dining restrictions. This made staying afloat a struggle and, for many, virtually impossible. Yet through the challenges of the pandemic came great innovation as scanning QR codes, DIY fine-dining meal kits and al fresco spaces (in the middle of winter!) became the new normal. Although many of the capital's best eateries and bars sadly didn't return after such a prolonged period of closure and uncertainty, hospitality group, MJMK, successfully weathered the storm and has emerged even bigger and better, with new food ventures, KOL, La Rampa and Lisboeta all notably opening since the pandemic started.

We caught up with co-founders, Jake Kasumov and Marco Mendes, to find out more about how MJMK not only survived the pandemic, but has since excelled with its impressive growth and innovative reimagining of post-Covid dining culture.
What is your background and how did you end up in the food industry?


Marco previously read Law at University, and Jake read Economics. We both then went into corporate careers in the City (where we met), and from there became very close friends.
The first business we launched together was in music events and that eventually led us to the hospitality sector.
Being in hospitality, how were you able to successfully navigate the pandemic?


We firstly looked at what government support mechanisms were available such as business loans and the furlough scheme. Throughout the pandemic, it was important to us that we kept our core team, and thankfully through furlough we were able to. We also undertook a rigorous internal audit of the business from the costs side to make ourselves as lean as possible.

While at first, we saw the pandemic as a big issue for our business, ironically it became a brilliant opportunity for us to look at favourable real estate opportunities.

During lockdown we also conducted an NHS food programme from both Casa Do Frango locations in which we gave more than 10,000 meals to frontline workers. This ran alongside a normal delivery programme for the public.

We also used the time that we had during the pandemic to build connections with people we thought we might like to recruit or work with in the future, as had we not been in lockdown, some of those individuals would have been difficult to pin down.
How has post-Covid been for MJMK?


Covid led to various changes in the market that have positively affected our business from how landlords view their estates to the restaurant industry's greater push towards experimental dining and food "experiences". This has opened big opportunities for MJMK, for example, we opened La Rampa in the summer of 2021, a restaurant and bar inspired by Jake's childhood in Cuba. We then opened the Portuguese restaurant, Lisboeta, with Chef, Nuno Mendes.
Congratulations on KOL's first Michelin star! What do you view as your other greatest achievements since launching the first Casa do Frango?


We are very proud of how dynamic our business model is as we offer different concepts within the restaurant sector (and run them all successfully) from casual dining and bar restaurants like Casa do Frango and La Rampa to fine dining like the others. Another of our achievements is the team that we have built who we are immensely proud of as they are able to adapt and work within such a variety of concepts.
What is the key to a successful co-founder relationship?
We work on top level business critical elements together, but we take responsibility for different things. Jake may take financial issues, for example, and I take things that are more legal, although we work together on the operations side of the business.

There is a genuine friendship that underlies our co-founder relationship. Although people often have the view that you don't mix business with friendship, our friendship has been a determining factor in our success, as well as the fact that we share the same values in business and life. We might sometimes have different outlooks when it comes to decision-making, but often that leads to a more balanced outcome that is incredibly successful.

Our business' core values are teamwork, responsibility, integrity and passion. We believe in those values and the fact we embody those values as founders allows us to be successful. Our business is structured so that we work collaboratively, and we like to provide a lot of autonomy to our team.

Our ability to adapt to changing circumstances and environments has also been an integral part of our successful co-founder relationship.
Pandemic aside, what else have you found challenging as an entrepreneur, and what would your advice be for other founders?


Our advice would be to be as diligent as possible with business planning which includes addressing relevant macro issues. For example, we had to look very carefully at our supply chains and staffing following Brexit. It's important therefore to forward plan.

However, we have found it a challenge to strike the right balance between being diligent and conservative in order to maintain the business, while also taking risks to strive for success and growth where available. It is important to protect what you have and do right by your employees, but ultimately, we want to offer our team the potential for career growth, and so you must take risks sometimes too.
What are MJMK's future plans?


We want to continue to work with amazing chefs and this year we are opening a new restaurant in partnership with AngloThai's John and Desiree Chantarasak.

We also want to grow the Casa Do Frango brand throughout London and aspire to continue to capture new opportunities in Central London.
If you require further information about anything covered in this interview, please contact Beth Balkham or your usual contact at the firm on +44 (0)20 3375 7000.
This publication is a general summary of the law. It should not replace legal advice tailored to your specific circumstances.
© Farrer & Co LLP, June 2022