The lightbulb moments: female entrepreneurs and turning bright ideas into businesses
Insight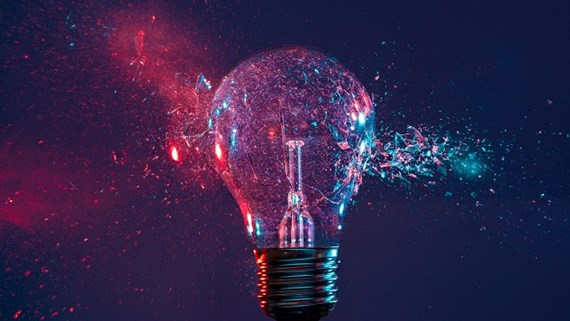 Lightbulb moments – clarity, new ideas, sudden realisations. Whilst we've all had them, an entrepreneur's "eureka!" feeling has the exciting potential to evolve into a bright business idea. Successful entrepreneurs spot opportunity, see a future in the marketplace, and effectively position their ideas as something wanted, and ultimately needed. But when does a moment of inspiration strike? And what happens next? We spoke to Nicole Crentsil, CEO of Black Girl Festival, Adele Aitchison, co-founder of childcare service, Grandnanny, and Steph Melodia, founder of marketing agency, Bloom, about the realities of putting plans into action.
When Lightning Strikes


Adele met co-founder, Sarah Vick, through an online forum for women in technology: "we bonded over a shared passion to increase employment and social opportunities for underemployed older adults and to bring relief to parents dealing with the nightmare of finding reliable, flexible and long-term childcare. Good childcare also has a big role to play in closing the gender pay and pension gaps - giant problems like that need attention."
Similarly, for Nicole there was a clear problem desperately needing attention. Black women's experiences were in no way the centre of events but simply "an addition or second issue". Black Girl Festival, the UK's first festival celebrating black women and girls, was therefore a blindingly obvious solution.
So, the first Black Girl Festival took place in 2017, and in January 2020, Grandnanny registered as a business, becoming the UK's first in-home intergenerational childcare service matching working parents with trusted older neighbours.
"Parents get a local, reliable, 'seen-it-all-before' childcarer who wants to stick with their family for the long-term. And in return, older childcarers find rewarding and local paid work that also provides social connection."
Adele Aitchison co-founder of Grandnanny
Adele co-founded Grandnanny with Sarah as "a problem shared is a problem sooner fixed. Childcare is a massive problem. Underemployment of older adults is a massive problem. Sarah and I are better able to solve this working together and it's honestly much more fun." But when Steph decided to set up Bloom, she wanted to move quickly and go it alone: "the level of freedom that comes with being your own boss was something I didn't want to dampen at the start by having a partner."
Yet Steph's lightbulb moment was less of an "aha!" and more of a slow burning desire, as after a career in marketing, the natural next step was for her to set up her own agency in 2017, with Bloom standing out from the crowd as an agency aimed at ambitious entrepreneurs and exciting start-ups.
"Bloom delivers practical marketing and beautiful creativity to early-stage businesses, unhindered by specialism or channel, thanks to our 360 approach and unique triple-tier team structure, which enables us to easily flex up or scale down accordingly."
Steph Melodia founder of Bloom
How They Did It


But how did the bright ideas become reality? Whilst all three founders had experience in their sector and/or in running a business, Adele recognises her support network was "absolutely essential", as herself and Sarah have benefited from an accelerator, Women Entrepreneurs in Social Tech, sponsored by Deutsche Bank, and have brilliant mentors and a highly qualified Advisory Group. For Steph, support came in the form of peers who had been through the process themselves and not to mention, everyone's trusted friend, Google!
In terms of financing their businesses, Adele recognises "there's a massive issue with diversity in the start-up space partly driven by the need to self-fund early on or secure pre-seed investment." With this in mind, she took out a loan, and like Nicole has benefited from the ability to freelance alongside her business. Nicole worked full-time when Black Girl Festival first launched, and slowly built up her freelancing capacity enough to draw away from her previous job. Crowdfunding was also behind the first event, pulling together a community of people eager to make it happen.
And being an entrepreneur is also about the ability to not just take risks, but effectively manage them, and so it was essential for Adele to "know Grandnanny's user's problems inside out, to have coffee with them, run recruitment events with them, survey them and co-create the service with them. The biggest failures happen when you don't iron out assumptions early enough and go all-in to build something no one actually wants."
Engaging with her community was also a must for Nicole, who continues to read articles, follow social media, and attend other events to see and hear what conversations matter and what Black Girl Festival should incorporate into its programme.
A sustainable business framework has, for Nicole, also become increasingly important, with the aim of growing the festival and its community at the forefront of her mind. This has led to expanding Black Girl Festival into new ventures such as a Mother's Day dinner with NHS Blood and Transplant, Black Girl Academy, an event-production programme in association with Apple and the Mayor of London for black women aged 17-25, and an Instagram beauty video series in collaboration with Estée Lauder.
The Darker Days


However, as discussed in our previous article on challenges facing female founders, entrepreneurship isn't always an easy ride. Nicole has found sourcing appropriate venues difficult, and Steph commented that "there are so many ups and downs, and pretty much all aspects of the company can provide their own obstacles. From winning new business to building a team, from taxes to offices…"
"Startupland isn't always conducive to supporting and investing in women-led and BAME-led businesses or those who have had diverse educational backgrounds."
Adele Aitchison co-founder of Grandnanny
Yet there's no doubt that watching your bright idea blossom is worth the trials and tribulations of getting there, and for Steph "it's important to keep level-headed, remember the situation is only temporary, reframe it as a learning opportunity, and just push through!"
Steph has relished the ability to help others: "I love being able to provide entrepreneurs with a platform to tell their story through the agency's podcast, Time to Bloom", and likewise Nicole is proud of her ability to positively impact her audience, "Black Girl Festival is fulfilling a lot of people's lives by just existing."
"The feedback from a prospective Grandnanny at one of our recruitment events was for me one of my biggest achievements. She said "in the past people have been prejudiced against me because of my age, so when Grandnanny said my experience is valuable my heart sang."
Adele Aitchison co-founder of Grandnanny
And as a graduate once attending a design show in Angel's Business Design Centre (the most recent Black Girl Festival's venue), Nicole's biggest achievement has been returning to host her own event: "to see that space filled with our logos, our branding and our community - it was so exciting and felt like such a fulfilling moment to be back in that space."
The Brighter Future


So, what's in store for these female founders and what really makes an entrepreneur shine? Grandnanny's pilot programme was successfully oversubscribed, and whilst the first matches were suspended due to lockdown, the service plans to be in full swing come September. Adele is taking initial meetings with mission-aligned investors, looking to grow its Advisory Group, and will be recruiting a Board of Directors for 2021.
"I want to create space for the creative community of black women and girls who are doing so many amazing projects. And with the question mark over how Covid-19 will impact future event space, I'm asking how can we make our content more accessible and widen our reach to uplift different voices and experiences?"
Nicole Crentsil CEO of Black Girl Festival
And if you've had a lightbulb moment and want to make it happen, Steph says "do it!". Although challenges are inevitable, Adele has found that "the hard bit of turning an idea into a service that people love can also be the fun bit if you're doing it with the right people", and her advice to other entrepreneurs is therefore to "focus on building a team that raises your game and makes you laugh."
"The real strength of an entrepreneur is having both the "aha!" moment and the community, as brands and businesses otherwise miss the mark if they just focus on the brilliant idea and not on how it impacts people, whose lives it will change and how it will evolve."
Nicole Crentsil CEO of Black Girl Festival
So, whilst transforming a business idea into a thriving and profitable company is definitely a considerable challenge, for these three female entrepreneurs it is a journey that has brought friendship through co-founders and building teams, support through mentors and growing their communities, countless learning opportunities, plenty of proud moments, and even more inspiration for the future.
If you require further information about anything covered in this briefing, please contact Beth Balkham or your usual contact at the firm on +44 (0)20 3375 7000.
This publication is a general summary of the law. It should not replace legal advice tailored to your specific circumstances.
© Farrer & Co LLP, July 2020