Rural Estates Newsletter Spring 2018
Insight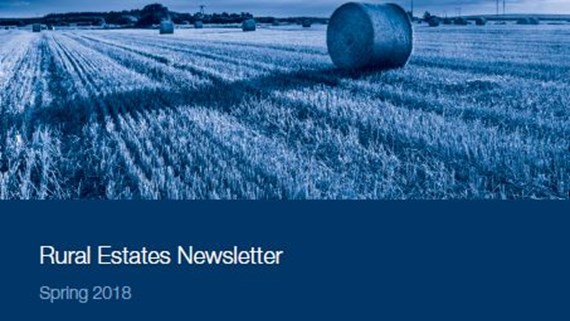 Running in the park this morning, for some reason I found myself reminiscing about the film, Dead Poets Society, in which Robin Williams plays John Keating, an unorthodox English teacher, who inspires pupils of a bleak and authoritarian school to think imaginatively, to challenge conventions and, of course, to seize the day. Heady stuff for a rather bookish teenager in 1990... gather ye rosebuds while ye may...
It often strikes me that one of the satisfactions of land management is identifying and seizing opportunities. With a government straining to meet its housing targets (and the opposition openly discussing CPOs for compensation at agricultural value), the time is now for pushing forward with the promotion of land for development. Paul Krafft and Robert Field consider development agreements and land pool trusts below; Karen Phull and Edward Banyard Smith make some practical points about barn conversions.
Broadband and the telecoms revolution bring opportunities for landowners (Shona Ferguson writes on the new Telecoms Code); as does the growing 'staycation' market for visitor attractions and estates holding events (see Jane Randell on Sponsorship for Events and Alan Baker on the implications of the GDPR).
These are uncertain times. Turn on the news, or look ahead beyond 2020, and sometimes the prospect appears bleak; but perhaps that should be a spur for us to seek out and seize opportunity, grasp the nettle, make things happen. A poem by Whitman featured in the film bemoans "the endless trains of the faithless... the cities fill'd with the foolish... the struggle ever renew'd... the poor results of all". Well, I have certainly felt that on a Monday morning commute. But as John Keating reminds his gloomy pupils, the poem provides an answer:
That you are here – that life exists and identity
That the powerful play goes on, and you may contribute a verse.
To read the Spring 2018 Rural Estates Newsletter click here.
You can access the PDF version here.
If you require further information on anything covered in this briefing please contact James Maxwell or your usual contact at the firm on 020 3375 7000.
This publication is a general summary of the law. It should not replace legal advice tailored to your specific circumstances.
© Farrer & Co LLP, March 2018