Share Your Story - Joanna Jensen
Insight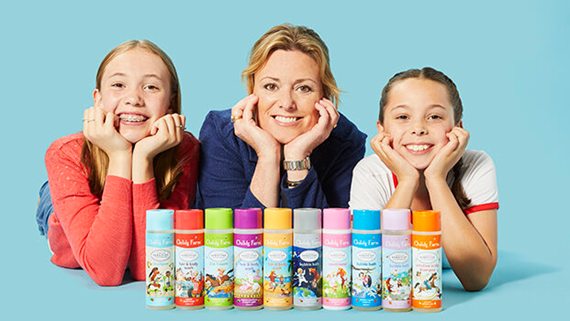 Joanna Jensen


We sat down with Joanna Jensen, Founder & Executive Chairman of Childs Farm Ltd as part of our ongoing Share Your Story campaign. This celebrates the achievements of the individuals behind each business and enables us to share some fascinating insights on life as an entrepreneur.


How did your career begin?


I began my gap year in 1988 temping for a lettings agency in Knightsbridge. The company offered me £10,000 a year and a clapped-out jalopy which I signed up to and spent the next four years working in property. After a spell in interior design, I followed a boy to Hong Kong and in 1993, I began working for my first investment bank – which I continued to do in both Hong Kong and then London until 2007.
Having my children – Mimi in 2006 and Bella in 2008 – was the catalyst for my career change. Necessity is the mother of all inventions, and both girls suffered from dry and sensitive skin – with Bella suffering from terrible allergies and eczema – but I could not find toiletry products that did not irritate or upset their skin. This drove me to investigate creating a range myself, so I could give them skincare without the "ouch".


What was the inspiration behind your company?


Now approaching 10 years since I first registered the company, my inspiration was initially helping my children with their skin issues. This grew to helping friends' children, which has now evolved into helping the nation's children – where one in five under-fives suffers from atopic eczema. The Childs Farm office is covered in notice boards bulging with thank you letters, pictures, poems, and cards from people thanking us for helping their children to be happy in their skin. These walls of thanks inspire me every day to continue doing what we are doing, making more and more children and babies smile.


Tell us about Childs Farm


I founded Childs Farm in 2010 as a solution to the sensitive and eczema-prone skin of my girls, Mimi and Bella. Our first sales being online in 2012. In the beginning, it was fairly hand to mouth; I was the sales, marketing, logistics and accounts department, learning on the job and was on a first-name basis with most of the Sage help desk.
But I had buckets of ambition, determination, and of course, fantastic products – so when we hit the first of the mainstream UK retailers in 2014 it never occurred to me that we wouldn't win.
And we did! Our rapid success was staggering – we had no money, no business plan, no staff, but amazing products and a deep understanding of how decent products for skin and hair can change a child's life – if they suffer from sensitive or eczema-prone skin.
And our consumers loved us. In 2016 we became the UK's fastest-growing natural toiletries brand for baby and child. In 2017 the No. 2 in the whole category, and in 2019 Childs Farm became the No.1 brand in the baby & child toiletries category in the UK, ahead of Global giant, Johnson & Johnson. That same year, we were announced as the ninth fastest growing business in the UK by The Sunday Times Fast Track.
Knowing that we now "own" sensitive skin in the baby & child toiletries category in the UK, we felt we had permission to launch an adult sensitive body care range and, in July of this year, Farmologie by Childs Farm went live in Boots. Using the same core ingredients as our Childs Farm range, we have added additional, clinically proven ingredients to soothe irritated skin, creating a brand that looks premium, but is top of its game, for dry, sensitive, and eczema-prone skin.


Recent challenges


We have experienced our fair share of challenges over the last few months, but we are a robust and resilient team who have dealt with the issues when they have arisen with sense and tenacity.
Our supply chain was challenged; getting componentry from Northern Italy and India caused a few sleepless nights and launching a new range in the middle of a pandemic could have had better timing, but we did it.
Simultaneously this year, our D2C sales faced pressure with a 7000% rise in online sales, but this was dealt with calmly and efficiently by the team, and even under immense pressure, goods got out and into homes.
"We have always prided ourselves on excellent customer service, and our team were outstanding here: making sure every single customer was valued and helped; communicated to and empathised with."
Joanna Jensen
The next chapter


We want to be the No.1 sensitive skincare brand in the UK for adults as well as children, and to maintain and build on our position as the leading skin and hair care brand for children in the UK & Ireland.
We will continue to work in dog years; delivering in a year what others do in seven and challenging what is acceptable in our category. Sustainability, our natural and responsibly sourced ingredients, our vegan and CFI credentials, being British: these are the passions that make up our brand DNA.
If we keep these at our core and continue to look for opportunity without damaging these, we can conquer all the challenges of COVID, Brexit and recession.
If you require further information about anything covered in this briefing, please contact Tom Bruce, or your usual contact at the firm on +44 (0)20 3375 7000.

This publication is a general summary of the law. It should not replace legal advice tailored to your specific circumstances.

© Farrer & Co LLP