Brexit: a quick guide for trade mark protection
Insight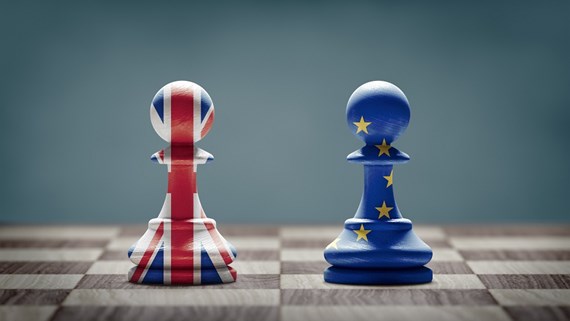 With the end of the Brexit transition period on 31 December 2020 fast approaching, we've prepared a list of five key things to help charities ensure that their trade mark rights are still protected post-Brexit.
What happens to current EU trade marks?


On 1 January 2021 EU trade marks will no longer include protection in the UK but all registered EU trade marks will be "cloned" into new UK trade mark registrations automatically and for free. The cloned UK trade mark will have the same legal status as UK trade marks applied for and registered in the UK. This is also the case for international trade marks which designate the EU, but note your cloned UK mark for international trade marks will not be a designation, so will require separate management.
Your original EU trade mark (either as an EU registration or an international registration designating the EU) will continue to provide the same protection in the EU.
Your first consideration should be whether a cloned UK trade mark is of use to you. Examples of where the cloned UK mark is unnecessary might be when your trade activities are not in the UK or where the existence of a UK trade mark might be in breach of an existing agreement.
If you do not need the UK cloned right, you can opt-out of the UK registration. Opt-out requests can be submitted after 1 January 2021 and may incur a fee so another option is to let the trade mark lapse on non-renewal at no cost to you.
If you plan to keep your cloned UK trade mark, be sure to check that the UK cloned registration contains accurate information. Also keep in mind the obligation to use both your trade marks to avoid them becoming vulnerable to non-use cancellation, particularly since post 1 January 2021 use in the UK may not defeat a non-use cancellation claim in the EU and vice versa for a UK trade mark.
Finally, remember that your existing EU trade mark and new UK cloned mark will require separate renewals. Keep an eye on your renewal date because if it falls early in 2021, there may not be time for the UKIPO to send you a renewal notification. To renew your cloned UK trade mark you must pay the renewal fee to the UKIPO. To renew your original EU trade mark you must pay the renewal fee to the EUIPO.
What will happen to our application for an EU trade mark?


Where an EU trade mark application is still pending on 1 January 2021, a UK cloned trade mark right will not be created automatically. This is also the case for an international trade mark application designating the EU where the registration process is not complete by 1 January 2021.
Instead of a cloned trade mark, applicants will have a nine-month priority period to actively file a UK application based on the EU application, including the EU application's priority date and same goods or services. Consider whether it would be best to apply for a separate UK application now to avoid delays during the priority period. If UK protection is not urgent, it is probably best to refile during the priority period to benefit from the EU application's priority date. You will need to ensure that the deadline for the priority period isn't missed as the EU will not issue you with a reminder, and note that the usual UKIPO application fees will apply.
Thinking of applying for an EU trade mark now?


For new applications filed between now and 31 December 2020, there is no longer time for the application to proceed to registration before the end of the transition period and separate applications will need to be made.
You will want to consider whether to apply for an EU or UK trade mark or both, depending on planned charitable activity using the marks. For protection in both territories, it is best to file separate applications in the UK and EU. We would recommend filing in the UK soon to avoid the administrative delays that Brexit will cause at the UKIPO.
On conducting clearance searches be sure to keep an eye on existing EU trade marks as well as existing UK trade marks, as existing EU trade marks will be cloned into UK trade marks and therefore will appear on the UK register too from the 1 January 2021.
What happens to cancellations and oppositions proceedings?


Where the cancellation or opposition is based solely on UK rights, the proceedings will stop on 1 January 2020. It may be appropriate to bring a new case in the UKIPO depending on the individual case.
EU opposition decisions issued after 31 December 2020 will not impact any UK application for the same mark, which will need to be separately opposed. By contrast, for cancellation proceedings where a mark is declared invalid or revoked after 31 December 2020, in an action that was pending on that date, the comparable UK registration will also be declared invalid or revoked, unless the grounds for invalidity or revocation do not apply in the UK.
There will be little effect on opposition and cancellation actions against UK rights based on prior EU trade marks. These actions, if ongoing on 31 December 2020, will continue at the UKIPO or courts on the basis of the law as it stood before Brexit.
Licences, security interests and assignments


EU trade marks which are subject to a licence or security interest which permits actions in the UK will continue to have effect in the UK. It may be helpful to ensure that these rights are recorded on the UK register as this will not happen automatically. The period for recording a transaction on the UK register will be extended to 12 months from 1 January 2021. New agreements should be drafted carefully to deal with EU and UK trade mark rights separately.
An assignment of an EU trade mark which has taken place prior to 1 January 2021 should be recorded on the register for an EU trade mark. If not, the cloned UK trade mark will be created on 1 January 2021 in the name of the assignor. Both the assignor and assignee will have the right after 1 January 2021 to apply to the UKIPO for registration of the assignee as owner of the cloned UK trade mark.
If you require further information about anything covered in this briefing, please contact Anisha Birk, or your usual contact at the firm on +44 (0)20 3375 7000.
This publication is a general summary of the law. It should not replace legal advice tailored to your specific circumstances.
© Farrer & Co LLP, October 2020