High Court victory for Sir Owen Glenn KNZM ONZM in long-running litigation against former business partner Eric Watson
News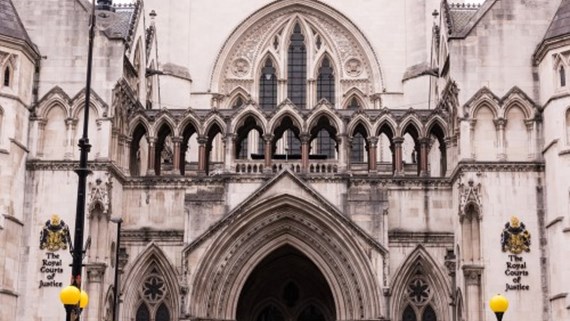 Mr Justice Nugee has today handed down judgment in the long-running Spartan litigation, in which Toby Graham and Tom McPhail of Farrer & Co have been pleased to represent the interests of prominent New Zealand businessman and philanthropist Sir Owen Glenn. Farrers, together with a Counsel team from Serle Court comprising Elizabeth Jones QC, Justin Higgo, Gareth Tilley, Paul Adams and Oliver Jones, acted for Sir Owen and a company associated with him at a 3-month trial last year. The 376-page judgment brings an end to years of litigation against Eric Watson, another prominent New Zealander.
The case related primarily to a joint venture between Sir Owen and Mr Watson called Project Spartan. Sir Owen put forward a company called Kea Investments Ltd to invest in this venture, while Mr Watson put forward a trust run by Novatrust Ltd. Kea invested £129m into Project Spartan.
The joint venture was formed in 2012, at a time when Sir Owen was embroiled in a dispute with the trustee and protector of two trusts he had settled. One of the trusts owned Kea, and during the course of 2012 the protector, David Miller, and the owner of the corporate trustee, Peter Dickson, exerted control over the trusts and Kea, excluding Sir Owen from involvement. During the same period, Sir Owen saw Mr Watson as a good friend. There was therefore an unusual situation where Mr Watson was on friendly terms with Sir Owen, his proposed joint venture partner, and with Messrs Miller and Dickson who were handling the negotiation on Sir Owen's side, but within Sir Owen's 'camp' the relationship between Sir Owen and Messrs Miller and Dickson had fallen apart. In the end Kea completed its investments into Project Spartan in 2012 without Sir Owen having any proper understanding of what was going on. In February 2013 Sir Owen's daughter obtained an injunction in Nevis which among other things suspended the powers of Messrs Miller and Dickson over the trusts and installed a new temporary trustee provided by the law firm Harneys. This resulted, over time, in Sir Owen discovering some of what had happened with Project Spartan. The joint venture became deadlocked and a dispute arose between Sir Owen, Kea and a corporate director provided by Harneys on the one hand and Mr Watson and Novatrust on the other.
Litigation started in 2014, with Kea applying to wind up Spartan Capital Ltd and Novatrust launching a derivative claim. Later, Sir Owen with the assistance of his legal team uncovered claims for deceit and breach of fiduciary duty and those were brought in April 2015. A further claim based on the authorities on bribery and secret commissions was discovered after disclosure and added by way of amendment. The three sets of proceedings (deceit and breach of fiduciary duty; derivative claim; winding up) were listed to be tried together over three months between May and July 2017. A mid-trial settlement with Novatrust disposed of the derivative claim and the winding up petition. The remaining set of proceedings continued as against Mr Watson, resulting in the judgment just handed down.
The judge held that Kea was entitled to set aside the Project Spartan agreements on three different grounds: (i) that they had been induced by fraudulent misrepresentations made on behalf of Mr Watson to Messrs Miller and Dickson, (ii) that offers made by Mr Watson to obtain a training contract for Mr Dickson's daughter were sufficient to give rise to a realistic possibility of a conflict of interest in Mr Dickson and therefore engaged the rules against bribes and secret commissions, and (iii) that Mr Watson owed fiduciary duties to Kea and acted in breach of those duties by arranging to make profits from Project Spartan which he did not disclose. For the most part, the judge found it unnecessary to rule on further claims that Mr Dickson in his capacity as a director of Kea acted for an improper purpose and in breach of his director's duties by transferring money out of Kea in order to put it beyond the reach of any steps Sir Owen or his family might take to recover control of the trusts. However, in relation to two particular loan agreements which were signed after the Nevis injunction and backdated, the judge did hold that Mr Dickson had executed the agreements without authority and for an improper purpose, namely in order to defeat the injunction.
Also covered by the judgment of Mr Justice Nugee is another joint venture known as Project Edsel. The claims advanced by Sir Owen and Kea in relation to this venture related to a side profit made by Watson through a stake in the "management carry" on the underlying project. Kea did not seek to set aside the Project Edsel agreements but claimed Mr Watson's side profit. This claim did not succeed. Although the judge agreed that Mr Watson had not given full disclosure of his side profit, he considered that on Project Edsel, unlike on Project Spartan, Mr Watson owed no relevant fiduciary duty to Kea.
The judgment is notable for its discussion of various important areas of law, including the following:
Deceit, it being particularly notable that the deceit claims succeeded despite the individuals alleged to have been deceived either giving no evidence (Mr Dickson) or giving evidence that they were not deceived (Mr Miller).
The circumstances in which one joint venturer owes fiduciary duties to another: the judge reached different conclusions in respect of Project Spartan and Project Edsel, allowing for an interesting comparison.
The scope for fiduciary duties to be owed where an individual has a personal relationship with the alleged fiduciary but ultimately puts forward a separate person or entity to enter into the relevant transaction.
The limits of the law of bribery and secret commissions, in particular how significant or non-trivial an inducement must be to give rise to liability.
The duty of company directors to act for proper purposes, particularly in the context of litigation and court orders affecting the company.
Quistclose trusts in the context of investing pursuant to a term sheet.
Tracing, particularly in circumstances where a small misappropriated sum is used to acquire an asset which turns out to be very valuable.
The rights of a claimant who settles with one defendant to allocate sums recovered under the settlement to particular claims, potentially affecting the extent of the remaining liability of other defendants.
Commenting on the judgment, Sir Owen said "I regard this judgment as a complete vindication of my position in this complex and long-running litigation. Eric Watson has behaved appallingly. I saw him as a close friend but he was trying to rip me off. Once I knew what had happened I was determined to get justice."
Speaking on news of the judgment, Farrer & Co partner Toby Graham said: "We are delighted to have assisted Sir Owen in achieving justice – given the number of documents (nearly 1 million were harvested for the purpose of our clients' disclosure; there were approximately 150 volumes in the trial bundle), the range of very complex issues and the scale of the task of preparing pleadings, witness statements and even regular inter-solicitor correspondence, it has at times seemed like the struggle with Leviathan. Sir Owen and his family have not found the litigation easy. This outcome is a credit to his principled determination and leadership. I am sure they are all delighted with the result. It also would not have been possible without the help and support of the counsel team from Serle Court - led by Elizabeth Jones QC with Justin Higgo, Gareth Tilley, Paul Adams and Oliver Jones. Their advocacy skills have been exemplary. Their forensic analysis has served to uncover evidence of serious wrongdoing. My colleague, Tom McPhail, also deserves much credit. It has been a privilege and a pleasure to work with such outstanding individuals."
Consequentials are to be dealt with in September. These will include directions for the further pursuit of claims against Munil Development Inc, which received over £12m of the money Kea invested into Project Spartan. Also still to be decided is the rate by reference to which Kea's equitable compensation for breach of fiduciary duty should be calculated.
Notes for journalists
For press enquiries, please contact Lesley Jaaniste at Farrer & Co on +44 (0)20 3375 7422 or email

[email protected]

.
Copies of the judgment will be available from BAILII and from Lesley Jaaniste as above.