Interview with Claire German
Insight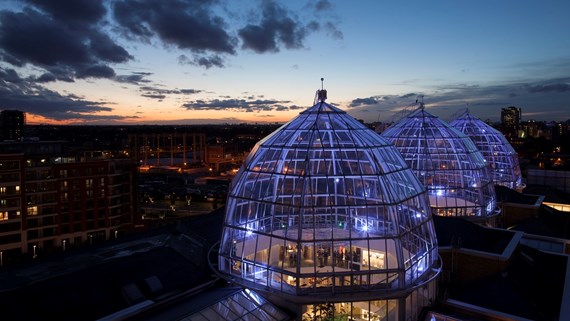 Claire German has been the Managing Director of Design Centre, Chelsea Harbour for nearly 10 years. She has had a vibrant and diverse career to date, and we sit down with her to discuss her business and her views on the wider luxury world.
The Design Centre hosts over 600 of the world's most prestigious luxury brands and is going from strength to strength. What do you think drives the centre's success?
Design Centre, Chelsea Harbour is much more than a design resource; it's a thriving platform, both creatively and commercially, for an exceptionally dynamic industry. As the largest of its kind in Europe, nowhere else will you find such a high concentration of design's biggest names shaping luxury interiors today. But the buzzword today is 'experiential', and we have created a very high-quality environment that people want to visit. There is not only value added through the carefully detailed showrooms, but through an exciting roster of high-profile events, curated exhibitions, workshops, talks and design discovery tours that engage and inspire. This fusion of design encounters offers a dynamic collective unseen anywhere else.

How would you say the Design Centre has changed since you arrived in 2010?

It has changed enormously, and the focused, confident approach of the owners means we continue to grow and evolve. The Design Centre welcomes not only those who have a passion for creating their own homes, but designers and architects who are working on the interiors of top hotels, bars, boutiques, yachts and jets. There is a constant dialogue and new initiatives are introduced to offer inspiration and expertise. Every year Focus and London Design Week are a must on the international design calendar, while events such as the Superyacht Design Forum or Asia Week are more tightly focused to closely mirror specialist needs. No wonder people fly in from all over the world to connect with design influencers and established makers, all at one address.

What trends do you anticipate in the interior design space over the next year?

This year, I expect a cosmopolitan mix in the showrooms; layers of vibrant colour, rich materials and eclectic points of inspiration that speak of history, travel and craftsmanship. In this globe-spanning, era-leaping aesthetic, quality, elegance and craftsmanship are key. No single look is fully embraced; instead it is a delightful blend, put together with wit and flair. Many leading design houses are embracing the past but remaining hopeful about the future by playing with scale and introducing joyful colourways. It is a kind of nostalgia, but it also signals that what we crave is differences in expression.

What role do you see the Design Centre playing in British luxury fashion?

The crossover between fashion and interior design is not new, and neither is the idea that one art form involves the other. Fashion designers often site architecture and glamorous interiors as starting points for their collections. Some international names such as Missoni, Loro Piana and Hermès have expanded their visions into collections for the home. Design studios in turn often look to the fashion catwalk for colour stories, patterns and narratives. International design houses here also foster creative collaboration by teaming up with fashionistas such as Jean Paul Gaultier, Calvin Klein or Kate Spade to elevate their offerings.

Before your current role you had a long career with Condé Nast including working as the Publishing Director at House & Garden. What inspired you to move from publishing?

As a publishing director at Condé Nast I worked with many international interior brands, so it was a highly creative world that I knew and loved. Moving to property was an opportunity to build on my business acumen, working closely with the owners of the Design Centre to deliver their unique conceptual vision. Strategies to reach new kinds of audiences, boost marketing collateral, create must-see experiences and increase footfall presented all sorts of exciting possibilities.

How has your background in publishing influenced your management and vision for the Design Centre?

My background in magazine publishing has certainly helped as brand building, creativity and communication skills are important in both. The worlds of magazines and design are fast-paced, too, constantly setting new benchmarks about what to buy, what to see and do, in a multi-faceted global scene. Any industry, though, is about the people within it. The Design Centre has long been a catalyst of creative connections, but it has become a real creative hub. The sense of community – already one of its greatest strengths – has never been stronger.

Luxury means different things to different people. How would you define luxury?

In an ever-more-machined world, luxury today is celebrating makers and artisans. Their commitment to the creative process, rare skills and great endeavours are elevating craft to luxury status. Nothing is standard; everything is fastidiously considered. Luxury products have gone beyond mere status symbols; these days people want them to be imbued with the makers' passion and curiosity, their ability to see the potential of materials, and the use of traditional techniques – all to achieve something extraordinary. We call it 'couture for the home' and the results speak for themselves.

What do you see as the most pressing issue facing luxury brands at the moment and what is your advice on how businesses should respond to it?

Companies need to adapt to remain relevant. From technological evolution to a dramatic shift in the retail world, luxury brands cannot stand still. Consumers are becoming less obsessed with brand and value, and measure luxury instead according to the 'uniqueness' of an experience and by the emotional impact it has.

Do you see the Design Centre as a driver of new trends in the interior design sphere?

The Design Centre not only has its pulse firmly on global trends, it is setting them. We hold press previews regularly, which have an influence on what appears in the media in the coming season. We also highlight directional products through curated displays, our magazine and influential trend reports, as well as online via the website, Instagram, Twitter and a design blog that reaches out to an expanding digital audience. With breaking news as well as interviews with the people who make great design happen, we are recognised as a voice of authority.

What is your vision for the Centre going forward?

In line with the owners' vision for the future, we are committed to being the world's No.1 design destination. An exciting new chapter is unfolding. Increased demand is being met by larger showrooms on the third floor, expansion in Design Centre East and 8,000 sq ft of additional space in Design Centre North. Work is underway on the spectacular Design Avenue, a permanent atrium rising to a monumental 15m high. The landmark project will introduce an unparalleled space specialising in luxury curated exhibitions that will enhance our world-class events programme. By extending the design offering, there will be even more opportunities for visitors to connect with design connoisseurs, attend events and engage with experts in their fields.
If you require further information about anything covered in this briefing note, please contact Oliver Lock, or your usual contact at the firm on +44 (0)20 3375 7000.
This publication is a general summary of the law. It should not replace legal advice tailored to your specific circumstances.
© Farrer & Co LLP, April 2019