Interview with Paul Raison
Insight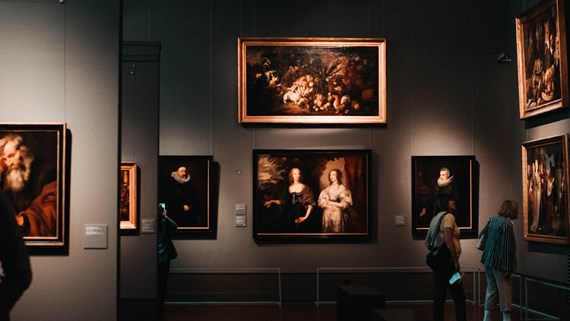 William Charrington sat down with art advisor, Paul Raison. Previously International Chairman of the Old Master Department at Christie's, Paul recently set up his own advisory firm.


You recently left Christie's, where you were International Chairman of the Old Master Department; what are you doing now?


I set up Paul Raison Fine Art last year primarily to advise clients on the sale and purchase of works of art, in particular European paintings painted pre-1850. After 33 years in Christie's Old Master department working with private, institutional and trade clients from across the globe, I wanted to use all the knowledge that I had gained of the market, clients and above all the art, to create a business to help those who would benefit from specialised advice in the sometimes daunting world of the international art market.
How does that work, more specifically?


I advise those who are thinking of selling their paintings and also buyers who are forming their own collections. Given my knowledge of where many great works of art reside and my close contacts with those who wish to acquire them, I am often able to place pictures discreetly in new homes.
For some pictures and collections it is best to sell via the auction houses, who have a wide international reach. I know their strengths (and occasional weaknesses!) very well and I am now totally independent and so can guide my clients to get the best terms and marketing when negotiating a possible sale at auction. I also offer a valuation service.
We hear so much about the contemporary art market these days; are Old Masters still in fashion?


When I started at Christie's in the late 1980s, Contemporary Art was a fringe affair: Old Masters, Furniture and Impressionist Art were the real money-spinners. That has of course changed and now it is Contemporary Art where the big money is most often made. This is partly due to a change of taste but also the readiness of supply. That said, there is still a strong demand for good and great Old Masters whenever they come up for sale. Indeed' some of the biggest collectors of contemporary art are also buying Old Masters as they recognize that all art comes out of something that precedes it and they want to explore that. And then there is the superior quality of the craftsmanship...

The world record price for any work of art is for an Old Master (Leonardo's Salvator Mundi, sold in 2017 for $450m).
Is there a genre or school that is particularly in demand?


It remains varied but many collectors seem to want pictures - whether Italian, Flemish, Dutch, Spanish or French, and painted in any century- with just one or a few figures at the forefront, and bold or striking images that have a strong presence on the wall. There is also always a taste for the glamorous and beautiful - British 18th century portraits seem to be making a comeback.
Who and where are the buyers for Old Masters?


The market is global. I know collections throughout the UK and Europe, North and South America and now Asia. Asian buyers started coming strongly into the Western art market about 10 years ago and have made a big impact. They tend to want the tried and tested "brand" names and have bought great pictures by some of the most important Old Masters, such as Rembrandt, Rubens, Titian and Botticelli.
You must have made a lot of discoveries in your career.


I must have been to hundreds of houses all over the world to look at paintings and some of the discoveries have been exciting. None was better than finding Rubens's lost masterpiece Lot and his Daughters, on the first floor of a South London house. The owners had little idea of its value. Research established that it had belonged to Archduke Maximilian Emanuel of Bavaria, Joseph II Holy Roman Emperor and the Duke of Marlborough, and all this no doubt helped it sell for £45m at auction in London in 2016. You can now see it on loan at the Metropolitan Museum of Art in New York.
Where do you predict the market for Old Masters will go in the future?


I think that the innate quality and artistic merit of so many Old Masters will ensure that there will always be a good market. The internet means that people from all over the world can now engage more readily with great art from their sitting rooms and this in turn is already broadening knowledge in the subject and encouraging interest in museums and in the salerooms.
I also think that the minimalist taste that has recently been so prevalent is just beginning to shift a little and we will see a return to the appreciation of detail, bold colours and more elaborate and decorative compositions.
In terms of the future of my profession, I think that there will continue to be a growing reliance on trusted advisors to help people navigate the sometimes daunting (but usually enjoyable) complexities of the international art market. Brexit has also thrown us a few googlies, but nothing is insurmountable!
You mention Brexit: have you spotted any specific shifts in the market since the transition period ended?


Brexit has certainly made the import and export of works of art to and from this country more expensive and slightly more cumbersome, but it is certainly not catastrophic. No doubt the market will find legitimate ways of adjusting to this. For example, if I broker the sale of a picture from Spain to a buyer in France, I would no longer want to bring the picture to the UK first, as this would add the cost of placing it under Temporary Admission. To make it more complicated import VAT rates vary surprisingly widely even within the EU. I think all this is likely to have some impact on London's place as the European centre of the art market and Paris has already taken over some business as a result of Brexit. The major auction houses are now expanding most in Asia and this may well be to the cost of the UK and Europe. However, the key is the sourcing of the material to sell and Britain and Europe will continue to be at the centre of that for many years to come.
If you wish to get in touch with Paul, you can find his contact details here.
If you require further information about anything covered in this interview, please contact William Charrington or your usual contact at the firm on +44 (0)20 3375 7000.

This publication is a general summary of the law. It should not replace legal advice tailored to your specific circumstances.

© Farrer & Co LLP, March 2022