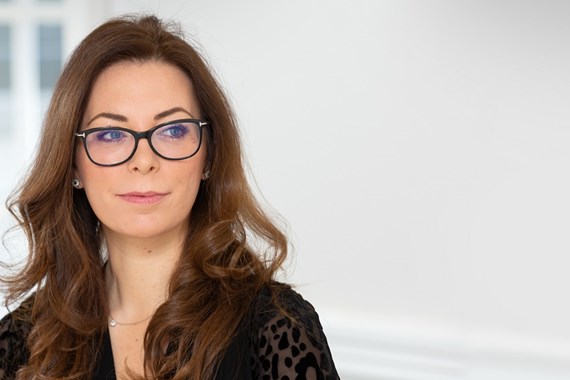 Practice areas
Family and Divorce
Safeguarding
Sarah has extensive experience advising on all aspects of family law, in particular complex financial issues further to divorce or separation, disputes relating to children, and pre and post nuptial agreements. She gives pragmatic advice, acting with sensitivity and discretion. She is recognised as much for her incisive strategic thinking as well as her empathetic approach.

Sarah acts for a wide range of clients including professionals, entrepreneurs, financiers, land owners, homemakers, parents and grandparents. Her matters range from the purely domestic to international cases involving multiple jurisdictions.
Sarah's clients value her sensible, pragmatic, calm approach and appreciate her high emotional intelligence as well as her technical legal expertise. She is particularly well known for her knowledge and skill in relation to children matters.
Sarah has extensive experience of litigation at the highest levels but is also committed to achieving solutions outside of the court setting where appropriate and possible. She trained as family mediator in 2015.
Goddard-Watts v Goddard Watts [2019] EWHC 3367 (Fam)
Acting for Mrs Goddard-Watts, in what is believed to be an unprecedented application to set aside a financial order on divorce for the second time within the same proceedings on the basis of fraudulent non-disclosure by the husband. Mr Justice Holman, the judge determining the application in the wife's favour, described the scenario as "vanishingly rare and probably unique".

IX v IY [2018] EWHC 3053
Acting for a former model in her application for financial remedies on divorce, involving high value assets in multiple jurisdictions. The case concerned whether the parties' long pre-marital relationship amounted to quasi-marital status, thereby enabling the wife to share in the significant assets generated in the husband's business during the relationship. The court considered the relevance and impact of the parties' spending the entirety of the husband's pre-marital wealth during the marriage due to their very high standard of living. A further issue was whether the wife's daughter from a previous relationship was a "child of the family".

BD v FD [2016 EWHC] (Fam) 595
A case involving very substantial assets, largely inherited, and consideration of how the other spouse's needs should be assessed. The court also considered the consequence of profligate spending by one spouse in the period leading up to the trial.

KG v LG (No 2) [2015] EWFC 64
A former wife's successful application for an appeal where her former husband was guilty of non-disclosure at the time of the divorce regarding his interest in two trusts.

G v G [2015] EWHC 1512 (Fam)
Application by a former wife in financial remedy proceedings seeking orders preventing her former husband's legal team (leading and junior counsel, and solicitors) from continuing to act for him at a forthcoming hearing and redaction of his evidence.

BD v FD [2014] EWHC 4443 (Fam)
A maintenance pending suit application which was rejected by the court on the basis that the wife's interim budget manifestly exceeded the standard of living of the marriage and court intervention was not required to ensure her interim needs were met.

Y v Y [2012] EWHC 2063 (Fam)
An important divorce case, involving a landed estate and inherited assets.

NA v MA [2006] EWHC 2900 (Fam)
A rare case about a post-nuptial agreement.

Sarah is recognised as an Up and Coming in the Chambers UK 2021 directory.

"She is fantastic - she's highly intelligent and very good with clients." "Sarah delivers advice in a friendly, confident manner. She is also responsive and the quality of her drafting is very high. Sarah listens to her clients and appreciates their sensitivities while also not being afraid to challenge points raised." (Chambers UK 2021)

Sarah was listed as a Next Generation Partner in the Legal 500 2021 and 2020 directories. A market commentator says, "Sarah Hutchinson is excellent".

"Sarah Hutchinson has a lovely manner with clients and very good instincts." (Legal 500 2021)

"Sarah Hutchinson is an absolute star of the team and a pleasure to work with. Sarah Hutchinson is a great new face of Farrers and is very approachable." (Legal 500 2021)

Ranked as Up and Coming in Chambers UK 2019 and 2020. Sarah Hutchinson frequently handles financial remedy applications and has further strength in cross-border abductions and relocations. Her practice also extends to surrogacy cases. "She has the most extraordinary drive and commitment that turn evenly balanced cases in her clients' favour." (Chambers and Partners 2020)

Sarah is ranked as Band 3 in the Chambers HNW 2020 guide. Sarah Hutchinson has "a really good reputation," says an interviewee. "She is extremely collaborative, and if it is at all possible to settle a case, she will try to. She has really good instinct for cases." (Chambers and Partners HNW 2020)

"One of the few solicitors who is genuinely child focused" and "her client care is outstanding." (Indepedent social worker/children's guardian)

"She is very dynamic and one of the stars of children work." (Top ranked children law QC)

"Probably one of the brightest solicitors I've ever come across." (Chambers and Partners 2019)

"She's got a very analytical brain, she's very friendly and down to earth, and I think clients really appreciate how hard she works for them." (Chambers and Partners 2019)

"She's absolutely fabulous in private children disputes and is always very good at interrelationship between money and children." (Chambers and Partners 2019)

"Next generation partner." (Legal 500 2019)

"Sarah Hutchinson is excellent." (Legal 500 2019)

"You are completely awesome and have been a beacon of light for me and indeed my boys - your guidance and handling of my situation, your kindness and sheer brilliance I will never forget." (Client)

"I wanted to say a massive thank you for being brilliant and for your brilliance, guidance and support through my divorce. I simply wouldn't have got to where I did without you and having you in my corner has always made me feel so much stronger." (Client)

"All your advice and help has been very much appreciated during such a turbulent period. I'm confident we are moving positively forward." (Client)

"Star of the future" Sarah Hutchinson is a distinguished family lawyer with particular expertise in matters related to finance and children. A fellow family lawyer supports her specialism by confirming that "she's absolutely fabulous in private children disputes and is always very good at interrelationship between money and children."

Clients instruct her because she is "sensible, pragmatic, bright and incisive", "prepared to go that extra mile", and especially for her "deep understanding of the emotional as well as the legal aspects of litigation" (Legal 500, previous edition). She has been recommended in the Legal 500 "for her skill in private children disputes."

Sarah was nominated as Family Law Partner of the Year (Family Law Awards 2018). She is listed in the Spear's Wealth Management Magazine 2018 Index of Top Recommended Family Lawyers, the Private Client Global Elite 2019 and the Citywealth Leaders List 2018.

Sarah is a member of the Association of Lawyers for Children and Resolution.

Sarah has written articles in family law publications and regularly speaks at international family law conferences.

As well as acting for clients as their solicitor, Sarah is also instructed by separating/separated couples, including parents, to act as a mediator to assist them to find a resolution regarding any family issues.

Sarah is part of the firm's Diversity and Inclusion Forum, the Graduate Recruitment Interviewing Panel, and the firm choir.