An interview with Theo Fennell
Insight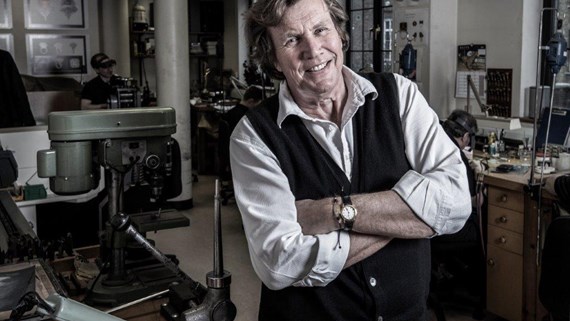 A lot of your jewellery are bespoke, one-of-a-kind items and they stand out from the crowd. How important are the qualities of uniqueness, originality and experimentalism to succeeding in the luxury industry?

I think luxury is a very misused word and has come to mean overpriced and branded rather than a piece or an experience that is created with no thought of the time it takes to make and using only the very finest materials. So design and originality and loving care are critical to the success of the work and, in the very long run, the business.
What would you say sets the Theo Fennell brand apart from the rest of the luxury jewellery market?

Originality of design and breadth of influence along with some of the finest craftsmen in the world. At whatever the price, we work for genuine patrons and put our all into the result. We only make one or very few of each piece so we can put a lot into our work.
You founded Theo Fennell in 1982, floated the company on AIM in 2006, handed over management of the company and then returned to it in 2009. What have you found to be the biggest changes – and challenges - to the luxury jewellery market in that time?

That it happened at all was strange as there were no "luxury brands" when I began and now there is a plethora. This is changing back to how it was, however, as those who want something really unique and well-made are returning to the craftsmen and small companies that really care, rather than the huge corporate monoliths that have a very different approach so plus ca change.

Are there any emerging trends that you anticipate in the next year?

The continued return to real craftsmanship and originality and the traditional methods, allied to modern techniques that can produce scintillating work. Also men are wearing much more jewellery, like the dandies of yore.
Luxury means different things to different people, what does luxury mean to you?

As I said earlier, something unique and life-enhancing that is made using the best materials by the very finest makers with no heed to time in which every last detail is exquisite.
Has it ever been difficult to balance your creative ideas as a designer with your aptitude for business and entrepreneurialism?

Always. Every suit wants to be a creative…creatives very rarely want to be suits.
Your products are all made by master-craftsmen using the best quality materials. To what extent do you feel your success has been down to your emphasis on the quality of production? How does this feed into your marketing of your products?

Our workshop and the great craftspeople in it is something I hold very dear and which has been part of the business for the forty plus years of the company's existence and is absolutely central to it. Most of our patrons have seen around our workshop and studio – which are above our Gallery in the Fulham Road, so they can see their pieces being made…a very, very rare thing nowadays. This generates the sort of marketing we hold dear, word of mouth.
You have said, in respect of Theo Fennell's attempted overseas expansion, that you do not think the company could ever be an "airport brand" - mainly because of the bespoke, original nature of much of your work. How would you like to see your company being able to expand overseas without losing the core ethic of the brand?

Of course, the brand could and has expanded overseas, both in the nature of our customers and geographically, but it needs sensitive and imaginative partners and creative management to make it work and that has been missing until recently.
You have often taken the role of a mentor in your career. Is there any advice you would give to those starting out in the luxury industry?

Never sign away your name, always seek advice on any contract, and believe in yourself and your talent and how much more you are worth to the suits than they are worth to you. Be passionate about what you do, work really hard and don't be afraid of business. Talent, aligned with tenacity will always be rewarded.
If you require further information about anything covered in this briefing, please contact Oliver Lock, or your usual contact at the firm on +44 (0)20 3375 7000.
This publication is a general summary of the law. It should not replace legal advice tailored to your specific circumstances.
© Farrer & Co LLP, September 2019