Interview with luxury women's fashion designer, Roland Mouret
Insight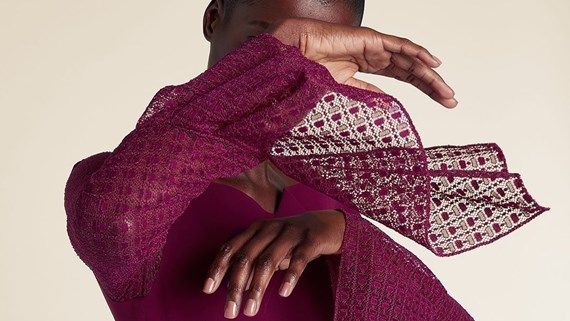 Roland Mouret, one of the world's pre-eminent fashion designers, has worked in the industry for 40 years. His eponymous business has designed and created some of the most iconic pieces in fashion. Oliver Lock sits down with Roland to discuss the success of his business and his views on the wider industry.
Your passion and flair for fashion is obvious – you have never had any formal training and describe yourself as "self-taught", attributing your knowledge partly to the inspiration you gained from your father's techniques as a butcher. In what ways has this helped liberate your creativity and set you apart from your peers?


I think I've always traced my creativity back to my roots as the butcher's son, I used to meticulously fold the butchers apron to hide any stains and it made me realise very young that clothes can trap you or free you. This folding and draping later became the essence of my signature style. Without any formal training, my first collections had very few cuts and instead were draped directly onto the female body with this technique.
After establishing your name as the "king of dresses", your brand has grown over the years to include eyewear, shoes, accessories and bridal. Was doing so always the ultimate goal for you and did you face any particular challenges when expanding beyond the initial lifeblood of your business?


For me, it was natural to expand into bridal - I had many clients coming to me to ask for bespoke versions of my dresses who perhaps wanted something less traditional for their wedding day. I don't think its relevant to design or wear outfits for one occasion anymore so my collection includes many separates with tailored suiting and skirts so the hope is many pieces can work for more occasions after the special day.
With perfume, I felt as if I was back to 20 years ago, I felt the longing to learn again. Smell touches your brain, your imagination and brings many memories from different times in your life.
With sustainability and "fast fashion" on the forefront of many consumers' minds, the fashion industry has faced some tough criticism in recent years. How does sustainability fit into your business model and how do you see it influencing the industry over the next ten years?


​Sustainability is a very important issue to me and as a company, we have begun to look into how we can improve at every level - from sustainably sourced materials (from this season, all our core fabrics are from sustainably-sourced materials), to the packaging we use and more broadly, looking at single-use plastics within the luxury industry. To me, there is no reason to have single-use plastics in luxury - anything so easily disposable cannot be luxury. One huge problem in the fashion industry is the little known issue of the plastic garment hanger. The garment hanger transports the clothes from the factory to retail, but then they are discarded. I worked with a great company called Arch and Hook to launch the Blue Hanger which is made from marine plastics and is a fully closed loop, I'm now working to get other brands signed up to the scheme. For me, sustainability will be the biggest revolutioniser to the fashion industry over the next ten years as everyone will have to change to work towards a brighter future.
You started your fashion career slightly later in life. What prompted the change in direction?


​It wasn't so much a change of industry as it was a change in direction - I had already worked as an art director, model and stylist while living in Paris so already knew the fashion industry well. After I moved to London, I quickly realised what I really wanted to do was create a fashion collection and aged 36, I realised if I didn't try before I was 40 I would end up bitter.
You are known as an admirer of old-style glamour and draping fabric. How vital is it for a fashion brand to exude bespokeness and originality to stand out in a fiercely competitive market? What other qualities are needed to succeed?


​Well for me, the understanding of the female form has been central to my success. I drape, the fabric takes the lead and that element of transformation is always magical to me. A big breakthrough for me was when I began to understand bras. The back of the dress should be solid so you can conceal any underwear you want to feel comfortable and confident. I think another quality behind my success is perseverance - many years ago now I lost the rights to my name when my business partnership ended, but I promised my father I would buy it back and that perseverance led me to where I am today.
You founded your brand in 1998, created your iconic Galaxy Dress seven years later and then re-launched your brand under a new partnership. How have you seen the luxury fashion market evolve during this time?


​The fashion industry is constantly evolving. When I first started, there was a feeling of more, more, more - everyone was designing more collections a year, more drops, but now everyone has begun to realise this is not sustainable. It is better to design and make less, but make better pieces with longevity.
You have recently launched a personalised and tailored atelier service at your flagship store at 8 Carlos Place. Alongside this, you have spoken about the importance to you for your customers to enjoy a positive "experience" with your brand, beyond the top-quality and beautiful products they are buying. How do you define the "luxury experience" for a consumer and how have you seen this change during your time in the industry?


​For me, the essence of luxury is creating beautifully-crafted timeless pieces which can be worn and re-worn for many occasions. I hope that with the atelier, our customers will not only be able to alter and tailor pieces to create something custom, but also visit us for repairs and alterations to pre-loved items, giving them a longer life.
Is it different for you to dress a celebrity as compared to any other customers?


I think if you create a red-carpet dress, or a wedding dress, or an evening dress, it is for the moment when a woman is the centre of attention. As a designer, you are there to help. You are there to create their protection, and at that point there is no distinction between an actress or any other woman. They all have things they love about themselves and things they don't like about themselves. The main thing is to listen, to be really present and then create something which works for them, as a woman.
What one aspect of the luxury fashion industry do you find troubling and would, if given the chance, permanently change for the better?


​I think I've already mentioned it, but the issue of sustainability within the fashion industry is something which is a huge concern for me, and one I think we will all have to work and collaborate together to tackle. If I could permanently change one thing, it would be removing single use plastics from the luxury industry and our day-to-day lives.
If you require further information about anything covered in this interview, please contact Oliver Lock, or your usual contact at the firm on +44 (0)20 3375 7000.
This publication is a general summary of the law. It should not replace legal advice tailored to your specific circumstances.
© Farrer & Co LLP, May 2020