Private Banking seminar: Property finance and regulated lending
News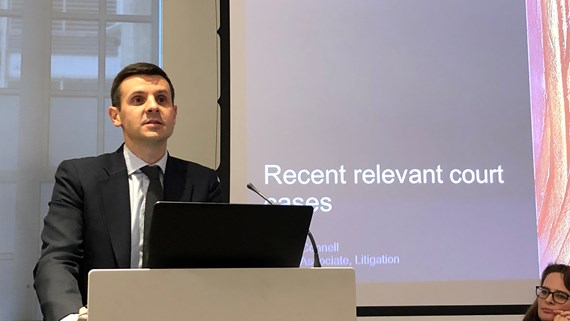 Farrer & Co's Financial Services team was pleased to welcome a large number of delegates to our private banking seminar last week. Our speakers covered a range of topics relevant to those involved in regulated lending and property finance, including talks from the following:

Katy Ruddell spoke about dealing with customers in arrears, including considerations when dealing with vulnerable customers. Katy provided a brief overview of the MCOB arrears requirements and explained what lenders should be thinking about when they modify their standard policies and procedures to deal with particularly vulnerable clients and how important it is to train relationship managers to deal with these clients appropriately.

Jolyon Connell gave an update on some recent court cases relevant to the sector with some good news for lenders. Jolyon set out how recent High Court authorities may enable lenders to defend claims advanced under either consumer credit legislation or rules contained in the FCA Conduct of Business Sourcebook (COBS). He also explained some of the steps that lenders can take to reduce the risk of such claims.

Martin Blake and Laurie Horwood gave a joint presentation on the proposed register of overseas corporate entities owning UK property. This register which is due to come into effect in 2021 will require all overseas corporate entities who hold UK property to register details of their beneficial ownership in order to deal with such property after the register comes into effect. Martin and Laurie considered and discussed the implications of such a register both from a property owner's and lender's perspective.

Finally, we were delighted to welcome James Gilbert-Green, Director of Savills who provided an insightful update on the UK prime residential property market.

The seminar was the first in our autumn programme of seminars for financial services professionals. Further seminars this autumn include:
Asset Management - Tuesday 16 October 2018

Financial Services: Enforcement Trends and Developments - Tuesday, 27 November 2018
If you would be interested in joining us for either event, please contact Christina Cronin at [email protected].