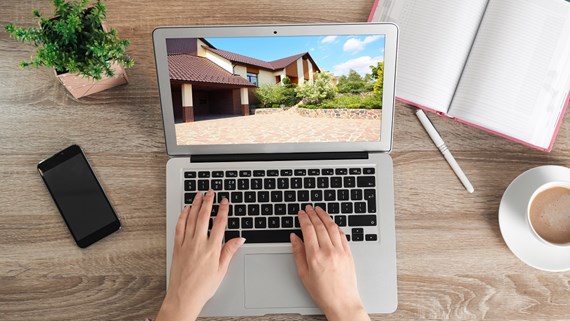 Following the relaxation of full lockdown measures, and the three week period where all viewings and removals were effectively banned, the housing market has continued to beat expectations.
One of the reasons that this has been possible has been the advent and subsequent boom of the virtual viewing which allows buyers to view property from the safety and comfort of home.
There are three broad types of virtual viewing:
For some properties, a 360° image is taken of each room and prospective buyers can then use any device to move around the property, zoom in on various aspects and get a sense of the house. When done well, this gives prospective buyers a real sense of the space and allows viewers to navigate around the property in a unique way.


Others involve a pre-recorded video which offers a "tour" of the property, giving a better understanding of size and shape than the normal crop of wide-angle lens photographs with a hastily drawn together floorplan.


Finally, some agents are offering a slightly more interactive service, with an agent physically walking through a property showing it to a potential buyer via video call. This option comes with the obvious benefit that the agent can tailor their script and tour to the potential buyer and what they consider important, and the buyer can ask questions or ask to look at parts of the property more closely.
The benefit of these virtual options is that, when done well, buyers can get a look inside a property and a sense of whether it fits with their requirements without having to view in person, and sellers can have many more potential buyers view their property. Whether that is for coronavirus based safety reasons, or simply for convenience (particularly for overseas buyers) this is a great digital innovation to allow more people to view a property.
Virtual viewings are a significant step forward and may, at least in the short term, replace the traditional first viewing of a property. However, kicking the bricks remains for many a necessary part of the purchase process, particularly when that purchase is as a home, rather than an investment. Despite the new and impressive technology, we doubt that this will replace traditional viewings, regardless of our newfound affection for doing everything virtually.
Buyers should not purchase a property they have not physically inspected, no matter how high quality the camerawork.
If you require further information about anything covered in this briefing, please contact Laura Conduit, Alex Potten, or your usual contact at the firm on +44 (0)20 3375 7000.
This publication is a general summary of the law. It should not replace legal advice tailored to your specific circumstances.
© Farrer & Co LLP, November 2020