An interview with Natasha Golubeva of Maison de Fleurs
Insight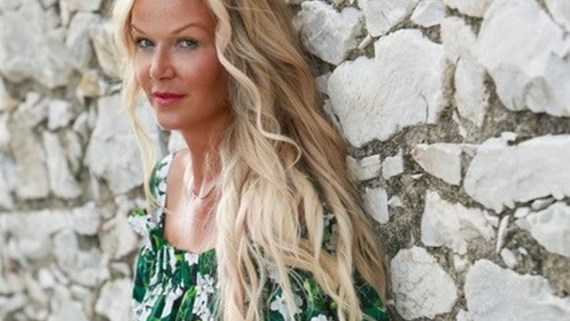 Natasha Golubeva took over the reins of luxury florist, Maison de Fleurs, in 2015. She has spear-headed the company since then, relying on the team's style, skills and love of flowers to create an international success story. Here, she is interviewed by Emily Part about the importance of sustainability and the future of the brand.
What made you decide to get involved with Maison de Fleurs?
I came across Maison de Fleurs through a recommendation when I moved to London and started using the company for occasional flower gifting. However, it was an event Maison de Fleurs did for me that showed the company's incredible potential and I was so impressed by the team's attention to detail and quality of work, that in 2015 I decided to take over the reins. It is such a wonderful industry to be apart of and I am excited to see where the team and I can take the company in the future.
What changes have you seen in the luxury flower industry since then? How has Maison de Fleurs adapted to those changes?
The industry has changed immensely since I took over and will continue to do so constantly. Our clients will, therefore, also adjust and modify their requirements. Thus it is vital we continue to adapt and tailor our service and designs to meet their needs.
We have made a few changes in the last four years to accommodate the ever fluctuating world of luxury. Our online retail boutique has launched and our collections have expanded to ensure our clients can get the best quality flowers all year round. We also became the exclusive UK and European partner of Maison des Fleurs Dubai, focusing on our local, international and travelling clientele. We have also made plans to ensure our trade was able to adapt to Brexit. As a company we will continue to evolve and move forward within the dynamic and fast paced industry.
Sustainability seems to be a key part of Maison de Fleurs' identity. Why is that, and what impact does it have on the business?
Sustainability and reducing our carbon footprint is something we are very passionate about. As one of the leading international florists, we feel it's important to lead by example in the industry as we understand, if we are to continue working with the best quality flowers, we need to support their growth in sustainable environments free from exploited labour practices.
In 2018 we implemented our "Flowers For The Future" policy, committing to our clients that we would reduce our environmental impact. This includes buying fair trade and seasonal fresh flowers, where available, to suit our client's specifications, expanding our faux selection allowing us to re-use elements and incorporate them into our fresh arrangements, recycling cardboard, paper and glass as much as possible and investigating into options to recycle green waste.
We are committed to expanding our sustainability policies, and aiming to improve all areas of the organisation over the next 12 months.
In the past four years of your involvement with Maison de Fleurs, what are the achievements that you are most proud of?
Our team works very hard to ensure our service and designs are tailored to suit the needs of our clients and I am extremely proud of how the company has grown and the diverse selection of clientele we have had the pleasure of working with. However, a highlight for me will always be when a friend or family member recognises our work and messages me. Nowadays, the standards for luxury goods (whatever they may be) are incredibly high, so it's always wonderful to receive such positive reviews, especially from those closest to you.
You were recently featured in the Top Entrepreneur category of the Walpole Top 50 Most Influential People of British Luxury, which is a fantastic achievement. What advice would you give to other entrepreneurs, just starting out with their businesses?
There will always be an element of risk in any business you start or develop, or product you launch. But risks need to be taken if you are to become and remain a game changer in the industry. Without it you and your brand get lost in an ever changing market place. Every risk taken however, always needs a purpose.
Whenever I am looking into a new idea or concept I always keep these two questions in mind: what is my inspiration and who is my audience? It is important to keep your focus at the centre of your ventures, as without it your brand authenticity risks being lost. I don't like to sit back and wait for things to happen, I've always wanted to be the person that makes it happen. As entrepreneurs we always strive for excellence, and excellence is never achieved by those unwilling to take risks. So for those entrepreneurs just starting out, keep your mission, brand values and audience at the heart of every decision you make. Take risks when needed and push yourself beyond your boundaries. Know your strengths and your weaknesses. Build a team with different and complimentary skill sets to yourself. The path won't always be smooth and you will need a lot of patience along the way, but learn from every hurdle and use it to elevate your brand higher.
Maison de Fleurs has supplied flowers to many famous and prestigious people and events, from HRH Crown Princess Katherine of Serbia to Private Clients in the Scottish Highlands and many luxury brands. What, or who, would be your dream client?
A client who comes to us with a brief that is full of colour and what sounds like "crazy" ideas is something we love! We relish a challenge and thoroughly enjoy working on big installations that allow our team's creative juices to flow. The entertainment sector is always pushing boundaries beyond traditional concepts. We have worked on several projects with the entertainment industry and they were incredibly fun. Personally, I would really enjoy working on a project, like an award show or a movie premiere, as I think it would be fascinating to meet the creative challenge of bringing something to life with flowers.
What next for Maison de Fleurs? Where do you see the business in five or ten years' time?
This may sound a bit blunt, but our mission is to become a globally recognised brand delivering the finest flowers for all occasions. We have been working closely with Maison des Fleurs Dubai and over the next 5 years our plan is to expand retail stores into Europe and beyond. There is never a dull moment in our studio and the prospect of expanding the Maison de Fleurs family is something that we all are looking forward to.
If you require further information about anything covered in this briefing note, please contact Emily Part, or your usual contact at the firm on +44 (0)20 3375 7000.
This publication is a general summary of the law. It should not replace legal advice tailored to your specific circumstances.
© Farrer & Co LLP, September 2019