Diversity in leadership - is progress being made?
Blog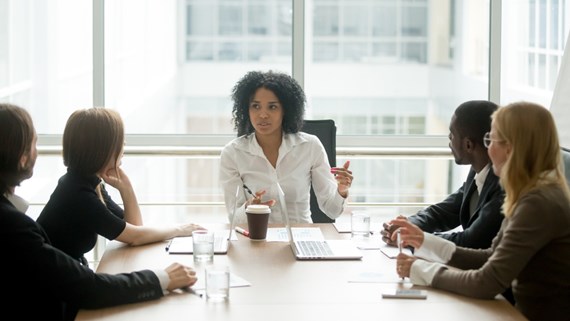 Last month, the Hampton-Alexander Review published its third report on the progress made by FTSE 350 companies to increase the number of women in board and leadership roles. In its first report in November 2016, the Hampton-Alexander Review provided recommendations for the biggest companies to address gender inequality in their workplace, setting the following targets to be met by the end of 2020:
33% of FTSE 350 board positions to be held by women.
33% of positions on FTSE 350 executive committees, and direct reports to executive committees, to be held by women.
To increase the number of women in Chair, Senior Independent Director and Executive Director roles.
The latest findings
It has often been acknowledged that women are increasingly under-represented the higher they travel up the "career ladder". This has an inevitable impact on the gender pay gap (as revealed in the gender pay gap figures published in April this year), with many companies explaining their gaps as being as a result of women holding fewer senior positions than men. The aim of the Hampton-Alexander Review is clear - to encourage the biggest companies to tackle this by changing the composition of their boards and to ensure this change is sustainable, through equal emphasis on female representation in the two layers below board level.
From this year's report, notable progress includes:
A significant effort made by FTSE 100 companies: 40 companies have already met, or are in line to meet, the 33% target of women in executive committee roles, and 76 companies have 3 or more women on their boards.
Over 100 FTE 350 companies have already achieved, or exceeded, the 33% target for women in board roles, with a further 50 well on their way.
For the first time, the number of women on FTSE 100 boards has exceeded 30%, and for executive committees, exceeded 21%.
Despite this, however, the latest report shows that in practice there is still a significant way to go – so much so, that in order to meet the targets set in 2016, half of all available appointments to both boards and executive committees over the next two years need to be women. This is due to the number of companies which have only made limited (or in some cases no) progress, thereby dragging the overall progress downwards. For example, five FTSE 350 companies still have all-male boards. There is also evidence of a "one and done" approach, with 75 of the FTSE 350 companies having only a single (token?) female on their board.
The result of this is that the next two years may be an upward climb for some companies in order to compensate for the lack of progress since 2016. And yet, if those companies that only have one female member on their board appointed one other woman, the FTSE 350 would be almost half way to reaching the target. There is an undeniable sense of frustration in the report about the slow progress being made by some: it states, "get with the new norm – today one woman at the table is little different to none!".
Missing the point?
Whilst monitoring the progress of any company's commitment to diversity is a step in the right direction, and an encouraging sign of the government's sincerity to push for a more equal employment market, there is a potential risk for these initiatives to miss the point. Stripping such a complex issue back to statistical measurements, risks looking purely at the surface of the problem – and in turn potentially encourages companies to do the same. Some of the explanations given by a few FTSE 350 Chairs and CEOs in the preparation for this latest report suggest that they have failed to grasp the important and complex reasons behind the targets. The explanations included:
"All the 'good' women have already been snapped up."
"We have one woman already on the board, so we are done – it is someone else's turn."
"There aren't that many women with the right credentials and depth of experience to sit on the board – the issues covered are extremely complex".
Such out-of-date and frankly outrageous comments are suggestive of a potentially deeper issue at play in the culture of companies, which might in part be responsible for holding women back from senior positions. How can women reach the board of directors if the culture of a company does not foster a path of development for them?
Of course, targets and statistics are important as a way of encouraging change and monitoring progress. Yet is there a danger that merely fulfilling a quota for women to sit on a board or executive committee today, will do little more than plaster the issue until tomorrow? The report itself noticed that despite improvements made to increase female representation in Chair and CEO positions, women know that their successors are going to be men. This leads to what Dame Inga Beale (CEO of Lloyd's of London) described as two steps forward and one step back. Is a more focused scrutiny of business culture and the underlying forces that cause this underrepresentation perhaps a more conducive effort for lasting change?
Finally, it is worth noting that the report's emphasis on gender equality is only one aspect of the diversity debate. Many studies (such as a report by McKinsey & Co at the beginning of the year) have shown time and time again that the financial performance of diverse boards outperforms that of their non-diverse counterparts. However, diversity in this sense is not just about gender equality, but diversity in terms of race, age, religious belief etc and the different perspectives and experiences that may come with people from different backgrounds. Interestingly, last year the government launched the Parker Review into ethnic diversity on boards, which set out targets for each FTSE 100 and 350 companies to have at least one person from an ethic minority background by 2021 and 2024 respectively. All this clearly shows the direction of the tide in terms of board diversity: companies are well advised not only to take note of the targets, but also to think about what meaningful changes might be needed in order to achieve them.