Ramadan 2022: supporting your colleagues
Blog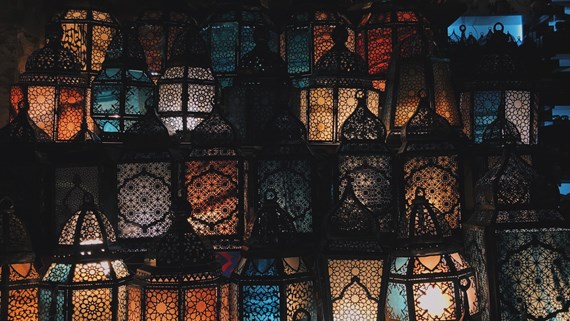 This weekend marks the beginning of Ramadan, the holiest month of the Islamic year. During this month, many Muslims around the world will fast during daylight hours, refraining from eating or drinking from sunrise to sunset and spending time in prayer, doing charitable activities and spending time with family and friends. The length of the fast will depend on where in the world (or the part of the country) you are. In London, for example, at the beginning of the month fasts will last for approximately 14 and a half hours (from 4:59am to 7:38pm), increasing to 16 and a half hours by the end of the month as the days get longer (from 3:52am to 8:27pm).

With COVID-19 restrictions easing, this Ramadan will be a very different one for many in comparison to the last two years. People will finally be able to open their fasts with their family and friends, visit the mosque for congregational prayers and celebrate Eid al-Fitr (the festival marking the end of Ramadan) with loved ones. It will, however, also be the first time in two years that many employees observing Ramadan will be doing so at the workplace, rather than from home.

Last year, we published a blog outlining guidance for employers on how they can support their employees observing Ramadan. This year we will provide some further guidance, with a particular focus on how you can support employees who have now returned to the office.
1. Flexible working patterns
Many of those observing Ramadan will have disturbed sleep patterns as they will be waking up early before sunrise to have their first meal of the day (Suhur) and staying up late for prayers (Taraweeh). The last ten days of Ramadan are of particular significance to Muslims and they may partake in additional evening prayers. This may result in fatigue during the day.

Employers should be open to employees adjusting their work pattern by, for example, offering them the opportunity to shift their hours to start and finish work earlier or later, shorten their lunch break to allow for regular breaks throughout the day (whilst remaining mindful of minimum breaks under the Working Time Regulations 1998) and if feasible, allowing employees to work from home on the days they are fasting if they choose to do so. Given that these will be temporary arrangements, employers should consider requests to work flexibly fully and fairly and accommodate these where possible. Refusing a request without a good business reason could amount to discrimination and any refusal must be proportionate, appropriate and necessary. Employers should also ensure that requests do not place an unreasonable extra burden on other staff.
2. Offering prayer space
Ramadan is a time for reflection and prayer and as such, many Muslims will use the month to engage in prayers throughout the day. Employers should consider whether there is a quiet space in the workplace available for prayer and make this known to employees. Many employers may already have a dedicated multi-faith area for prayer, contemplation and meditation. If not, employers should consider allowing employees to use another space temporarily at certain times of the day and check with all employees that this space is suitable.
3. Requests for annual leave
There may be an increase in the number of requests for annual leave over Ramadan and particularly during the last ten days or at the end of the month, to celebrate Eid al-Fitr. Eid al-Fitr is a three-day festival to mark the end of Ramadan and is likely to start on either Sunday 1 May or Monday 2 May this year (which coincides with the Early May Bank Holiday in the UK), subject to the sighting of a new moon. Given Eid al-Fitr may fall on a weekend or bank holiday this year, some may choose not to request any annual leave, while others may choose to request one or more day(s) off. An employer does not have to automatically give staff time off for religious holidays; however, it should consider these requests reasonably and sympathetically.

As the start of Eid is dependent on the sighting of a new moon at the end of Ramadan, employees may not know exactly which date(s) they will need to request off and may have to submit or change requests for annual leave at short notice. Employers should be aware of this and, as far as it is reasonable, accommodate these requests given the significance of this time of year for Muslims.
4. Communicating and demonstrating awareness
Often, communicating with and demonstrating an awareness and understanding of the needs and concerns of your colleagues will go a long way in fostering healthy relationships in the workplace. A report from the Muslim Census Team last year found that Muslims are twice as likely to stick with employers who are supportive during Ramadan. Employers can, for example, provide training to all employees on how to support colleagues who will be fasting, avoid holding working lunches, meetings and social events in the evening and avoid long-distance travel for work. If this is unavoidable, explain to your colleagues why this is the case and ask them if there is anything that you can do to accommodate their needs.

It is also worth remembering that not all Muslim employees will be fasting, and this could be for a variety of reasons. Those who have a health condition or are pregnant, breastfeeding or menstruating, for example, are exempt from fasting but may not feel comfortable sharing the reasons for this with colleagues. Instead of asking someone, "Are you fasting?", perhaps say to them, "If there is anything I/we can do to help or accommodate you during this month, please let us know." Showing colleagues that you are open and willing to support their needs during this month will help make employees feel valued and respected.
Discrimination, harassment and victimisation
The Equality Act 2010 protects employees from discrimination, harassment and victimisation on the basis of religion or belief. Employers should therefore ensure that all employees understand how Ramadan may affect colleagues and how they can support those observing it. ACAS has published Guidance on religion or belief discrimination: key points for the workplace with useful tips on how to reduce the chance of religion or belief discrimination happening in the workplace, how it might still occur and how it should be dealt with if it does happen. The Equality and Human Rights Commission has also published a decision-making tool which gives employers a step-by-step guide to work through when considering requests from employees to change their working conditions because of their religion or belief. It is important that employers are consistent in their approach, consider all requests fairly and reasonably, and do not treat employees any less favourably because of any requests they make (whether they are granted or not).
If you require further information about anything covered in this blog, please contact Louisa Steele, Annisa Khan, or your usual contact at the firm on +44 (0)20 3375 7000.
This publication is a general summary of the law. It should not replace legal advice tailored to your specific circumstances.

© Farrer & Co LLP, March 2022