Written particulars of employment are changing. Find out how
Blog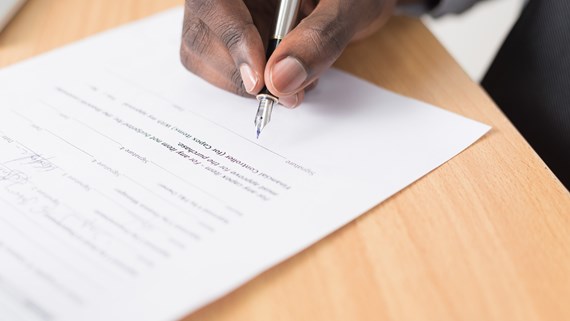 A statement of written particulars of employment – also known as a statement of terms or a section 1 statement (after the section of the Employment Rights Act 1996 which sets out the rules) – is essentially a statement setting out particular terms of an employment relationship which are prescribed by law.
In six months' time, from 6 April 2020, some of the details of what needs to be provided, to whom and by when are changing, and it is important that employers are aware of what this will involve.
What are the current requirements?
Many employers will already be familiar with the current requirements around providing written particulars, and will generally incorporate the information into their standard contracts of employment.
However, it is worth recapping the main provisions in order to explain the implications of the changes being made. Currently:
All employees are entitled to a written statement of particulars if their employment contract lasts at least one month or more.
The prescribed information currently includes basic information about various employee entitlements and conditions of employment, such as pay, hours of work, holiday entitlement, length of notice, provision of sick pay, pension rights and any applicable disciplinary rules or grievance procedures.
The information must be provided in writing (though there is no prescribed form), no later than two months after the date the employee starts work.
While some information must be provided in a single document, other information can be provided separately and in instalments.
If an employer makes any changes to the prescribed information, it must notify the employee in writing within one month of the changes taking effect.
Why are the requirements going to change?
The government announced its intention to change the scope of section 1 statements in December 2018 in its Good Work Plan – see our blog here. This followed an observation in the Taylor Review of Modern Working Practices that some individuals "do not have transparent information about their employment relationship". The government's changes are intended "to ensure that both employers and workers have the clarity they need to understand their employment relationships, and that the enforcement of the system is fair and fit for purpose".
How are the requirements going to change?
The following changes will take effect from 6 April 2020:
1. Obligation to provide statements to workers as well as employees
Perhaps the most critical of the changes is that organisations will now have to provide written particulars to all workers, as well as employees. As present, the entitlement only applies to employees.
2. No minimum service requirement for the right to receive written particulars.
The entitlement to written particulars will become a "day one right" and the one-month qualifying period will be abolished. This means that all employees and workers must be provided with written particulars of employment, no matter how long they will be working for the organisation.
3. Requirement for additional particulars
In addition to the current prescribed information, the statement will also need to contain information regarding:
The days of the week the employee/worker is required to work.
Whether the hours of work may be variable and, if so, how the variation will be determined.
Entitlement to other types of paid leave, such as maternity or paternity leave.
Any additional remuneration and/or benefits available.
Probationary periods (if relevant).
Any required training which the worker will need to complete, or any other training in respect of which the organisation will not bear the cost.
4. Form and timing
The majority of the information must be provided in a single document and in most cases must be provided no later than the worker's first day of work (in contrast to the current deadline of within 2 months of starting work).
These additional requirements will only apply to engagements starting on or after 6 April 2020. However, from that date, existing employees may request a written statement complying with the new requirements, which will need to be provided to them within one month.
A failure to provide a section 1 statement, or providing one which is inaccurate or incomplete, could entitle an employee (and from April 2020 a worker) to bring an employment Tribunal claim. Compensation for breach is between two and four weeks' pay (subject to the statutory cap, currently £525 per week).
What should employers do now?
Although there is still some time before these changes come into effect, the following steps may help organisations prepare for the new requirements:
1. Identify your workers
Organisations will need to ensure they have systems in place to identify who are "workers". Although already good practice (because such individuals are currently entitled to holiday and sick pay, as well as from April 2019 itemised payslips), from April 2020, it will be important that organisations carry out this exercise before the engagement starts to ensure that the written statement is provided by the first day of work.
It will also be important to distinguish between employees and workers, since the information contained in the written statement will differ according to the different categories. For example, workers do not tend to be subject to probationary periods or to an organisation's disciplinary or grievance procedures. Care will need to be taken that this is recorded accurately on an individual's written statement to avoid blurring the lines between employee and worker.
2. Review your documents and systems
Organisations should consider carrying out contract reviews in order to understand where the gaps are in relation to the information which will need to be provided from April 2020. Workers' contracts in particular may need to be updated to ensure they are compliant with the new provisions and include all mandatory information.
For organisations who are used to providing individuals with information only after they have started work (again, this may be particularly relevant with workers), consideration may also need to be given to recruitment processes to ensure this is now provided by day one.
3. Take care with your drafting
Some of the new information which will need to be provided to workers from April 2020 is not normally contractual, such as details of any enhanced maternity pay. Care will need to be given to the way this information is included, to avoid any implication that the entitlement is contractual.
Summary of the changes

If you require further information about anything covered in this blog, please contact Eleanor Rowswell, or your usual contact at the firm on +44 (0)20 3375 7000.
This publication is a general summary of the law. It should not replace legal advice tailored to your specific circumstances.
© Farrer & Co LLP, September 2019