In the spotlight: HMG Paints
Insight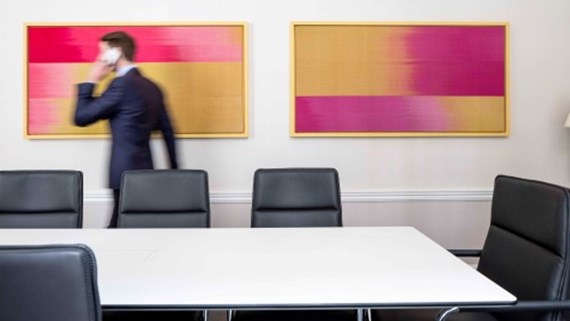 Since its incorporation in 1930, HMG Paints, a family-owned and run business, has developed from humble beginnings to become the UK's largest independent paint manufacturer, with clients such as Disneyland Paris and Aston Martin. Founded by the grandfather of the current managing director, John Falder, the company has stuck to simple values: being 'decent, worthwhile and secure'.
Having successfully weathered wartime and recession, the Manchester business today employs 200 staff, mainly from the local Collyhurst area, who, on average, serve 16 years with the company.
Here, Lizzy Sainsbury talks to Jonathan ("JSF") and Rebecca Falder ("RF"), the fifth generation of their family to work for the business, on the unique challenges faced by family businesses, and the role of the next generation in promoting the longevity of the company.
What has been your career path with HMG Paints since you joined the business?
JSF: My very first role at age six or seven was packing adhesive tubes with my father for pocket money. When I was in my early teens I began rotational development through the company and have since worked in every job throughout the business. My current role is in R&D developing new products and technical business development.
RF: Similar to Jonathan, I started working at HMG when I was young in the summer holidays, and then after university I joined full time to start a rotation around every department in the business. I currently work in Quality Assurance where I run projects to improve the business and I also help deal with customer issues.
What expectations and preparation did you, and family members already working in the business, have before you joined the team, and how has that helped you?
JSF: It was explained to me from an early age that I had an option to join the family business, but that HMG is a meritocracy. My father (a role model and mentor) told me I would never be paid by my surname and, if I wished to do well, it would only be on the merit of my work. I have a university degree and am a member of the Royal Institute of Chemistry; but being passionate and enthusiastic for the business are held in higher regard than academic qualifications.
RF: Before I joined HMG, I took a year out before university to work and travel. This helped focus my thoughts, and I realised that my passion lay with the family business. Throughout my time at HMG, many long-standing members of staff have helped my personal development by imparting their wisdom learned from many years in the industry.
What was your biggest challenge or concern when you first came into the family business?
JSF: That I would be seen as a Falder blessed with automatic position and authority. It is important to me that I earn my position by doing a great job for the company and the people of HMG.
RF: There could have been an issue as a woman going into a relatively male-dominated industry – but I never felt any concern due to the equal treatment I received from the outset.
How has HMG managed (or planned to manage in the future) the handover process between generations of family members?
JSF: By evolution and not revolution. We do not believe that handovers happen in a 'day', rather that handover and balance gradually shift over time, creating a fluid period of change.
How do you separate family, time off, and work? Do you feel that you can put the business to one side at family events?
JSF: The people of HMG ask us this frequently! We simply love talking about paints and the coatings industry (my father even has a paint laboratory in his house!). This passion and enthusiasm on the subject frequently spill over to dinner table conversation. Paint is the most frequently seen man-made object on earth (look around you: everything is coated), so there is plenty of opportunity to talk about it!
What is the most rewarding thing about being a fifth generation "next gen" in the business?
RF: As I walk around the site and see the history of the business, it fills me with pride and excitement that Jonathan and I will be continuing this on in the future together. We get on extremely well and aspire to maintain the values that have been in the business since the beginning.
What advice would you give to prepare a "next gen" looking to go into the family business?
JSF: Maintaining the culture and values is a really important role for the next generation. The company will look towards you as a family member for the preservation and continuation of the business principles.
RF: My advice would be to take on as many experiences and different challenges as possible. For me, getting involved in different areas with different people has been one of my favourite parts of the job. It has helped my development and confidence in many ways!
What are your aspirations for the direction you would like to take the business in?
JSF: I simply want HMG to be the very best paint and surface coatings company in the world, not the biggest, but the best. If our customers refer to us as their 'best supplier' then I am happy with the direction of the business.
RF: I agree with Jonathan: it has never been the ambition to have growth for growth's sake. My personal ambition is to keep the same family atmosphere within the business too, and ensure we do our duty to give all of our employees a great working experience.
What is your favourite anecdote about the business?
JSF: There are quite a few interesting stories. A personal favourite of mine is where we colour matched a boil on an agricultural customer's prize-winning pig. The live pig was brought into our shop on a lead, so its skin could be colour matched before a farm competition.
RF: One of my favourite quirks of HMG is the fact that we currently have three members of staff who chose the HMG site as their final resting place and we have a small memorial garden where they are buried. We also have a waiting list of other people who want to join them there when the time comes. It is a great honour to be asked and a true and humbling reflection of the culture of HMG.
If you require further information about anything covered in this briefing note, please contact Elizabeth Sainsbury, or your usual contact at the firm on +44 (0)20 3375 7000.
This publication is a general summary of the law. It should not replace legal advice tailored to your specific circumstances.
© Farrer & Co LLP, February 2019